Main content
Clinics
Going Nuclear: Turner Environmental Law Clinic goes head-to-head with the Nuclear Regulatory Commission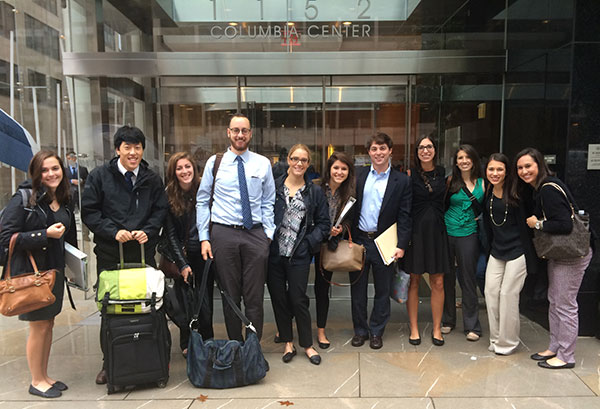 Unless you're an environmental lawyer, you probably haven't read the United States Nuclear Regulatory Commission's (NRC) environmental impact statement (EIS) on nuclear waste storage, released September 2014. Besides being a hefty 1,500 pages, it is rife with complex scientific charts and legal jargon, all leading to the conclusion that it's okay for nuclear power plants to store nuclear waste on-site indefinitely, with no future plans for a safer, more permanent underground repository. There's only about 70,000 tons of it across the U.S. Nothing could possibly go wrong, right?  

Luckily, there are watchdogs like Mindy Goldstein, clinical professor of law and director of Emory Law's Turner Environmental Law Clinic, and her students, who at the beginning of this month traveled to Washington, D.C., for strategy meetings at the Natural Resources Defense Council (NRDC). Led by Goldstein, the 10 clinic students met with co-counsel to discuss litigation strategy for a case pending in the D.C. Circuit Court of Appeals to challenge the NRC's new regulation known as the "Continued Storage Rule," and accompanying EIS. Co-counsel include Diane Curran, partner, Harmon Curran Spielberg + Eisenberg; Geoff Fettus, senior attorney, NRDC; and Matthew McKinzie, director, Nuclear Program and Senior Scientist, Lands and Wildlife Program, NRDC.
 
The clinic and its students have an ongoing history with this issue. They represent nine different environmental organizations on this case, many of whom challenged an earlier iteration of the Continued Storage Rule in 2012. Those groups were successful, and the regulation was vacated by the D.C. Circuit, but the new rule is just as problematic. "Instead of grappling with the environmental consequences of nuclear waste storage," says Goldstein, "the NRC just assumes away any risk. They say, through a very sophisticated and complicated sleight of hand, that there will be no significant environmental impacts associated with the continued on-site storage of nuclear waste."

With full knowledge of the seriousness of the situation, Goldstein can't help but laugh at the absurdity of such a claim. "It's just objectively not true," she says. "We know that this stuff is really dangerous, and it's dangerous for 500,000 years." Her goal, along with her clinic students, is to force the NRC and society in general to make an informed decision about the costs of nuclear power, instead of merely sweeping them under the rug.

Clinic students have been involved in this important work every step of the way, from filing comments on the NRC's initial proposed rule and draft EIS back in 2013, to planning a litigation strategy at the recent D.C. meeting, to drafting and submitting a reply brief due at the end of this month. The clinic prides itself on providing students with an intense, hands-on introduction to environmental law, and cases such as this one certainly deliver on that promise.

"Together, in just a few hours, we were able to tackle some particularly complicated legal issues in a way that none of us could have done on our own," says Shelby Hancock 17L, a clinic student who is also president of the Environmental Law and Conservation Society. "Watching Mindy and the other attorneys collaborate on a complex case that has national implications for the environment, human health, and the energy industry was really exciting."

Students also had the chance to attend a networking dinner in D.C. with environmental lawyers to discuss their work and potential career paths. In attendance were Bill Buzbee, chairman of the clinic's advisory board, professor of environmental law at Georgetown, and former professor at Emory Law and Julie Reynolds-Engel 15L, an alumna who credits her Turner Clinic experiences with positioning her for her current job as a law clerk for the NRC's Atomic Safety and Licensing Board Panel.


---
Tags