Main content
Students
Emory teams take home first-, second-place prizes at transactional law competitions
Emory University School of Law |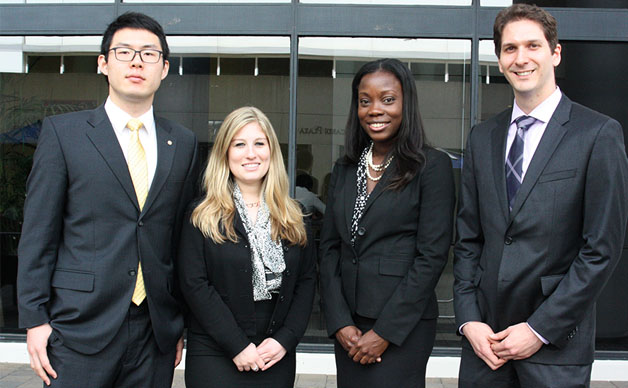 Emory was awarded the top title of regional finalist in the LawMeets® New England regional competition and the second-place title of regional semi-finalist in the Southwestern regional competition. The teams argued for the Arrowhead side, the business entity they represented in the competition. The New England regional champions will now advance to the National LawMeets competition to be held on April 1 at Sullivan & Cromwell in New York City.
Sue Payne, executive director of the Center for Transactional Law and Practice, said, "These outstanding results – achieved by an intelligent, hard-working group of law students – demonstrate that Emory Law continues to lead the pack in transactional law and skills education."  
Eighty-four teams competed in seven regional rounds.  The primary negotiators on Emory's New England regional team, who will now advance to the national competition, were Alexandra Jamel 17L and Maurica John 17L.  Alternates were Nicholas Howland 17L and Haifeng Chen 18L. The team was coached by Chason Harrison 91L, a partner with James-Bates-Brannan-Groover-LLP, Atlanta.
The primary negotiators on the Southwestern regional team were Jie Lai 18L, Zihan Sun 17L, and Nicholas Torres 17L, with Neha Shingane 17L serving as alternate. The team was coached by Jeremy Ellis, Managing Director of Genesis Capital, LLC, Atlanta, Georgia.
Fourteen teams, seven for each of the two fictional business entities, will compete at the national competition next month.
Center for Transactional Law and Practice
Emory Law is acclaimed for combining doctrine and practice in its rigorous curricular program, serving as the model for transactional education programs across the country. Through the Center's Transactional Law Program, students have the opportunity to become financially literate, acquire a strong foundation in business law doctrine, and practice contract drafting and other critical deal skills. The Center provides a roadmap for every student interested in studying transactional law—from those who want to learn only the basics to those who want to go further and earn the Transactional Law and Skills Certificate.
---
Tags