Main content
Start-up competition wins bring cash prizes and acclaim to TI:GER program
Emory University School of Law |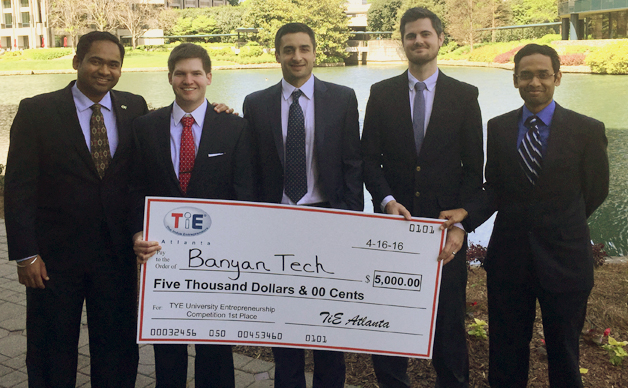 Team BanyanTech won Georgia Tech's 2016 Startup Competition with a device that can remove heat from personal electronic devices. The prize, $10,000, was the top in the contest in which TI:GER teams swept first, second, and third places. 
BanyanTech evolved through the Technological Innovation: Generating Economic Results (TI:GER) program. The program teams Emory University School of Law students with Georgia Tech Scheller College of Business MBA students to commercialize a PhD student's scientific research. The team includes Emory Law students Forrest Lind 17L and Lorrin Stone 17L along with first-year MBA students Akshay Ravi and Ajaay Ravi. Their device allows electronic devices to maintain lower operational temperatures which improves device reliability and performance.  The team intends to target the LED lighting market and believes its technology can replace tradition thermal interface materials in the LED lighting market.
 Other 2016 wins for the TI:GER program include:
Team BanyanTech competed in the Technology Young Entrepreneurs Competition in Atlanta, earning their lab another $5,000 prize.
Team Fox Three competed in the NSF I-Corps Sites Chemicals and Materials Customer Discovery Program/InformEx Young Innovators Program in New Orleans. The team received great feedback from their customer discovery efforts and second in the pitch competition. The team members are Molly Babb 17L, Max Rubinson 17L and Georgia Tech students Caroline Hansen (PhD), Eric Erzinger (MBA), and Phillip Niedzwiedz (MBA).
Team Lumenostics competed in a business plan competition (Cardinal Challenge) hosted by the University of Louisville. The team placed second in the competition and received a $5,000 cash prize. Team members are Kalie Richardson 16L, Geoffrey Toy 16L along with Georgia Tech students Tyler Nelson (PhD), Prashanth Irudayaraj (MBA), and Will Jourdan (MBA).
---
Tags