Main content
Law journals speak the language of the contemporary practitioner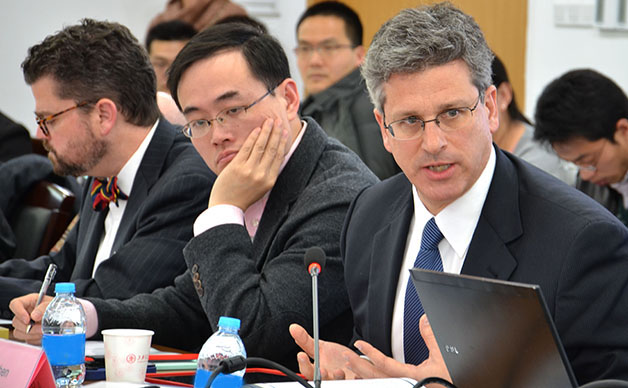 Law journals provide insight into evolving legal theory, and they also illuminate the application of law in specific practice areas. Two of Emory Law's journals, Emory Corporate Governance and Accountability Review (ECGAR) and Emory Bankruptcy Developments Journal (EBDJ), are especially popular among the judges and attorneys who address the topics of corporate governance and bankruptcy on a daily basis.
While many law journals embrace a more theoretical approach to issues that come before the courts, ECGAR and EBDJ are focused squarely on application, exploring issues of law as they relate to the judges and attorneys who are addressing the topics of corporate governance and bankruptcy on a daily basis.
"When we founded ECGAR, we sought to create an applied journal that would provide guidance to prac-titioners who are trying to solve problems related to the impact of corporations on all their constituencies," observes ECGAR senior advisor and adjunct faculty member Reuben Guttman 85L. ECGAR focuses on effecting positive change in the corporate world by promoting sound business ethics and fair play, Guttman explains, and expectations for student engagement are high. "We encourage students to interact with practitioners, judges, and regulators and work through their ideas — we want them out in the community, testing the theories they've learned in the classroom against real life."
Associate Dean James Elliott 63C 66L, a faculty advisor for EBDJ, voices similar applied objectives for the journal he helps to shepherd. "EBDJ is written for people who are practicing and adjudicating on bankruptcy law now, and anecdotal evidence tells us that our constituents read the publication religiously," he notes. "In fact, if we're late getting an issue out, I get complaints from bankruptcy judges across the country saying, 'Where's the journal — it should be here by now!'" Judge Paul W. Bonapfel, a jurist in the United States Bankruptcy Court in the Northern District of Georgia's Atlanta Division, confirms the journal's value to those in the courtroom. "When I receive the Emory bankruptcy journal, I always leaf through it to see what scholars and students view as important developments in bankruptcy law; it's an important scholarly publication in the field."
Judge Mary Grace Diehl, also a US Bankruptcy Judge for the Northern District of Georgia, echoes Bonapfel's sentiments. "EBDJ is an excellent resource for timely articles in both the business and consumer bankruptcy fields," says Diehl, "and offers the students who staff and manage the journal a full head start on securing jobs in this area." EBDJ's popularity is particularly noteworthy, observes Elliott, as it is the only student-run bankruptcy journal in the United States. "I'm not aware of another like it," he says, "and there are approximately one thousand law journals in this country. EBDJ fits a real purpose." Director of Student Publications Amy Tozer echoes Elliott's assertion. "We often receive calls from law firms saying, 'We currently get one copy of EBDJ, and we need three.'"
"EBDJ is focused on providing timely information to readers," confirms current editor-in-chief Armstead Lewis 16L. "We're always trying to get a step ahead of what's going on, looking at areas where the circuits disagree and working to get our comments and articles out before a decision is made." For example, says Lewis, Smita Gautam 15L recently wrote a comment arguing that an individual debtor's interest in his social media accounts should be treated as a "liberty" interest instead of a "property" interest, which generated considerable interest in this still-evolving area of bankruptcy law.
Both EBDJ and ECGAR have been guided by practicality from the outset. EBDJ was launched in 1984 after Congress passed new bankruptcy codes, explains faculty advisor Professor Charles Shanor, with the intent of keeping practitioners up-to-date on new legislation. Over time, he says, it has evolved into a more standard law journal format, with content focused on current developments and policy issues in the field of bankruptcy. "EBDJ draws together case law in the field, making it very useful to practitioners who may not have the time or resources to start from scratch familiarizing themselves with bankruptcy priorities or bars to discharge," Shanor explains.
ECGAR, which was launched in March of 2014, was likewise inspired by contemporary issues, explains Guttman. "I started thinking about this publication at the start of the financial crisis in 2008," he recalls. "I realized that corporate greed had led to the creation of fictitious economic products, and it was clear to me that the impact of corporate misconduct extended beyond shareholders. I wanted to create a journal that would provide guidance to those who were trying to solve the problems that we were facing." Before ECGAR, Guttman says, no single publication was exploring the impact of corporations on society in toto — on the environment, on landholders, on shareholders, on pension funds, etc. "So we jumped right in — our inaugural issue included a piece on regulatory capture by Georgetown professor Scott Hempling that has since been cited in a doctoral thesis and in hearings as well as a piece on benefit corporations by Boston College professor Kent Greenfield, author of The Failure of Corporate Law." 
Since launching ECGAR, Guttman and others involved with the journal have worked diligently to cultivate an audience for the publication. "We have an immense amount of talent in our graduate pool that we can tap for expertise," Guttman says. "There are Emory alums who are federal judges, members of Congress, senators, and the like, and we're not lying back and waiting for people to send us pieces; we're actively reaching out." Their efforts have been rewarded; Guttman says that readership is rising steadily, and articles from the journal are now being cited in state legislative hearings. "Before long, we'll start to see them referenced in court opinions and even on the floor of Congress," he predicts.
Guttman continues, "And I firmly believe it will advance the rule of law, because it's a young journal that recognizes, among other things, that US corporations are operating in a global economy. Our goal is to offer those seeking to enforce compliance in the private sector (as well as those acting within corporations) a holistic perspective on how the rest of the world will look at them in the years ahead."
Access all journal content online:
Emory Bankruptcy Developments Journal (EBDJ)
Emory Corporate Governance and Accountability Review (ECGAR)
Emory International Law Review (EILR)
---
Tags