Main content
New tests find significant decrease in bee-killing pesticides in "bee-friendly" plants
Emory University School of Law |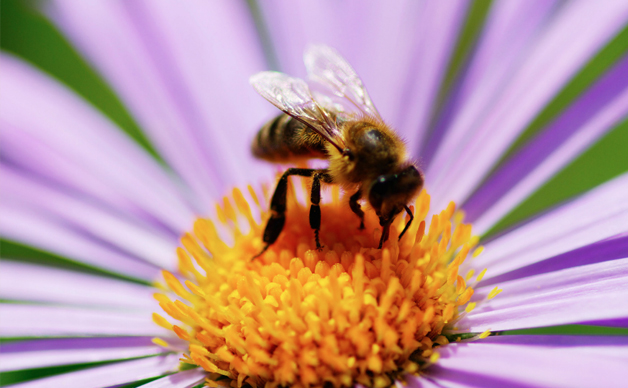 A report released today showed a significant decrease in the number of "bee-friendly" home garden plants sold at major retailers that have been pre-treated with pesticides shown to harm and kill bees. The study of plants purchased at Home Depot (NYSE: HD), Lowe's (NYSE: LOW), Ace Hardware, True Value and Walmart (NYSE: WMT) was conducted by Friends of the Earth, and Pesticide Research Institute and allies, including the Turner Environmental Law Clinic at Emory University School of Law.
The report, Gardeners Beware 2016, is a follow-up to testing conducted in 2013 and 2014 that demonstrated the presence of bee-toxic neonicotinoid insecticides (neonics) in more than half of bee-attractive flowers tested. The 2016 analysis found that 23 percent of flowers and trees tested contain neonicotinoid insecticides at levels that can harm or kill bees, indicating that stores are selling far fewer plants treated with bee-killing neonics than in 2014. This reduction is likely due to change in store policies that commit retailers to eliminate or phase-out neonicotinoid use on garden plants. Retailer commitments are having a ripple effect in production methods by suppliers and have resulted in reduced use of neonicotinoids in common garden plants overall.  
 

Larger retailers Home Depot and Lowe's have both made commitments to phase out use of these pesticides. The new data demonstrates that these two companies are making significant progress toward that goal. Ace Hardware, True Value, and Walmart have not yet made similar commitments to eliminate neonics in their stores. "The market is shifting away from selling bee-killing pesticides, and retailers including Ace Hardware and True Value are lagging behind their competitors," said Tiffany Finck-Haynes, food futures campaigner with Friends of the Earth. "We are calling on all retailers to do their part to save bees and adopt formal policies to eliminate neonicotinoid pesticides."
 

A YouGov Poll commissioned by Friends of the Earth and Sum of Us conducted in 2016 and released today found that 67% of Americans feel more positively about Home Depot and 66% feel more positively about Lowe's because of their formal commitments to eliminate neonics. Following this survey, half of respondents said they are more likely to shop at Home Depot (50%) and Lowe's (51%) because of the store's commitment. Further, more than a third (39%) said they'd feel more negatively about a retailer that had not formally committed to eliminating systemic neonicotinoid insecticides. "We are pleased that Atlanta is leading the charge in eliminating the use of bee-killing pesticides, with Atlanta's own Home Depot committing to phase out neonics and Emory University becoming the first university campus in the country to ban these pesticides," said Mindy Goldstein, director of the Turner Environmental Law Clinic at Emory Law. "We are calling on all retailers, including Ace Hardware and True Value, to get neonicotinoid pesticides out of their plants and off their shelves as quickly as possible. Until then, gardeners should buy organic plants to ensure the safety of bees."

 
More than 100 businesses, cities, universities, states, and countries around the world have restricted use of these insecticides, including Emory University. Greenhouse Grower's 2016 State of the Industry Survey found 74 percent of growers who supply mass merchants and home improvement chains said they will not use neonicotinoid insecticides in 2016. "Our data indicates that compared to two years ago, fewer nurseries and garden stores are selling plants pre-treated with systemic neonicotinoid insecticides," said Susan Kegley, PhD, author of the report from the Pesticide Research Institute. "Yet it's still not possible for a gardener to be sure that the plants they select at the store will be safe for bees and other pollinators. Retailers should work with their suppliers to speed up their phase out of bee-harming pesticides."
Get more information on this report and what it means here.
All figures, unless otherwise stated, are from YouGov Plc. Total sample size was 1,119 adults. Fieldwork was undertaken between 28th - 29th April 2016.The survey was carried out online. The figures have been weighted and are representative of all US adults (aged 18+).
---
Tags