Main content
Professor Martha A. Fineman named Ruth Bader Ginsburg Lifetime Achievement Award winner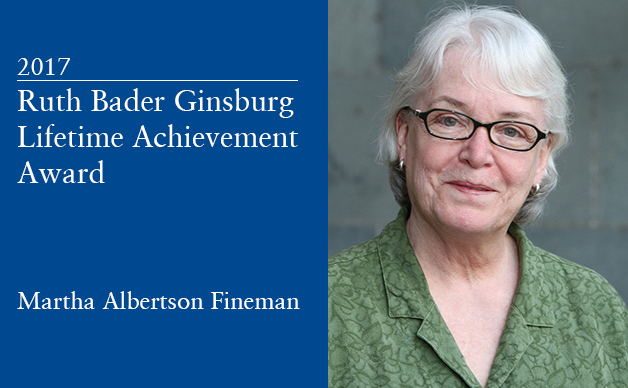 The Association of American Law Schools' Section on Women in Legal Education has selected Woodruff Professor Martha Albertson Fineman as the next recipient of the Ruth Bader Ginsburg Lifetime Achievement Award. The award will be presented at a ceremony at the section's luncheon at the AALS Annual Meeting. The luncheon will be Thursday, January 5, 2017, in San Francisco, California.
Fineman is the Robert W. Woodruff Professor of Law. An internationally recognized scholar of law and society, Fineman is the most widely cited scholar of family law, and among the most cited scholars writing on critical and feminist theory. Fineman is founder and director of the Feminism and Legal Theory (FLT) Project, which was inaugurated in 1984. Fineman also serves as director of Emory's Vulnerability and the Human Condition Initiative.
Her scholarly interests revolve around legal regulation of the family and intimacy and the legal implications of universal dependency and vulnerability. Fineman's publications include numerous seminal books—The Autonomy Myth: A Theory of Dependency, The New Press (2004); The Neutered Mother, and The Sexual Family and other Twentieth Century Tragedies, Routledge Press (1995); and The Illusion of Equality: The Rhetoric and Reality of Divorce Reform (1991)—in addition to dozens of journal articles and essays. Her essay in the Yale Journal of Law and Feminism, "The Vulnerable Subject: Anchoring Equality in the Human Condition," formed the basis of Vulnerability: Reflections on a New Ethical Foundation for Law and Politics, published by Princeton University Press in 2013.
Fineman has received awards for her writing and teaching, including the prestigious Harry Kalven Award for her work on law and society. She has served on several governmental study commissions. She teaches courses and seminars on family law, feminist jurisprudence, law and sexuality, and reproductive issues.
"It is hard to imagine anyone more deserving of this recognition than Martha Fineman," says Robert A. Schapiro, dean and Asa Griggs Candler Professor of Law. "She is one of the pre-eminent legal scholars of our day, and her work has transformed multiple fields of scholarly inquiry, including legal theory and family law. Her groundbreaking projects are ongoing sources of inspiration and enlightenment for faculty and students at Emory, across the United States, and around the globe. We are honored to have her as a member of the Emory Law community."
The Ruth Bader Ginsburg Lifetime Achievement Award honors "an individual who has had a distinguished career of teaching, service, and scholarship for at least 20 years. The recipient should be someone who has impacted women, the legal community, the academy, and the issues that affect women through mentoring, writing, speaking, activism, and by providing opportunities to others."
---
Tags