Main content
Barton Center's Waldman named `Champion of Justice'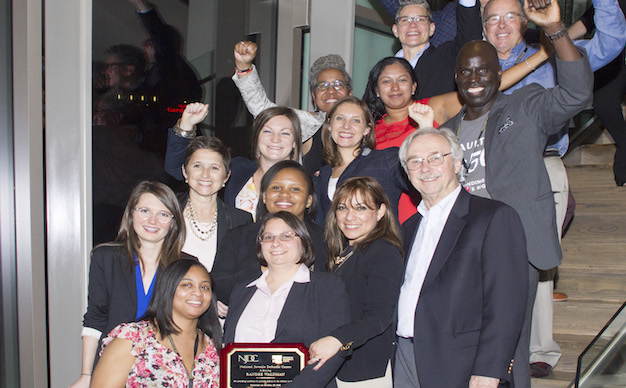 Randee J. Waldman, director of Emory Law's Barton Juvenile Defender Clinic, was recognized with the Champion of Justice Award during an Oct. 29 reception held at Atlanta's Center for Civil and Human Rights. The event, sponsored by the National Juvenile Defender Center, marked the Atlanta kickoff of the national nonprofit's #GaultAt50 campaign.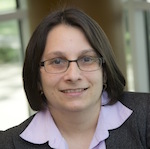 "Randee is a stalwart defender and passionate advocate for children," said Mary Ann Scali, acting executive director of NJDC. "And the Center for Civil Rights is a moving space for our community to reflect on the dual injustice of civil and due process rights violations children endure every day in our court system."
The #GaultAt50 campaign marks the 50th anniversary of In re Gault. The 1967 Supreme Court decision ensured the right to a lawyer for children accused of crimes in juvenile court and also provided other due process rights, including the right to be notified of the charges, the right to cross-examine witnesses, and the right to not have to make a statement against oneself.
When accepting the award, Waldman recalled representing her first juvenile client 21 years ago as a first-year law student at the University of Chicago. "My clients were regularly referred to as super-predators," she said. "It was getting easier by the day to charge young people as adults. Our juvenile courts were getting more punitive, with the increased use of mandatory minimums and secure confinement, and eroding confidentiality provisions. Every juvenile in detention appeared in court shackled. The death penalty was still deemed constitutional by the U.S. Supreme Court. And NJDC had not yet held its first summit."
"In the last 20 years, enormous strides have been made. The Supreme Court has recognized that kids are different, has given us a reasonable juvenile standard, and has begun to push back on the harshest penalties for young people," Waldman says. "There is an increasing trend to return children to juvenile court where they belong." Despite these strides, Waldman acknowledged that there's still more work to be done. 
The NJDC campaign honors the Gault decision, while highlighting the present challenges youth face in U.S. courts. According to the NJDC, there are roughly 1 million juvenile delinquency cases each year; 31 states have no laws saying how young is too young to prosecute a child; 27 states do not restrict shackling of children in juvenile court; and 33 states do not allow jury trials in juvenile court. The nonprofit, based in Washington, D.C., was created in the late 1990s "to respond to the critical need to build the capacity of the juvenile defense bar and to improve access to counsel and quality of representation for children in the justice system." 
NJDC supports juvenile defense attorneys through both its national and regional offices. Waldman is co-director of the Southern Juvenile Defender Center, which covers Alabama, Florida, Georgia, Louisiana, Mississippi, North Carolina, and South Carolina.
---
Tags