Main content
NAACP president at Emory Law: We can't be a movement of nostalgia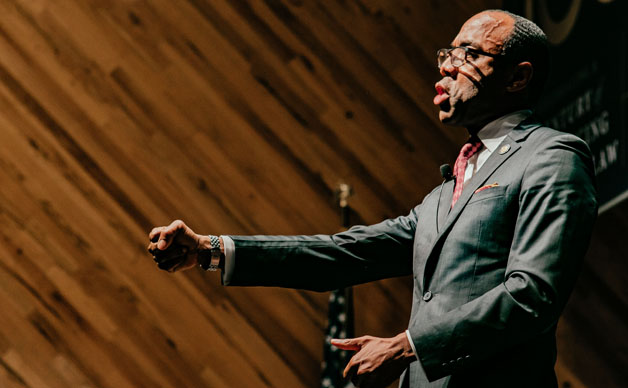 The crowd was as colorful and as passionate as the speaker. He approached the podium with a slow, deliberate cadence, but it was evident when the talk began in earnest. He morphed into a preacher – rather, he revealed the preacher he already is, shouting and whispering, depending upon the phrase. Challenging the lawyers and non-lawyers in the audience to embrace the relationship between the "activists in the streets and the activists in the courts."
Cornell Brooks, president and CEO of the National Association for the Advancement of Colored People (NAACP), pled with the full-house crowd in Tull Auditorium, warning that on the eve of the Trump inauguration, we cannot wait to demand civil rights. "We cannot outsource our anger and righteous indignation to the next generation," he said, explaining that the youth will share this mantle, but that the rest of the community must help them carry it. Still and always.
In his speech, Brooks covered topics ranging from his recent arrest resulting from a protest of Trump nominee Jeff Sessions' confirmation to the relationship between the NAACP and the NAACP Legal Defense Fund ("The moment we're in does not lend itself to false distinctions and old divides."). He touched on mass incarceration, predatory policing, technology's place in activism, and "moving the ballot box away from the campus," where he asked, "What do you do when you're asked to sit at the kiddie table of the Republic?"
His talk, the answered questions in the post-lecture Q&A, and his pre-lecture interview with the Emory Wheel expounded upon three major points: 1) Every person has intrinsic value endowed by his or her creator. 2) We are designed to rely on one another. 3) Right is right. Just is just. And, if not, we can make it so.
Brooks ended his lecture by reciting the rousing words to James Weldon Johnson's "Lift Every Voice and Sing," exclaiming, "Sing a song full of the faith that the dark past has taught us. Sing a song full of the hope that the present has brought us. Facing the rising sun of our new day begun, let us march on till victory is won!" 
The lawyer, the activist, and the preacher in Brooks each earned a standing ovation that night.
The annual Martin Luther King Day lecture is presented by the law school, this year in conjunction with the Black Law Students Association.  
---
Tags