Main content
Emory Law Dean Robert Schapiro to return to faculty
Emory University School of Law |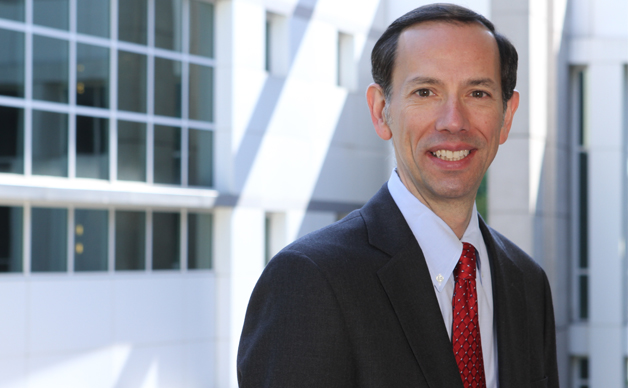 Emory Law Dean Robert Schapiro has announced his decision to return to the faculty after his term as dean concludes this summer. Schapiro was appointed dean in 2012 after serving as interim dean during the previous academic year.
"It has been my honor to lead Emory Law during a time of great change in legal education and in the profession," said Schapiro, "During this, our Centennial year, I am acutely aware of the broader trajectory of Emory Law's history of which we are a part. As we look toward our next century, Emory Law is very well positioned to continue its tradition of academic excellence and its leadership in advancing the rule of law.  Our success is ensured by our exceptional community of talented students, distinguished faculty, superb staff, and engaged alumni."
During his tenure as dean, Schapiro worked with the faculty to adopt a strategic plan to guide the priorities of the school. The plan, which was adopted in 2014, highlights four areas of focus – expanding academic and scholarly distinction, building an individualized educational experience that integrates theory and practice, extending the reach of legal education through global engagement and distinguished graduate programs, and ensuring the affordability, accessibility, and diversity of the Emory Law experience. Through the course of Dean Schapiro's tenure, Emory Law added renowned scholars and expert practitioners to its faculty; enhanced experiential offerings and signature programs in advocacy, transactional law, and intellectual property/technological innovation; founded the Volunteer Clinic for Veterans; expanded the global reach of its community and its curriculum; and further diversified the faculty and the student body. Emory Law also has benefited from generous philanthropy, including major gifts to support student scholarships and programs in transactional law, civil rights, religious freedom, and other areas.
"Dean Schapiro has demonstrated outstanding leadership in his role as dean," says Emory Interim Provost Stuart Zola, "guiding the school through a pivotal time. He and the faculty have accomplished a great deal together, enhancing Emory Law's scholarly reputation, introducing curricular innovations to aid each student's experience, expanding the school's global impact, diversifying the faculty and student body, and engaging alumni. As we look toward the next one hundred years, Emory Law is well positioned to continue its role as an influential and innovative voice in legal education."
Dean Schapiro has been on the faculty of Emory since 1995. His research focuses on federalism and state and federal constitutional law, and he teaches courses in constitutional law, federal courts, civil procedure, and legislation and regulation. Before becoming dean, he served as associate vice provost for academic affairs for Emory University, co-director of the Emory Law's Center on Federalism and Intersystemic Governance, associate dean of faculty for the Law School, and associate faculty director for Emory's Halle Institute for Global Learning.
A graduate of Yale Law School, Schapiro served as editor-in-chief of the Yale Law Journal. He clerked for Judge Pierre N. Leval of the U.S. District Court for the Southern District of New York and for Justice John Paul Stevens of the U.S. Supreme Court. He worked with the law firm of Sidley & Austin in Washington, D.C., where he practiced general and appellate litigation. Prior to joining Emory Law, Schapiro taught for two years at Duke Law School. He earned his B.A. at Yale and his M.A. at Stanford University. 
The process to identify an interim dean to be in place by Sept. 1, 2017, will begin immediately, while a search for a new dean will be conducted during the 2017-18 academic year. This search will be conducted by Emory's provost.
---
Tags