Main content
Supreme Court Justice Sotomayor to participate in discussion at Emory Law
Emory University School of Law |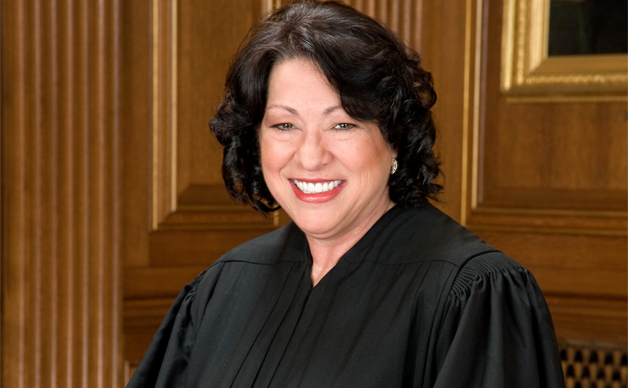 UPDATE: The discussion with Supreme Court Justice Sonia Sotomayor and Professor Fred Smith Jr., scheduled for Wednesday, September 13 at Emory University's Glen Memorial Auditorium, has been cancelled due to the impending weather forecast for the Atlanta metropolitan area over the next couple days. We hope to reschedule the Justice's visit as soon as possible, and look forward to communicating those plans once a date is confirmed. 
________________________________
Sonia Sotomayor, associate justice of the Supreme Court of the United States, will speak on Wednesday, September 13, from 2:15 to 3:30 p.m. in Glenn Memorial Auditorium on the campus of Emory University.
Justice Sotomayor will participate in a discussion with professor Fred Smith, a constitutional law scholar who clerked for her during the October 2013 term. An audience question-and-answer session will follow. Students will be allowed to submit questions in advance.
"As Emory Law enters its second century of advancing the rule of law, I can think of no one more appropriate to speak to our community," said Judson Graves 75L, interim dean of Emory Law. "We are honored to be able to welcome Justice Sotomayor to Emory."   
Justice Sotomayor was nominated to the Supreme Court by President Barack Obama in 2009. President George Bush nominated her to the U.S. District Court, Southern District of New York in 1991, and she served in that role from 1992 to 1998. She then served as a judge on the U.S. Court of Appeals for the Second Circuit from 1998 to 2009. Prior to serving as a judge, she served as assistant district attorney in the New York County District Attorney's Office from 1979–1984. From 1984 to 1992, she worked as an associate and then partner at Pavia & Harcourt, where she litigated international commercial matters. Sotomayor is a graduate of Yale Law School, where she served as editor of the Yale Law Journal.  She earned a B.A. from Princeton University, graduating summa cum laude and receiving the university's highest academic honor. She was born in Bronx, New York. 
Justice Sotomayor authored her memoir, My Beloved World, in 2013. Autographed copies will be available for purchase before and after the event.
Ticketing details 
Tickets are no longer available. Those receiving confirmation that they have a ticket for the event will be able to pick up for entry at a registration table set up outside Glenn Memorial Auditorium on the day of the event when the doors open at 1:00 p.m. on Wednesday, September 13. Attendees must present a valid Emory ID to pick up their ticket. Tickets are non-transferable and sale/re-sale is prohibited.
If a ticket is not picked up by 2:00 p.m., the registrant risks losing it to a member of the waitlist. Those not seated at the start of the program will not be admitted. 
Parking
Parking is limited near Glenn Memorial Auditorium, located at 1660 North Decatur Road. This a map of Emory University visitor parking locations will illustrate other parking options. Please note that the decks closest to Glenn Memorial – Oxford Road and Fishburne decks – often fill up during the day; Peavine visitors lot and Lowergate visitors deck (not Lowergate South, which is a reserved deck) are good alternatives, though they require a longer walk to Glenn Memorial.
Additional event details
Attendees wishing to submit questions for Justice Sotomayor may do so via this link.
No cameras, flash photography, or recording will be permitted, outside pre-approved members of the media.
Attendees will be asked to silence cell phones, pagers, and other electronic devices.
Food and drinks are prohibited in Glenn Memorial Auditorium.

No backpacks, briefcases, large bags, or large purses will be allowed. No bag check will be available.
---
Tags