Main content
TI:GER conference shows blockchain has applications beyond Bitcoin, kinks for lawyers to hammer out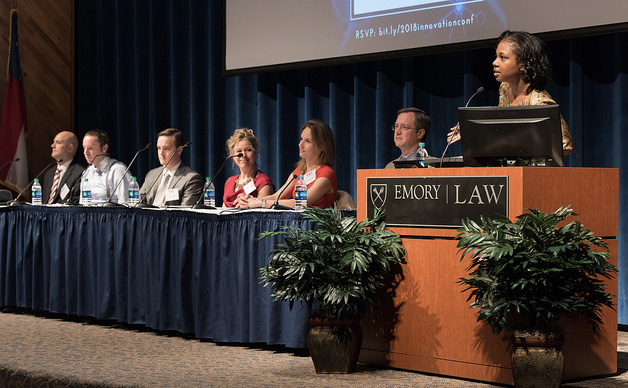 The 2018 TI:GER Innovation Conference tackled business and legal implications of  blockchain, a technology that many innovators believe is changing the world. 
"Blockchain is an exciting technology " said Nicole N. Morris, director of TI:GER and professor of practice. "It has many use cases from supply chain to executing agreements when pre-determined conditions are met.." There are many potential benefits behind blockchain, most of which depend on how the technology is used.  
Much of the blockchain buzz is around cryptocurrency, such as Bitcoin, but the conference emphasized other uses of the technology, including healthcare, real estate, insurance, banking and finance, and social impact, such as climate change.
Blockchain is a way of storing records in a way that creates a "digital trust between unrelated parties," eliminating the need for many intermediaries, said Rich Napoli, CEO of Objectfrontier, a software engineering firm. The technology has generated hyperbole, with predictions it will eliminate clerical jobs, cash and even lawyers. But Napoli said that's not the case, as the complicated nature of the technology will create new industries and processes. Though one of the touted advantages of blockchain is its security, it is still vulnerable to hacking like any software, Napoli said.
"People are pitching blockchain as a solution for everything," he said. "You have to tamp that down a little bit. Like all technologies, it has problems."
Panelists emphasized that it will take time for blockchain technology to realize its potential. "This is a nexus of technologies born of mistrust to create a new pattern of trust that is more efficient," said Benn Konsynski, George S. Craft Distinguished University Professor of Information Systems & Operations Management at Emory Goizueta Business School. 
Legal experts discussed the regulatory framework for the cryptocurrency market, smart contracts, and intellectual property rights available for blockchain. "Who is active in this space?" asked Dane Baltich of Alston & Bird LLP. "From a patent perspective, the answer is everyone."
But regulations, like the technology, are in the early stages. Austin Mills, associate at Morris, Manning & Martin, LLP, referenced Munchee ICO, which was shut down by the SEC in December for issuing tokens the SEC determined to be securities. "If you are truly risk-averse, I don't know that there is a path you could get fully comfortable with to a compliant ICO to non-accredited investors in the United States."
---
Tags