Main content
Emory's approach to open expression gains attention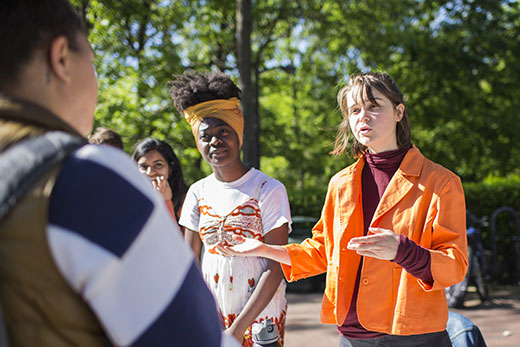 When Emory students gathered at the Cox Hall Bridge on April 20 to advocate for ways to reduce gun violence, part of a national day of student protests, they were joined by two "open expression observers," university staff members who had volunteered for the role.
As their title implies, these observers weren't there to argue for or against any particular position — instead, they were on hand to make sure that all sides had the opportunity to have their voices heard. 
The event ran smoothly and respectfully, with students wearing orange to protest gun violence staffing tables where those who were interested could write messages or learn more information. But if there had been conflicts, the open expression observers would have stepped in, educating those involved about Emory's Respect for Open Expression Policy and offering ways to share opinions without creating safety concerns or impinging on the free expression rights of others.
From personal protests to organized demonstrations, open expression on college campuses across the nation has drawn increased attention in recent years, sometimes because the outcome has been less than desirable, either due to the actions of the participants or the institutional response. Emory has had its share of protests, including outcry over a 2016 appearance by controversial conservative commentator Milo Yiannopoulos. 
But since implementing its Respect for Open Expression Policy in 2013, Emory has developed robust programs that have engaged the campus community and drawn the attention of other institutions seeking to follow Emory's example.
Both the Committee for Open Expression (CFOE) and the Open Expression Observers program were created as a result of Emory's policy, which affirms the university's commitment to open expression while acknowledging the challenges and tensions these actions could create in an ever-changing community.
Emory University "is fundamentally committed to open inquiry, open expression, and the vigorous discussion and debate upon which the advancement of its multifaceted mission depends," the policy states.
In December, Emory earned a "green light" rating for free speech on campus from the Foundation for Individual Rights in Education (FIRE) – one of only 39 schools to currently hold the designation. FIRE is a nonpartisan, nonprofit organization dedicated to defending freedom of speech on U.S. college campuses.
"We are excited to welcome Emory to the ranks of green light institutions," said FIRE Executive Director Robert Shibley, announcing the rating. "Emory is now positioned to become a national leader in protecting free speech on campus."
Strong support for open expression
Emory earned the "green light" rating by revising certain sections of the undergraduate conduct code, as well as modifying policies governing campus bias incidents and the use of information technology incidents. 
Alexander "Sasha" Volokh, chair of Emory's CFOE and a professor at Emory School of Law, worked with various Emory administrators on changing the language of the relevant policies. 
"Once these policies were brought to our attention, everyone basically agreed that it was a matter of mistaken or outdated language that did not reflect the values of Emory's Open Expression Policy," Volokh says. "The credit really belongs to Emory's administrators, from President Claire Sterk on down, who strongly support open expression on campus — as well as to the University Senate that adopted the Open Expression Policy five years ago."
Under the policy, the university "affirms the rights of members of the community to assemble and demonstrate peaceably" even above other university policies, except in the case of illegal activity.
The CFOE is a working group of university community members — including faculty, staff and students — who seek "to promote and protect the rights and responsibilities of community members related to issues and controversies involving speech, debate, open expression, protest and other related matters."
The policy is modeled on the First Amendment to the U.S. Constitution, which guarantees freedom of religion, speech and peaceful assembly. Because Emory is a private institution, the university is not legally bound by the First Amendment; however the university adopted the policy as a commitment to First Amendment values. 
Although the CFOE investigates and provides opinions regarding the policy in cases where community members feel their open expression rights have been violated, the committee has no binding authority in individual cases. In partnership with Emory Campus Life, the CFOE connects community members with appropriate campus resources depending on need. 
Facilitating free speech on campus
Through the Open Expression Observers program, observers are trained to educate community members about the university's open expression policy and help those organizing events and protests understand how to get their messages across without disrupting other people's rights or creating safety risks.
Nearly 100 faculty and staff volunteer observers have been trained since the 2015-2016 academic year on Emory's main campus and at the Oxford College campus, notes Michael Shutt, senior director of community for Campus Life. Currently there are more than 75 active observers representing all of the schools and most of the university's units.
"We want observers to serve as ambassadors for open expression on campus. All observers undergo specific training so that they can describe the program and policy, and be able to identify situations that need intervention," Shutt says.
The two-hour observer training also has been supplemented with an additional conflict management training for those who want to learn more about managing conflict so they can be more comfortable when they encounter a situation that may involve "increased tension or emotion," Shutt says.
"We go over theoretical situations and case studies, but we are also working with the Committee for Open Expression doing reflective work on challenging cases that have occurred at Emory. One of the things that has hit home is that we are community of practice. We are a group of people who are learning together, and if we fail in the process and we don't do something perfectly, we will learn from that," he says.
Observers attended 27 events during the 2016-2017 academic year, according to Shutt, they have been requested 18 times this year. 
"Some of these events are political events where the organizers expect that protest and dissent might happen; other events are actual protests carried on by members of the Emory community," Shutt explains. "We believe that our observers have played an important role in preventing and defusing conflict — with the result that the sort of destructive and violent protests that have plagued some other campuses simply haven't occurred here."
Emory junior Camila Reed-Guevara was part of a group of students who organized a peaceful protest outside of the April 2016 speech by Yiannopoulos, who was invited to campus by Emory College Republicans and Emory Young Americans for Liberty. 
"We decided to gather outside of the building with sign to peacefully protest the belief system we felt he represented," says Reed-Guevara. "For me it was not about trying to argue with him or his supporters, but rather to express we didn't believe he was someone we represented what our campus or university values were." 
She says open expression observers at the event were helpful and that the program and the creation of the open expression committee are part of a larger effort by the university to help students "try to understand each other with compassion.
"I think there was clearly a desire to ensure we felt as though we were being given the opportunity to speak and protest and express our opinions, as well making sure there were no attempts to keep the speaker from speaking," Reed-Guevara says. 
Anne Kelly, director of career services at Candler School of Theology, served as an inaugural member of the Open Expression Committee when it was formed, contributing to conversations on the Open Expression policy and setting parameters for open expression on campus. 
"I wanted to be involved in something that supported people's ability to speak out. This correlated with conversations I was having with undergraduate students. One student said he did not feel comfortable speaking out, but said when he thought about his grandparents, he said that was what they did, they protested in the 1960s to support what they believed in," Kelly says. "The students are so bright at Emory, they understand how the Open Expression Observers program is helpful to them."
Educating others 
Shutt has been contacted by other universities and colleges about the Open Expression Observers program, and a group is forming to plan a conference for the fall to showcase Emory's work and utilize the place it currently holds as a leader in open expression as a platform for further discussion on open expression and free speech in higher education and beyond.
In summer 2017, Emory's Division of Campus Life hosted a Higher Education Institute symposium on open expression for higher education professionals. Shutt also has designed a master's level class called "Open Expression in Higher Education: Moving the Narrative from Protest Management to Student Development" for the University of Georgia's Counseling and Student Affairs Administration Program, part of the state university's College of Education.
Leah Tompkins, associate director of academic programs for the Executive Master of Public Health Program at Rollins School of Public Health, felt being involved in the Observers program would provide both a personal benefit and a benefit to students.
"It is important to support students and make them feel a part of the university. It is an opportunity to meet people from different areas of campus and to hear interesting speakers," says Tompkins, who is pursuing her educational doctorate in student affairs leadership at UGA. "But it is also a way to support the student population and let them know that Emory is still a place that values their activism and freedom of expression." 
Faculty or staff interested in volunteering for the Open Expression Observers program can apply online.
This article first appeared in the Emory University News Center.
---
Tags