Main content
Students
Faith, child advocacy, and a little acrylic paint: That's what this JM graduate is made of
Emory University School of Law |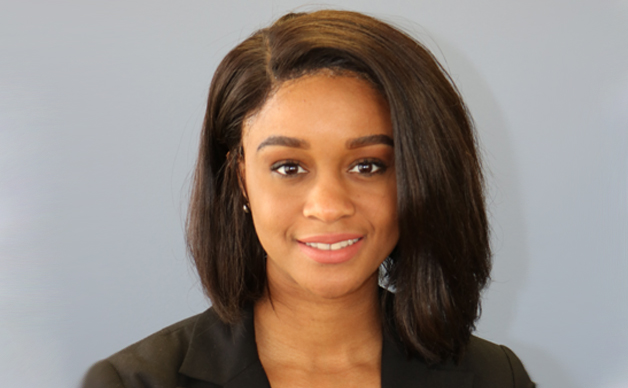 Along with an impressive cohort of peers, Rachel Stone 18L recently received her Juris Master degree from Emory University School of Law. In a Q & A, she shared what led her to the school, how she plans to use her degree, and how she managed the rigor of law school and a full-time career.
When you were a child, what did you want to be?
An artist. Art allowed me to express myself visually while serving others. I enjoyed painting self-portraits for people in my community. Although art is not my profession, it still plays an important role in my life. As an adult, painting is a self-care method and I occasionally paint self-portraits for people in my community. 
How did you become interested in a legal education?
My first-year as a special education teacher. Learning of my students' traumatic experiences and the adverse effects of these and similar experiences on their academic performances influenced my decision to pursue a legal career; however, one student's experiences resonate with me the most. I recall providing special education services for a student, whom I shall call, "Sally." Sally is in the foster care and juvenile justice systems. When I first met Sally, her grades were a "C" average. By the end of the academic school year, her grades were an "A" average. She even made plans to attend college while playing a sport. Even though I fulfilled my duty as an educator to provide Sally with a high-quality education, I wanted to do more –at the policy level– for students like Sally, especially those residing in rural areas.
Why Emory Law?
The Barton Child Law and Policy Center. As a high school special education teacher, I wanted to establish a legal foundation in the child welfare, juvenile justice, and education systems. Furthermore, I hoped to gain child advocacy, public policy, and analytical writing skills.
What kind of career do you plan to pursue? Where?
Georgia is my home. I plan to work on laws and policies affecting Georgia's K-12 education system and children involved with the juvenile court, child welfare, and juvenile justice systems. I hope to continue collaborating with lobbyists, agencies, organizations, educators, and elected officials, among other stakeholders. I am committed to helping Georgia become a model state for high-quality education and better outcomes for children, families, and their communities. 
Can you name one moment at Emory Law that you will remember for a lifetime?
Just one? I will remember my experience as a student intern at the Emory Law Barton Child Legislative clinic the most. During the 2017 Georgia General Assembly, my classmates at the Barton Child Legislative clinic and I tracked legislative bills of interest to child advocates at the Georgia State Capitol. I will always remember the moment Governor Nathan Deal signed, House Bill 86 ('HB 86") into law.
HB 86 was a legislative bill I tracked during the 2017 Georgia General Assembly. It required reporters of child abuse to report sex trafficking. I felt honored to stand next to the sponsors of HB 86 –  Representative Mary Margaret Oliver (D-Decatur) and Senator Renee Unterman (R-Buford) – among other child advocates as Governor Deal signed HB 86 into law.
How has Emory Law grown you as a person – not just as a law student?
Emory Law has expanded my worldview and impacted my day-to-day decision-making. I attended Emory Law during a stage in my life when I sought to build upon my personal and professional identity. I have enjoyed learning different ideas and perspectives. Emory Law taught me how to confidently make informed decisions and to work within ambiguous contexts.
How have you managed to accomplish so much despite the rigor of law school?
One day at a time and a village! Law school is undoubtedly competitive. I have found that competing with myself daily – as opposed to competing with others – has allowed me to not only surpass my academic expectations, but to also meet my goals and aspirations with excellence. Moreover, I attribute my accomplishments to early morning HIIT (High-Intensity Interval Training) classes and the support of professors, academic advisors, librarians, mentors, classmates, colleagues, employers, supervisors, and family. Ultimately, my faith is my foundation for my accomplishments. My hope and faith in God give me confidence; he will not call me to a profession and allow me to fail.
---
Tags