Main content
Students
Fiji calls for LLM grad Seruwaia Nayacalevu-Masi 18L ... for now
Emory University School of Law |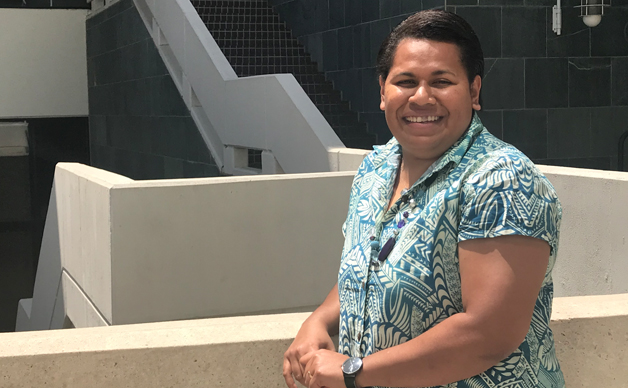 It was a lonely first few days for Seruwaia Nayacalevu-Masi 18L when she started her studies at Emory University School of Law. She didn't know anyone and felt like she was all alone. But, like Interim Dean James B. Hughes said at the recent Diploma Ceremony during which Nayacalevu-Masi was recognized for receiving her Master of Laws degree, no man is an island. Now, as her Emory Law days have come to a close, Nayacalevu-Masi can claim friends from China, South Korea, Brazil, Russia, Afghanistan, Georgia, Kyrgyzstan, Jamaica, India, England, Vietnam, Liberia, Germany, Venezuela, and the United States of America.
As all LLM students do, Nayacalevu-Masi has a law degree. She gained her Bachelor of Laws degree from the University of the South Pacific in 2008. She then obtained a professional diploma in legal practice from the same university and was admitted to the Supreme Court of Fiji in August of 2009.
Seruwaia has had work experience at private law firms, the International Union for the Conservation of Nature (IUCN), and in government, where she began her legal career in legislative drafting. So why Emory Law?
Nayacalevu-Masi came to Emory Law on a Fulbright Scholarship presented to her by the US Embassy in Fiji, which serves a number of nations in the Pacific. Emory Law also awarded her a scholarship toward tuition. She said, "I have always dreamed and prayed about attaining my Master of Laws degree overseas, and Fulbright and Emory Law allowed me to fulfill my dream. The US and Fiji have a similar legal system (adversarial) and both also use common law in their practice. Attaining a Master of Laws degree from a prestigious university like Emory will greatly benefit my future and provide me with great opportunities."
Nayacalevu-Masi has returned to Fiji – at least for now – to work in the firm at which she was an associate. The lifelong learner, who has also worked in Australia as part of a Lawyers Exchange and Development (LEAD) Exchange, says "After that, I'll go wherever the opportunities present themselves."
---
Tags