Main content
Gay McDougall 18H to Emory Law graduates: 'We're waiting on you.'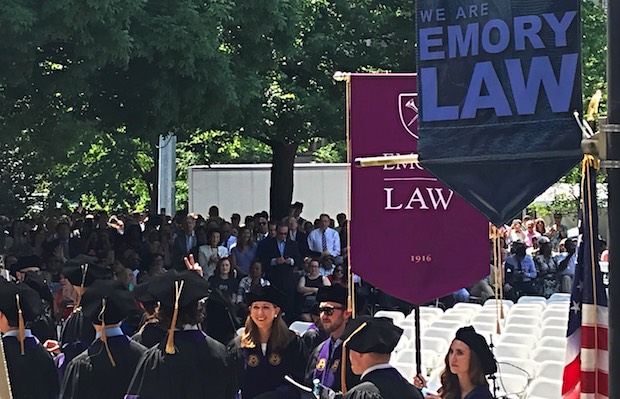 The possibility of world change achieved through justice was the common theme at Emory Law's Diploma Ceremony today, as 440 members of the Class of 2018 became alumni. 
Interim Dean James B. Hughes Jr. reminded graduates that the Emory Law community had offered "insight into the operation of justice in our society" as well as encouragement to foster a passion for justice.
Hughes asked them to recall their journeys toward this day: "Take a moment to contemplate the hours of planning and preparation that it took to get you here – and that's before classes even began," he said. "Then there were classes, externships, summer jobs, and practice societies – all parts of your Emory Law experience that were intentionally designed to stretch you and develop you. Recall those memories in this moment. Be proud. Be grateful. And be hopeful that you can change the world around you with all you've learned."
Alumni Association President John A. Jordak Jr. 93L, a partner at Alston & Bird, suggested how graduates might effect change. He said, "You are now part of a greater legal community, and it's a very noble one. Respect your position and the people around you."
Gay McDougall 18Hwas awarded an Honorary Doctor of Laws degree. She told graduates, "I look out at you, and I can't help feeling a little envious at what lies ahead. You are graduating from one of the finest institutions in the world, and you are entering a job market with single-digit unemployment for college graduates. This world that you're inheriting is one of incomparable wealth, resources, and technological know-how. But these are difficult times for justice and human rights. Democracies all around the world are under threat. Authoritarianism is advancing. A global human rights movement is being beaten back. Nelson Mandela's legacy in South Africa is being squandered. Racist hate speech is no longer taboo."
She added, "These are all problems that have solutions. The solutions are in our reach. We simply have to care enough to find them. We must have empathy and not be foolish enough to think we can ignore someone else's suffering simply because it's happening on the other side of the globe. Whatever field of law you go into, you can play a pivotal role in shaping a future in which hunger, poverty, and racism are a distant memory. I want to challenge you to be the solution. Take responsibility for safeguarding the human rights that we must cherish. We're waiting on you, and you're going to have a very exciting future."
The excitement started early for these students, honored in today's ceremonies:
Graduate Student Marshal Nadia Jessica Hajji 18L, who will start as an associate at Paul Hastings in Atlanta this October, carried the traditional Emory Law gonfalon.
Jonathan Robert Pickett 18Lreceived The Minister Gloria Jean Fowler Angel Award. Each year, to honor Miss Jean's memory, the entire law school community – students, faculty and staff – bestows the award on the graduating student believed to most embody the qualities that made Miss Jean such an important part of the Emory Law community.  
Janiel J. Myers 18Lwas named Most Outstanding 3L Student. She turned the spotlight back on others. "Being outstanding is not about one person, it's about one overarching community," she said. "Not only is each person a composition of every experience they've ever had, but also each person is a reflection of every person they've ever met. And I can confidently say that I, as an outstanding individual, am a composition and reflection of the outstanding people that have surrounded me for the last three years."
Niyati Arun 18Land Longfeng Zhong 18L both received the LLM Leadership Award. They served as president and vice president, respectively, of the LLM Society.
Apryle Cearnal Brown 18Lreceived The JM Leadership Award. Brown is associate registrar at Emory University.
Degrees awarded included Doctor of Law, Doctor of Law and Master of Business Administration, Doctor of Law and Master of Theology, Juris Master, Master of Comparative Law, Master of Laws, and Doctor of Juridical Science.
Handshakes and hoodings
The hooding ceremony is a rite that marks the transfer from student to graduate. Many JD students choose a family member or friend who holds a JD to hood them as they cross the stage. At Emory Law, the rest are hooded by the students' choice for Most Outstanding Professor.  
This year, as in several years past,
Frank Alexander
, Sam Nunn Professor of Law and founding director of the Center for the Study of Law and Religion, received that honor. Alexander, who taught his last class this semester, spoke through emotion: "Today we all graduate together. I graduate with you. You have accomplished this in three years; it has taken me 37 years." He added, "Each of you, and all of you, have been a gift to me and to all of the faculty and staff of Emory Law over the past three years. Your presence with us over these past three years has renewed in us the enduring truths of the past. Your presence with us over the past three years has emboldened us with the creativity of the present. Your presence with us over the past three years has inspired in us the transformational possibilities of the future."
---
Tags