Main content
Honors and Awards
Nicole Schladt 18L receives graduate Brittain Award for advocacy, service, leadership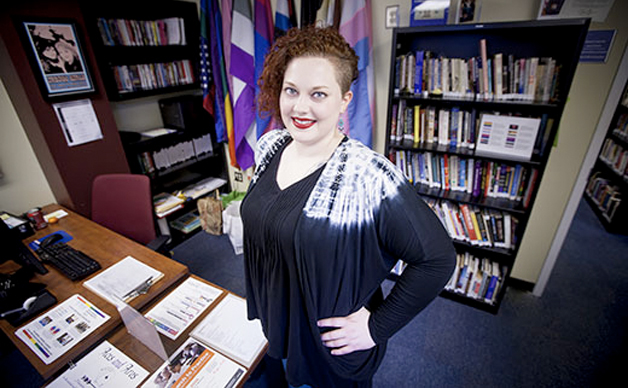 Nicole Schladt 18L entered Emory School of Law intent on pursuing international law — the perfect fit for a scholar who'd recently completed a master's thesis at the University of Cambridge that found her researching international human rights issues.
At Emory, Schladt quickly delved into classes in international law and politics. But she also found herself drawn to civil rights and criminal law courses, an interest that would lead to hands-on internships with both the DeKalb County District Attorney's office and the Southern regional office of Lambda Legal, a national nonprofit organization that assists the LGBTQ community and people living with HIV.
Her time with Lambda Legal unfolded amid a volatile national political climate, providing an up-close view of steep social inequities, from transgender individuals who were being denied insurance benefits to people whose civil rights could be strengthened by a legal name change or advance directive.
"Through it all, I realized that there weren't many people working to provide direct legal services to LGBTQ folks who didn't have the resources to afford them," recalls Schladt, who will receive her juris doctor from Emory Law on May 14.
So she did something about it.
Working with fellow Emory Law student Faris Mohammed 18L, Schladt co-founded Emory LGBTQ Legal Services, a law project that connects pro bono attorneys and law student volunteers with low-income clients — in the Emory LGBTQ community and metro Atlanta — who need help with legal issues. 
Launched in January, the project is already making a difference, connecting with eight potential clients and compiling a list of LGBTQ services throughout the wider community.
"It's all about providing people with a voice," Schladt explains. "So many folks think the justice system is inaccessible. Being able to reassure people that they do have rights and that there are ways to fight back, that there are people interested in helping you realize the life you want to lead, has been a great experience."
For her wide-reaching advocacy, leadership and service to the Emory community, Schladt has been named the 2018 graduate student recipient of the Marion Luther Brittain Award, the university's highest student honor.
The Brittain Award is presented each year to two graduating students, one graduate and one undergraduate, under provisions of a gift by the late Dr. M. L. Brittain, former president of Georgia Institute of Technology and alumnus of Emory.
The award, which comes with $2,500, is presented to students who've performed the most "significant, meritorious and devoted service to Emory University, with no expectations of recognition or reward."
Commitment to justice, service
Schladt says the opportunity to study and work at Emory has helped shape her voice as both an advocate and activist.
As an undergraduate at the University of Kentucky, her academic interests were expansive; she took classes that explored a range of diverse interests, from international studies, politics, journalism and music and to feminist and queer theory.
The chance to travel to the U.K. to pursue graduate studies at Cambridge helped hone her academic focus. Schladt earned a master of philosophy degree in international relations and policies, focusing on a "trans*" critique of U.N. policies — specifically, two non-binding resolutions that addressed sexual orientation and gender identity (SOGI).
That scholarship had her interviewing U.N. officials in field offices around the world to discuss how SOGI policies were actually working. She arrived at Emory in 2015 and began working as a graduate assistant in Emory's Office of LGBT Life — work that called upon her organization and advocacy skills.
"She was incredible," says Michael Shutt, Emory Campus Life senior director for community, who was interim senior director of the Center for Diversity and Inclusion at the time. "Anything she touched, from working on something really high level and complex to making nametags for a special event, it was as if you opened your mouth to start a sentence and the thing was already done, a problem solved."
"Nicole proved herself a quiet doer and fierce advocate — a leader who gets things done and doesn't take no for an answer," he says.
Indeed, in his letter nominating Schladt for the Brittain Award, former Emory Law Dean Robert A. Schapiro, Asa Griggs Candler Professor of Law, noted that "even in a community of leaders, Nicole stands out for her extraordinary leadership skills and for her commitment to serving the community."
While at Emory, Schladt's public service has included work with OUTLaw, Emory Law's LGBTQ and allies organization; the Legal Association of Women Students (LAWS); the Emory Law Diversity and Inclusion Coalition; and the Emory Public Interest Committee, among others.
Among her many accomplishments, Schapiro recalls the leadership Schladt demonstrated helping execute a special law school event — a panel discussion featuring Jim Obergefell, the plaintiff in the landmark civil rights case that would result in the U.S. Supreme Court affirming that the fundamental right to marry is guaranteed to same-sex couples.
This article originally appeared in the Emory News Center.
---
Tags