Main content
Public Interest
Emory Law partners with Church of Jesus Christ of Latter-day Saints to launch community legal clinic
Emory University School of Law |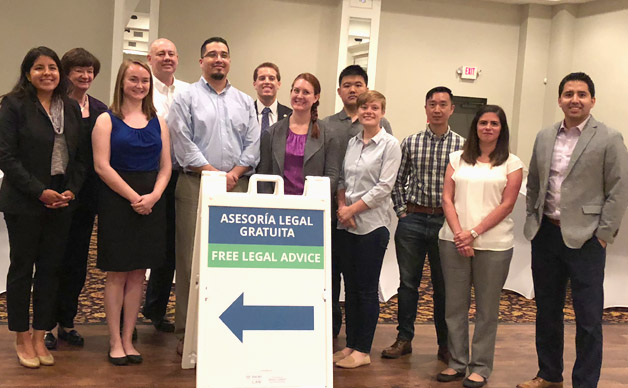 Emory University School of Law and the Church of Jesus Christ of Latter-day Saints have partnered to launch Community Legal Clinic – an organization handling immigration issues at no cost. Rita Sheffey, assistant dean for public service and director of the Center for Public Service, says organizers hope to add family law soon and, eventually, other legal specialties. She's leading the effort for the school.
The monthly clinic currently offers free, brief, personalized advice about immigration in a safe setting. During the first session earlier this month, approximately 30 people came in for assistance from seven students, three immigration lawyers, Sheffey and Keely Youngblood, legal fellow in Emory Law's Volunteer Clinic for Veterans. 
Jorge Gavilanes of The Kuck Firm is the lead attorney on the project, supervising Emory Law students and arranging for lawyer volunteers. Gavilanes will do a training with the student volunteers before each clinic on how to interview people and assess their legal issues.
The law students perform intake and then route clients to volunteer lawyers for immediate consultations about their immigration questions. The lawyers route more-complex cases to local firms or nonprofits.
The legal clinic will be held the second Wednesday of every month from 7 p.m. to 9 p.m. at La Mansión Events Hall at 5522 New Peachtree Road in Chamblee. For more information, visit immigrantservices.lds.org, email lawcommunityclinic@emory.edu, or call 801-240-1442.
Read more information about the clinic in a recent article from the Daily Report.
---
Tags