Main content
Emory Law's International Refugee Assistance Project wins best chapter award
Emory University School of Law |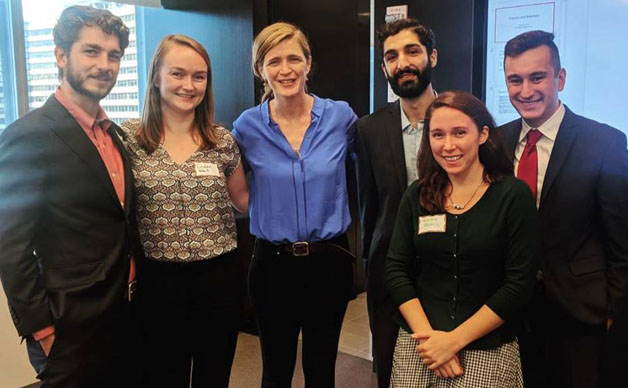 Emory Law's chapter of the International Refugee Assistance Project (IRAP) has received the IRAP Best Chapter Award for 2018 – chosen  by IRAP's national leadership – from among 31 student chapters in the US, Canada, and UK.  The award was given Saturday, September 29, at the annual IRAP National Student Summit, held in New York.
Present at the summit to receive the award were IRAP Intake Director Paul Harper-Spellings 20L, IRAP Vice President Linden Wait 20L, First-Year Representative Kamil Jamil 21L, Caseworker Nicolette Nunez 21L, and Event Coordinator Matthew Freifeld 20L.
The Emory Law IRAP chapter has previously received the 2017 Georgia Bar Association Law School Excellence in Access to Justice Award and the 2018 Emory Graduate Student Organization of the Year.
The cornerstone of IRAP's work is its direct legal assistance to refugee and special immigrant visa clients seeking pathways to resettlement.  This work is supported and made possible by a partnership with King & Spalding — a collaboration that has become a model for other IRAP chapters.  IRAP has also expanded its reach by seeking partnerships with other organizations working with the local refugee community in Clarkston, Georgia. Additionally, the chapter has a blossoming policy wing dedicated to advocating for issues confronting refugees at the local, state, and federal levels.
---
Tags