Main content
Students
Rajamannar 19L pursues JM to gain an edge in the workplace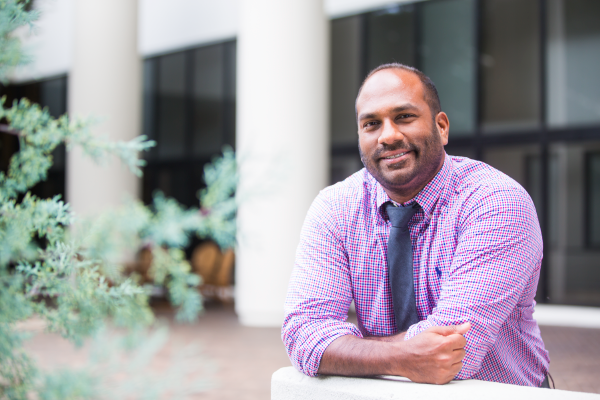 The best way to learn about all that the Emory Law Juris Master degree can provide you is to hear from those most involved in the program. 
Juris Master students are both working professionals and recent graduates seeking to broaden their impact in their chosen field. Kumar Rajamannar, Director CRE Operations, Loan, Lease and Trade Operations at Bank of America Merrill Lynch, graduated with a JM in May 2019, and shared some of his experiences in the online program and his application of what he learned to his career.   
Why did you decide to enroll in the JM program? 
I wanted to augment my current skillset and give myself an edge in my workplace, and also frame my thinking into a legal mindset – to adapt to regulation, as well as other legal aspects which I touch on a daily basis.  
How did the degree format work with your life? 
The format of the degree completely helped make my decision. With a busy career in which I was building a momentum, it did not make sense to step away from a full-time job to pursue a full-time degree – so the part-time online degree helped fit in with my career goals. Interestingly, I have at points over the past two years completed coursework in so many different locations: New York City, Tampa, Charlotte, Illinois, Atlanta, and in some cases, a few of my assignments were completed on the road and in airplanes. This demonstrates the evolution of how our careers have us on the go, and how this format of the degree complements that – it's a true adaptation to life.  
What surprised you during your study? 
I was surprised by my ability to process and synthesize information and prioritize school work and career. Looking back and reflecting, I am surprised by how much I accomplished, learned, and delivered in the abbreviated time frames.  
What was memorable about your coursework? 
Dispute Resolution and Data Management Protection were both valuable courses, and contained very practical information on how to negotiate scenarios among groups, as well as keep an eye on legal issues as they relates to data. My professors were just excellent, injecting their real-world experience and guiding our conversations to lead us to certain answers and realizations. Their comments and feedback were so valuable and thoughtful.  
What advice do you have to professionals considering a JM? 
I encourage everyone considering a JM to think about why they want to pursue this degree, and to understand that it's okay that the goals at the outset may end up evolving as they go through the program. I also encourage them to begin to 'shape their story' around how they want to add value in their current role with what they learn. 
---
Tags