Main content
Juris Master Student Spotlight on Ayinde Luqman
Emory University School of Law |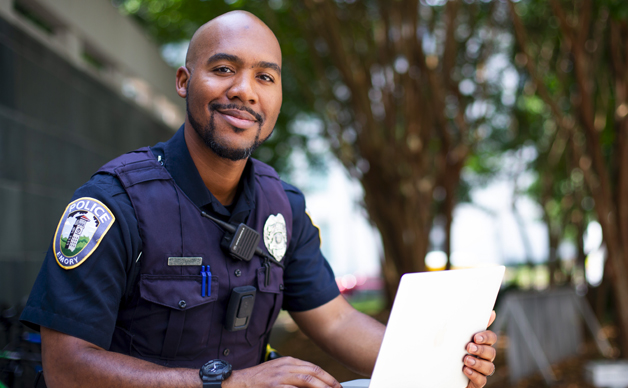 "A degree from Emory is like a door into anything."
Ayinde Luqman is a police officer at Emory Police Department responsible for patrolling Emory University's campus, investigating incidents, and supervising and training new recruits.
When he isn't working 3 to 4 12-hour shifts per week, however, he studies for his classes at Emory University's School of Law Juris Master program. 
"We take continuous education as police officers," Luqman says.
Emory Law's JM Program, offered on campus and online, is designed to help professionals like Luqman to become more specialized in their field and enhance their knowledge of the law. The 30-credit-hour master's degree has an online format that can be completed in 18 months and an on-campus option that can be completed full time in nine months or part-time in four years. With a Juris Master degree from Emory Law, Luqman believes he'll have the tools to articulate how he mediates conflict, resolves disputes, and enforces the law.
"My daily goal is to leave people with a lasting, good first impression of police officers," Luqman says. "Behind every uniform that you see is a person, and each person is different."
Behind this officer's uniform, he is a father of three children, a husband, and a student of the law who hopes to broaden his impact. When he was in college he studied criminal justice. Becoming an officer of the law seemed like a necessary next step. "I decided to become a police officer so that I could be an agent of change."
After five years, he enrolled in Emory Law's JM program, joining other JM candidates of various disciplines and professions like health care, hospital administration, compliance and risk management, policy development and government agencies. Luqman isn't even the first police officer to enroll in the program.
"We have a really good mixture of age ranges and careers," says Luqman. "Everybody learns how to work this program into their ordinary life.
With discipline and the support of his family, Luqman looks forward to graduating in Spring 2020 (fc).
"I wanted to pursue the JM degree because of how it may impact my future aspirations," Luqman says. "A degree from Emory is like a door into anything." 
Learn how the JM program at Emory Law can help you enhance your career.
---
Tags