Main content
Public Interest
2020 EPIC Award Winners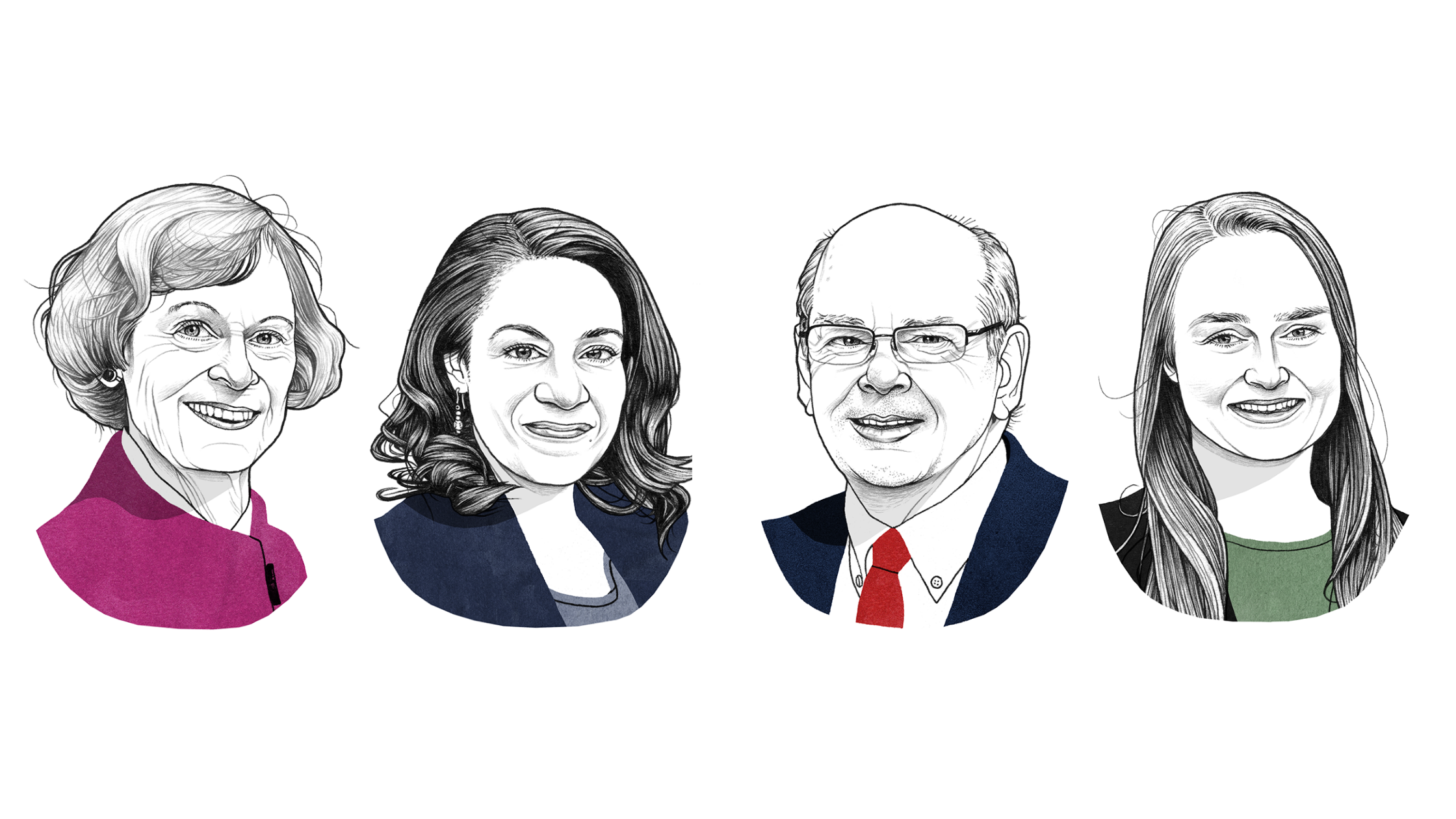 One of the law school's signature events, the Emory Public Interest Committee's (EPIC) Inspiration Awards, celebrates members of our community who do extraordinary work in the public interest. There is also a student award winner each year who exemplifies the committee's goals.
Dorothy Toth Beasley 08L
Lifetime Commitment to Public Service Award
In 1977, Judge Dorothy Toth Beasley 08L became the first woman appointed and then elected as judge to the State Court of Fulton County. In 1984, she was appointed the first woman on the Georgia Court of Appeals. In 1992, her long lobby for an addition to the Court's motto, which is etched in stone above the bench, was successful. The motto now reads: "Upon the integrity, wisdom, and independence of the judiciary depend the sacred rights of free men and women." After resigning from the Court of Appeals, Beasley served as a mediator and arbitrator with Henning Mediation and Arbitration Services Inc., until retiring in 2017. Notable achievements include earning an Emory LLM degree in international law in 2008, then serving with the United Nations International Criminal Tribunal for Rwanda; being named Emory Law's 2018 Eléonore Raoul Trailblazer Awardee; cofounding Atlanta's Table, a project of the Atlanta Community Food Bank; raising awareness of child sex-trafficking; and serving on various boards, including the Emory Law Alumni Board and the EPIC Advisory Board. She currently assists refugees through the Lutheran Services of Georgia Refugee Program and has worked to persuade school districts in Georgia to adopt iCivics as part of their curriculum.
Michelle H. Jordan 92L
Unsung Devotion to Those Most in Need Award
Michelle H. Jordan 92L began her practice with Sumner & Hewes before transitioning into public interest work as the family law attorney for the Georgia Law Center for Homeless, coordinating its Women & Children's Advocacy Project. She has worked as a Court Appointed Special Advocate (CASA) in DeKalb County Juvenile Court and with Legal Aid's Gwinnett Family Violence Project. Michelle became a supervising attorney with Atlanta Legal Aid's DeKalb County Office specializing in family law in 2003 and currently serves as the managing attorney of Atlanta Legal Aid's Fulton Family Law Unit and coordinator of its Family Law Taskforce. She also manages attorney consultations and other legal work for the Fulton County Superior Court's Family Law Information Center. Jordan served on the Executive Committee of the State Bar of Georgia's Family Law Section and as a past chair of the Atlanta Bar Association's Public Interest Law Section. Jordan is the 2014 recipient of the Atlanta Bar's Family First Award, 2017 recipient of the Bensonetta Tipton Lane Award for Commitment to the Family, and the 2019 recipient of the Atlanta Bar's Outstanding Woman in the Profession Award.
Richard A. Horder
Outstanding Leadership in the Public Interest Award
Richard A. Horder is partner in the Atlanta environmental law firm Kazmarek Mowrey Cloud Laseter. He received his BA and JD from the University of Florida, an LLM from the London School of Economics and Political Science, and an MBA from Georgia State University. Rick served as an Assistant United States Attorney for the Northern District of Georgia in its civil division from 1974 to 1977 where he represented the U.S. Environmental Protection Agency, among other agencies. He joined Georgia Pacific as regional counsel in 1978, later serving as associate general counsel. In 1989, Rick joined Kilpatrick Townsend & Stockton as a partner, where he chaired the Environmental and Natural Resources Practice Group for twenty years. He joined Kazmarek Mowrey Cloud Laseter in 2010. Rick is a past chair of the Dian Fossey Gorilla Fund International, a past president of Atlanta Legal Aid Society, and a former member of the Georgia Council of Adoption Lawyers. He has been recognized for public service and pro bono, including with the U.S. Congressional Coalition on Adoption's Angel of Adoption, the Florida Bar President's Pro Bono Service Award and Out-of-State Award, Georgia State University's National Center on Grandparents Raising Grandchildren Award, and the State Bar of Georgia's William B. Spann, Jr. Award.
Linden Wait 20L
Mark and Rebekah Wasserman Public Service Award
Linden Wait 20L is a third-year law student and Woodruff fellow at Emory University School of Law. She is originally from the mountains of North Carolina and graduated from UNC-Chapel Hill in 2014 with a BA in Political Science and Global Studies. Before law school, she taught English at an Islamic Senior High School in Indonesia and worked with the International Association of Women Judges on equal justice initiatives in the Middle East and North Africa. She is passionate about advocating for refugee and immigrant communities. She currently serves as president of Emory's chapter of the International Refugee Assistance Project and is a founding member of the Emory Immigrant Legal Assistance Clinic. While in law school, she has worked with several public interest organizations including the Tahirih Justice Center, Project South, Atlanta Legal Aid, and Access to Law Foundation. She is currently interning with the Atlanta City Public Defender's new Immigration Defense Unit and plans to pursue a career in immigration and criminal defense. After graduating, she will work as a judicial law clerk at the New York Immigration Court through the DOJ Honors Program.
The event traditionally attracts over 300 people and raises funds to provide stipends for students who work in otherwise unfunded public sector summer jobs. This year's slate of award winners was stellar, as usual, and they were lauded at the 24th Annual EPIC Inspiration Awards on February 4, 2020.
---
Tags