Main content
Honors and Awards
Students win $8k in Stange moot court competition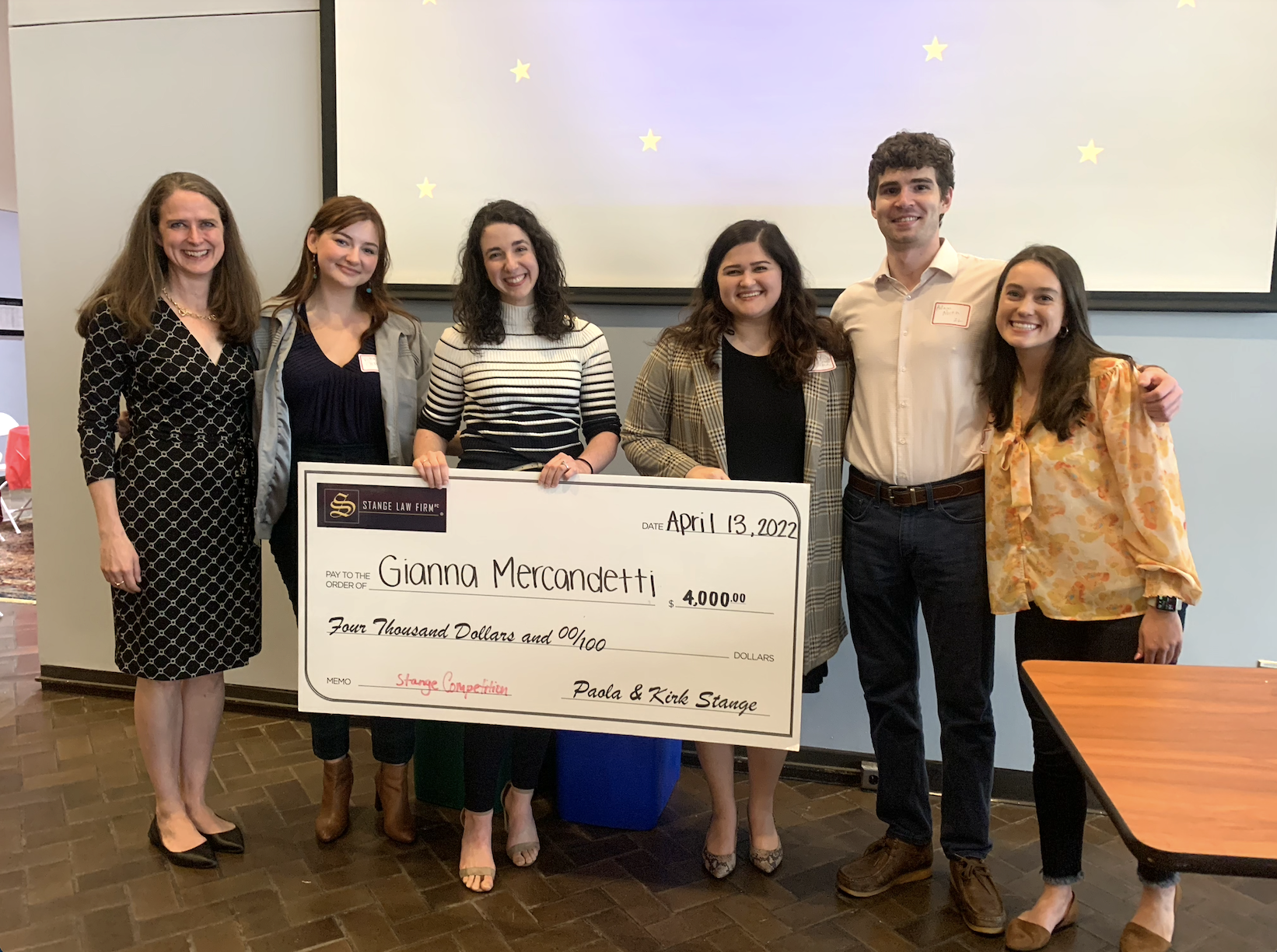 On April 13, 2022, the Emory Moot Court Society (EMCS) concluded its annual Stange Competition with the Stange Awards Dinner, marking the Society's first official return to in-person events since 2019. The Stange Competition serves as the tryout process for Emory Law 1Ls seeking to join EMCS. Current EMCS members participate as anonymous brief graders and oral argument judges over five days of competition, including preliminary, semi-final, and final rounds. For the first time in two years, oral arguments took place in-person. Taylor Stein 22L and Adam North 23L, the respective Outgoing and Incoming Directors of Intraschool Competitions, organized the competition and awards dinner.
All 1Ls who reached the final round of competition received invitations to the Stange Awards Dinner, where EMCS announced winners for Best Overall, Best Brief, and Best Oralist. Gianna Mercandetti 24L won Best Overall and a $4,000 scholarship for the highest average brief and oral argument scores throughout the competition. Margaret Dowling 24L won Best Brief and a $2,000 scholarship for the highest brief score. Katelyn Hunt 24L won Best Oralist and a $2,000 scholarship for the highest combined oral argument scores. After the dinner, the incoming EMCS executive board extended offers to join the Society to the Stange Competition's top thirty-nine performers.
The Stange Awards are sponsored by Paola Arzu Stange 01C 05L and Kirk C. Stange, founders of the Stange Law Firm. The Stanges established these awards to honor the top participants in Emory Law's moot court program. Paola was a member of the Emory Moot Court Society during her time at Emory Law and credits this experience with her confidence as a practicing courtroom lawyer. Kirk has served as a moot court judge, taught CLEs, and served as a speaker at various engagements. The Stanges value proficiency in writing and orating, and their practice mirrors those values.
---
Tags