Main content
Students
Anthony ReFour 22L: Education off the back burner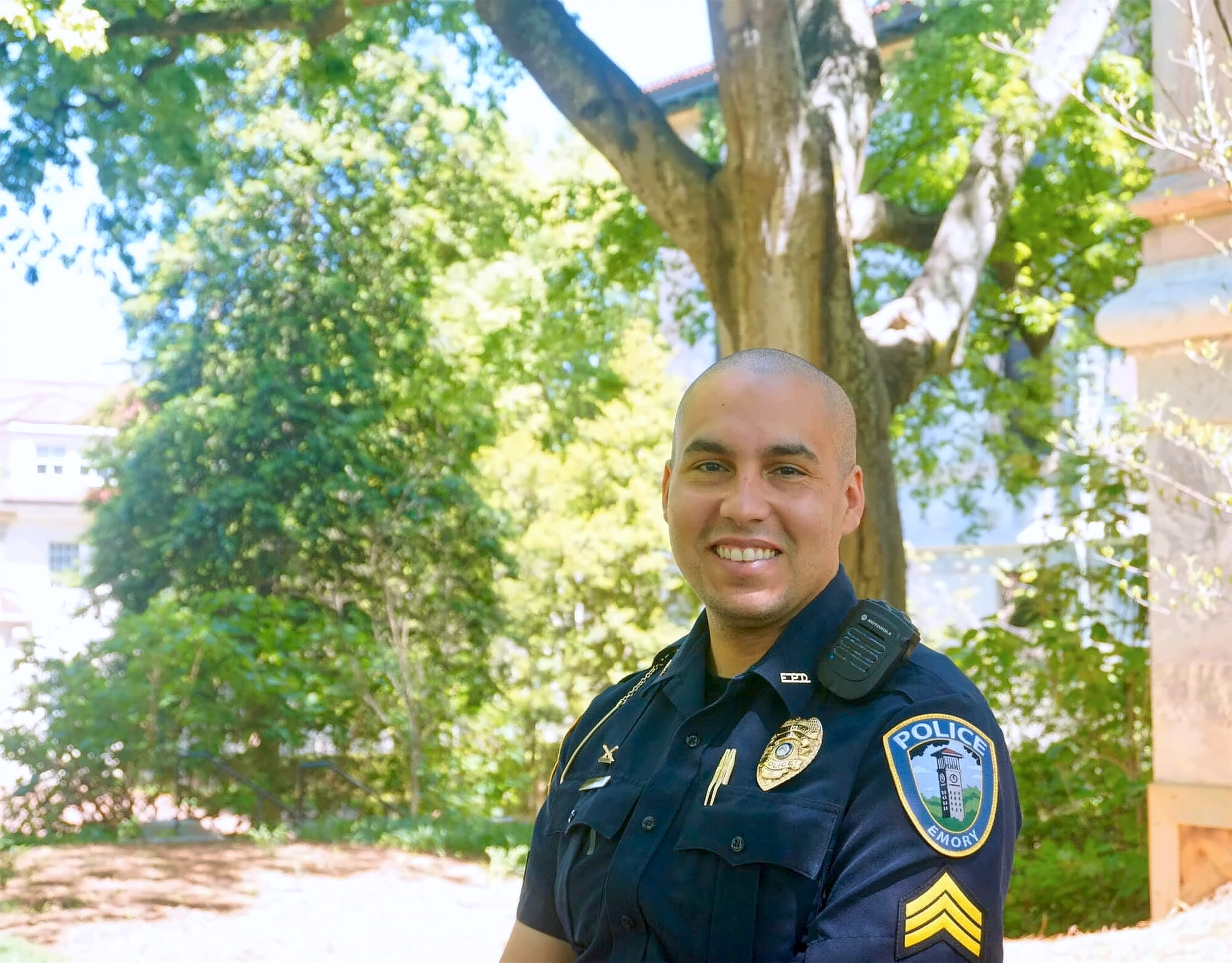 "Even after 15 years as a police officer, I have learned things about myself, and I've learned things about the law."  
So says Anthony ReFour 22L, who earned a juris master degree from Emory University School of Law in May 2022. He's spent the last five years in undergraduate and graduate school, after delaying his academic aspirations for years. Now, a journey that began working at Emory is beginning anew with a degree from the school of law. 
ReFour had been building his law enforcement career ever since he started working at a sheriff's office at 18. A DeKalb County police officer in 2012, he and some of his colleagues were assigned to work an Emory Commencement ceremony. Among the thousands gathered to celebrate graduating Emory students, he met several Emory Police Department officers who told him stories about working at the university. He also heard about the courtesy scholarship that Emory employees could use after meeting certain service requirements.  
"A lot of people don't understand that Emory is one of the best kept secrets in the game. It's such a good place to work. The police department is also really hard to get into, but I gave it a shot and applied, and they accepted me." But now that ReFour had his dream job, his education was put on hold once again. In 2017, he finally prioritized himself, starting an undergraduate program at Reinhardt college studying criminal justice. Four years later, he spent his last two weeks of his senior year overlapping with the first two weeks of his graduate academic career.  
One of ReFour's co-workers had graduated from the Emory Law Juris Master's program in 2020 and told him that "a degree from Emory is like a key to anything." ReFour agrees. "I feel like a completely different person from when I started the program.  I'm so much more confident in my abilities and understanding of my job. I can grasp some of the finer mechanisms of the legal system in the US. I've been involved in the criminal justice system for 17 years, but having this master's degree has honed my critical thinking and analytical skills. It's such a good program, because the law permeates so many careers."  
He adds, "Reading documents and understanding the laws and the administrative rules behind your job is very important … so is having a deeper understanding of the case law, the history, the precedents and how police powers are employed across the United States." 
Adjunct Professor Heather Ellis Cucolo, who ReFour says taught one of his most impactful class, Mental Health Law, with passion and zeal, recalls his contributions to the class: "His insight into the issues discussed in the course provided a crucial perspective from law enforcement and highlighted his role in addressing and combating the failures in community mental health support and provisions." 
"My co-workers have been a huge support, texting me muscle emojis to tell me to stay strong – I have a lot of people in my corner who understand the stresses of being in a program like this and who also understand the rewards," ReFour says, noting that his wife understood why he needed to do this program. He says she's been more supportive than necessary, recognizing that graduate level education requires a great deal of concentration that meant she spent more time focused on their child. "Now it's her turn to live out her dream," he says. "My only regret is that I put my education on the backburner for so long. This experience has been wonderful, and I'm so happy." 
---
Tags