Main content
Faculty and Scholarship
John Witte Jr. pens six new books on faith, freedom, and family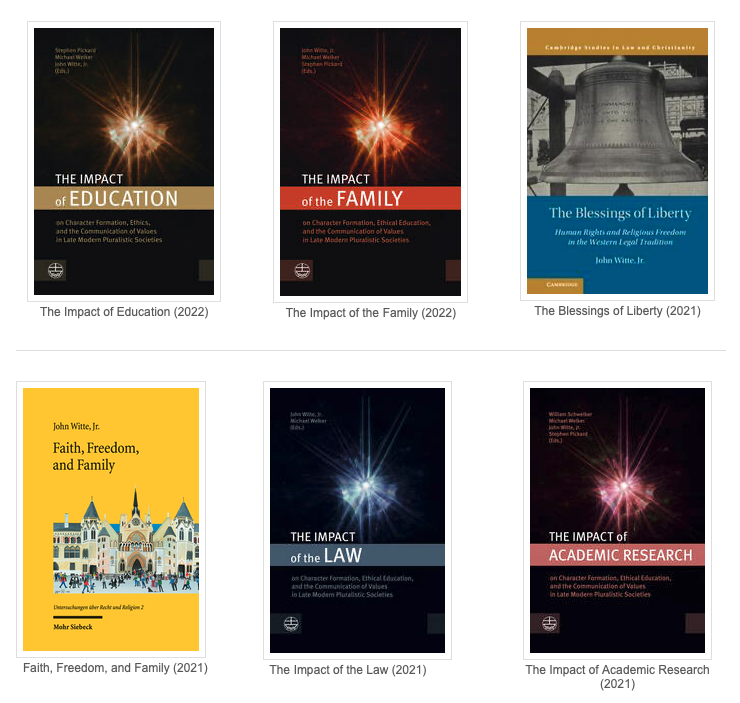 "Faith, freedom, and family together form the bedrock of a good life and a good society," writes John Witte Jr., to open one of his six new titles published this past academic year. "But this foundation has suffered seismic shifts of late from vibrant religious pluralism, profound political changes, and new conceptions of marriage and family." 
In these new volumes, Witte retrieves the major legal and theological teachings that have shaped these institutions and outlines ways to strengthen, reform, and integrate them anew for what he calls a post-modern liberal culture beset by bitter culture wars.
Witte is Woodruff Professor of Law, McDonald Distinguished Professor of Religion, and director of the Center for the Study of Law and Religion.  He has published 45 books and 300 articles in 15 languages and has given 350 public lectures around the world. 
These six new titles, together comprising nearly 2600 pages, are "the ironic benefit" of COVID, Witte says.  For two years plus, "I was off the road and at my writing desk, with unprecedented time to focus."
All these books feature Witte's trademark interdisciplinary method of retrieving the wisdom of the Western tradition, reforming it for our day, and re-engaging various confessional and professional perspectives on fundamental legal, religious, political, and social questions.
Three of the books are new monographs. The Blessings of Liberty: Human Right and Religious Freedom in the Western Tradition (Cambridge, 2021) explores the role that religion played in the development of rights from antiquity until today, and the complex interplay between human rights and religious freedom norms in modern domestic and international law. Faith, Freedom, and Family (Mohr Siebeck, 2021) documents and defends the value of all three of these institutions historically and today, while mapping and measuring necessary and effective modern reforms. Religion and the American Constitutional Experiment (5th ed. Oxford 2022), coauthored with Joel Nichols (Emory Law Class of 2000, JD and MTS degrees) and Richard Garnett, critically analyzes the shifting laws of American religious freedom from the founding era to the latest machinations of the United States Supreme Court. Earlier editions of this volume, a standard teaching text, have been translated into a half dozen languages, including recent Chinese and Spanish editions.
Three of the books are new anthologies. Great Christian Jurists in German History (Mohr Siebeck, 2021), coedited with Mathias Schmoeckel, presents case studies of two dozen leading Catholic and Protestant statesmen and churchmen who shaped German public and private law in the second millennium. This is another title in a fifty-volume series Witte is editing on "Great Christian Jurists in World History." Finally, a pair of volumes, co-edited with Michael Welker, study the impacts of the family and of education respectively on Character Formation, Ethical Education, and the Communication of Values in Late Modern Societies (EVA Leipzig, 2022).
"I am deeply grateful for the generous benefactors and brilliant Emory colleagues who have helped inspire and support this work," Witte says, while running off to the library to work on several new writing projects.
---
Tags