Main content
Honors and Awards
Senate unanimously confirms Johnson as CFTC commissioner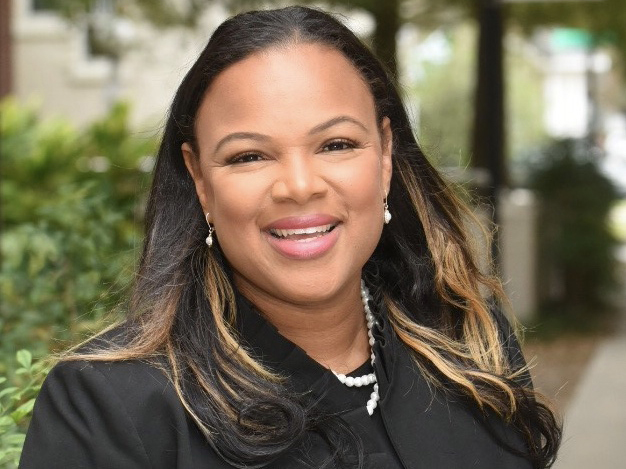 Emory Law's Kristin N. Johnson, Asa Griggs Candler Professor of Law, was unanimously confirmed by the U.S. Senate to serve a three-year term as a commissioner of the Commodity Futures Trading Commission.
Johnson is an internationally recognized expert on financial markets regulation and corporate governance, compliance, and risk management. Her recent research examines the implications of introducing cryptocurrencies and stablecoins in the financial markets ecosystem. These emerging innovative technologies are developed and trade on distributed digital ledger platforms. In addition, Professor Johnson's recent work explores broader technological innovations in society such as the integration of artificial intelligence technologies in commercial and consumer financial transactions, transfers, and assessments.
Steering a watchdog agency
The CFTC's regulatory authority over the derivatives markets includes policing fraud and manipulation in the markets for commodities such as gasoline and food. In her opening statement at her confirmation hearing, Johnson noted the CFTC's importance as a watchdog agency.
"Our futures and derivatives markets are preeminent in global financial markets. These markets play an essential role in the domestic economy and impact the daily lives of Americans, influencing the cost of energy sources used to heat our homes, cultivate crops, and manufacture, produce, and distribute goods along the supply chain," she said. "It is critical that these markets, which often serve as an important risk management tool for end-users, work effectively. To that end, the CFTC is a champion of the public interest, and its robust enforcement program monitors markets to protect against fraud and manipulation."
Johnson will oversee the Commission's Market Risk Advisory Committee (MRAC) and subcommittees focused on market structure and market risk management, climate risk in financial markets, and financial benchmark reforms.
"I am honored to be the sponsor of the MRAC and pleased to continue the work of my predecessor, Chairman Russ Behnam. Having spent my career in risk management oversight, I appreciate the MRAC's significant and critical role in advising the Commission on risk management in our markets including the emerging decentralized market structures in digital asset or cryptocurrency markets that may not rely on intermediation as well as risk management across traditional clearinghouses, exchanges, intermediaries, market makers, and end users," Johnson said. "I look forward to thoughtful engagement with advisory committee members regarding the best approaches for preserving the established benefits of risk oversight in conventional markets, digital asset markets, and on other nascent frontiers. Consistent with our governing statute and core principles, the MRAC will address market risks that threaten the vibrancy, vitality, and resilience of our preeminent derivatives and other financial markets."
The Senate's confirmation of four women, two Democrats and two Republicans, restored the commission to its full five seats. Sen. Debbie Stabenow, D-Mich., chair of the Senate Agriculture Committee, called the Senate's March 28 vote historic.
"This confirmation makes history because all four nominees are women, three of whom are women of color," Stabenow said in a statement. (Johnson was nominated by President Joe Biden in fall 2021.)
Expert testimony before Congress
Johnson has testified before U.S. House subcommittees twice. In 2019 she discussed how data gathered by fintechs, such as utility bill payments, to determine creditworthiness could result in unfair treatment of low-income consumers. 
"Credit is, indisputably, a critical resource. Individuals and families increasingly rely on credit to finance household purchases or overcome significant, unanticipated expenses," she said. "Without access to credit on fair and reasonable terms, it can be extraordinarily expensive to be poor. For families with fragile financial circumstances, credit may serve as a lifeline, enabling consumers to meet short term debt obligations, and to pay for education, housing, and even food." 
Her first CFTC public statement, issued May 5, highlights a U.S. District Court consent order that levied a $10 million civil monetary penalty against each of the three co-founders/co-owners of BitMEX. It was the latest in a continuing enforcement, as last year, the BitMEX corporation was ordered to pay $100 million for illegally operating a cryptocurrency trading platform and anti-money laundering violations. 
Accomplished in both academia and global finance
Johnson's confirmation further burnishes her reputation as a scholar whose research can shape policy, said Emory Law Dean Mary Anne Bobinski.
"In addition to being a leading authority in her field, Kristin has practical experience in high-level international finance," Bobinski said. "Her broad understanding of emerging technology, digital currencies, and global markets, as well as the legal implications of artificial intelligence and machine learning will make her an outstanding member of the Commission. Her commitment to public service sets an example for the entire Emory Law community."
Prior to her academic career, Johnson worked in the top echelons of law and finance. After working as an analyst at Goldman Sachs & Co. in New York City, she chose to attend law school and later clerked for then-U.S. District Court Judge Joseph A. Greenaway Jr. During law school, she was a summer associate at Akin, Gump, Strauss Hauer & Feld, and also Simpson Thacher & Bartlett LLP, practicing in New York City and London. Before entering academia, she served as a corporate associate in the mergers and acquisitions and capital markets practice groups at Simpson Thacher and later served as vice president and assistant general counsel at J.P. Morgan Chase & Co.
Before joining Emory in 2021, Johnson was McGlinchey Stafford Professor of Law at Tulane University Law School. She has co-written two forthcoming books: Research Handbook on Artificial Intelligence and the Law and Artificial Intelligence & The Law: Cases and Materials (both with Carla Reyes) to be published by Cambridge University Press and Aspen, respectively. She's served on the editorial board of the Journal of International Economic Law (Oxford University Press) since 2014.
Johnson is an elected member of the American Law Institute, an American Bar Foundation fellow, chair of the Securities Regulation Section, and previously an Executive Committee member of the Business Associations and Financial Institutions and Consumer Financial Services Sections of the Association of American Law Schools. She holds a juris doctor from the University of Michigan Law School and earned her bachelor's degree at Georgetown University Edmund Walsh School of Foreign Service. 
Q&A
Q: What do you see as the Commission's biggest emerging challenge?
A: We are in a transformative era in financial markets regulation and history. It is a transformative era because of the creation of new classes such as digital assets, new platforms, new strategies for engaging markets, and increasing participation by individual consumers. The integration and proliferation of uses of artificial intelligence also present opportunities and concerns.
For the CFTC, the emerging digital asset class presents unique and complex challenges. The agency must strike a balance between responsible innovation that may enhance efficiency and market integrity and consumer protection. The CFTC must continue to act with the utmost thoughtfulness, diligence, and care in the face of such challenges.
Q: What's an example that illustrates how the commission's regulatory power has made a difference in the quality of Americans' lives?
A: Generally, the CFTC has regulatory authority over the derivatives markets, this includes policing fraud and manipulation in the markets for certain commodities like energy and food. On May 24, the CFTC announced a $1.86 billion settlement with Glencore, one of the world's largest energy companies. Glencore perpetuated fraud in the oil and energy markets. The company bribed foreign officials in countries throughout South America and Africa to manipulate and control international benchmarks used to determine the price of oil, impacting the price that customers pay at the pump and the cost of cultivating and processing food crops and transporting goods and services. In addition, the CFTC has been a vigilant cop on the beat- prosecuting cryptocurrency-based fraud schemes and demanding restitution for defrauded investors. 
Q: Which of the Commission's advisory committees will you oversee?
A: I have elected to sponsor the Market Risk Advisory Committee (MRAC) which has subcommittees focused on market structure and market risk management, climate risk in financial markets, and financial benchmark reforms. The CFTC recently hosted a national roundtable exploring the introduction of cryptocurrencies in financial markets. This Advisory Committee will complement the Commission's efforts to examine the possibilities and limitations of digital assets.
The MRAC advises the Commission on matters relating to evolving market structures and movement of risk across clearinghouses, exchanges, intermediaries, market makers, and end users. It examines systemic issues that threaten the stability of the derivatives markets and other financial markets and makes recommendations on how to improve market structure and mitigate risk. Members include representatives of clearinghouses, exchanges, intermediaries, market makers, end-users, academia, and regulators.
Q: As of your March confirmation, four of five commissioners are female. Is this a first? 
A: Yes, our unanimous U.S. Senate confirmation is certainly historic because all four Commissioners are women and three are women of color. At no time have four women ever served together as Commissioners of the CFTC. Indeed, this set of Commissioners has been hailed as the most diverse in the agency's history.
---
Tags