Main content
A Veterans Day Message from the Dean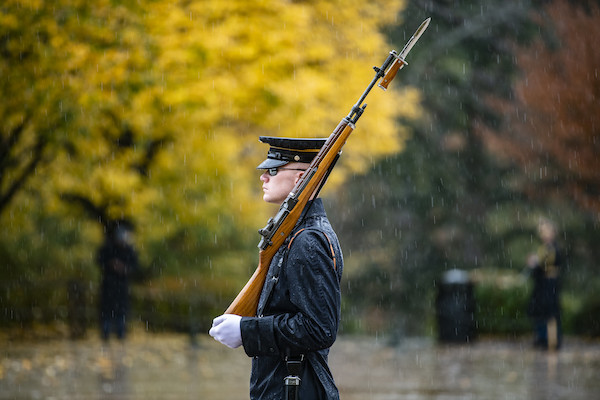 Today we honor those who served and are thankful for the protection that our armed forces provide. While that's a blessing for us, our military have served on fronts around the world where they faced not only an enemy, but also the environmental hazards that are part of modern warfare. 

Beyond today's holiday, some veterans feel invisible when they return home. Emory Law is indebted to World War II veterans who brought their GI Bill education benefits here to launch their post-service careers. They helped rebuild our law school from a part-time program to one with a national reputation.

Since its founding in 2013, the Emory Law Volunteer Clinic for Veterans (VCV) has served Georgia veterans by assisting them with disability claims, discharge updates, estate planning, and health directives. Emory Law also has four scholarships designated to support students with veteran or military status. 

We were the first law school in Georgia to create a veterans clinic, and among the first in the South. The VCV's mission is to have a direct, positive benefit on  veterans' lives. In this interview, Charlotte Kacprowicz 24L talks about her experience working in the clinic. 

Roughly 20 law students and over 10 volunteer legal professionals are currently at work on claims and legal issues. Since January 2020, the clinic has secured more than $4 million in backdated and future VA disability benefits and has assisted more than 100 veterans and/or their families. The clinic is especially relevant given that Georgia ranks No. 9 in the country in veteran population; more than 700,000 veterans live here. Also, Fort Benning in Columbus is the fifth largest military base in the world. 

With the recent passage of the PACT Act this summer, clinic Staff Attorney Carlissa Carson 08L says the VA should expect tens of thousands of new claims from veterans exposed to toxins, from the Marshall Islands in World War II to those who served after 9/11. Carson says the clinic has already refiled a claim for a widow whose husband died of esophageal cancer after he was exposed to toxins at Uzbekistan's Karshi-Khanabad (K2) Air Base. The new federal law establishes a "presumptive connection" between service and illness for veterans who served during legally defined dates and at specific locations. They no longer have to prove that their exposure to toxins caused serious illness, thus making it easier for veterans to file for the treatment and compensation they (or their survivors) need. 

Emory supports veterans not just today, but every day. The clinic is one of several ways the university works to honor our commitment and express thanks for the sacrifice made by veterans and their families. Read more about that here. We hope you will consider supporting the clinic's continued good work. You may explore volunteering here. You may give to the clinic via this link.
---
Tags