Main content
Honors and Awards
EPIC wins 2022 Law School Excellence in Access to Justice Award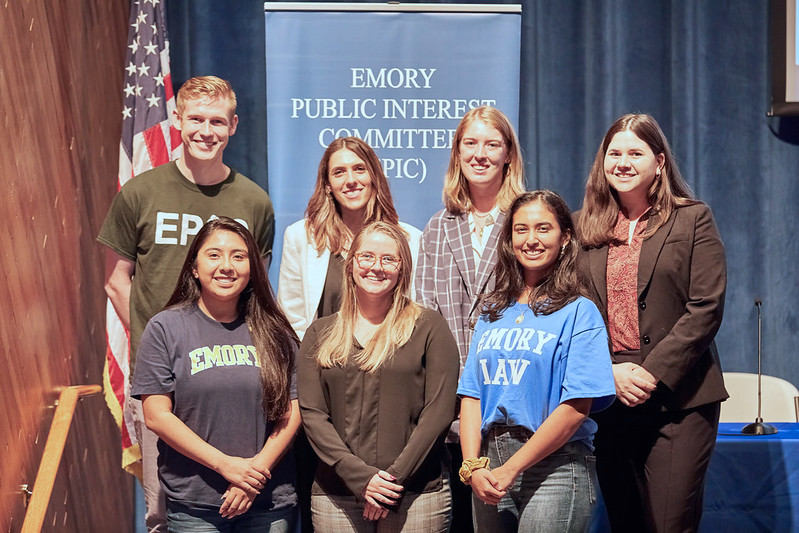 The State Bar of Georgia has awarded the Emory Public Interest Committee (EPIC) the 2022 Law School Excellence in Access to Justice Award for demonstrating outstanding incentives in addressing the civil legal needs of the community. The committee was recognized for providing summer grants for students in public interest organizations and fostering a commitment to public interest work.
In their award letter, the committee stated, "The Access to Justice Committee and the Pro Bono Resource Center recognize EPIC for increasing visibility for the need for greater access to justice across Georgia and applaud the Emory law student contribution to the justice system through their work and activities."
The award will be officially presented to the organization at the annual Pro Bono Awards Reception, this year on November 30 at the Glenn Hotel.
Rita Sheffey, assistant dean for public service, said of her EPIC students, "I am privileged and honored to work every day with the EPIC leaders and the many other public interest students at Emory Law. Their energy, creativity, leadership, and commitment to serving others strengthen my optimism for a more just society."
The Law School Excellence in Access to Justice Award was created by the State Bar of Georgia Access to Justice Committee and the State Bar of Georgia Young Lawyers Division. It is open to all law students currently enrolled in or graduating from an accredited Georgia law school and recognizes an individual law student or law student group or group activity. All law-related activities for which nominees are credited must be within the realm of those permitted for law students or under the direction of a lawyer or law school program. In the case of EPIC, the award specifically recognizes a law student-led group or activity that has demonstrated an effective mechanism in addressing the civil legal needs of the community or that has demonstrated a high level of participation and commitment of its members to provision of civil legal services to the poor in the community.
EPIC was formed in 1989 by students committed to making public interest jobs accessible to Emory students. EPIC has successfully undertaken a major fundraising effort that has provided summer grants for students who accept volunteer positions or clerkships in public interest organizations.
---
Tags