Main content
Alumni
Fishman 85L honored for helping end Illinois police standoff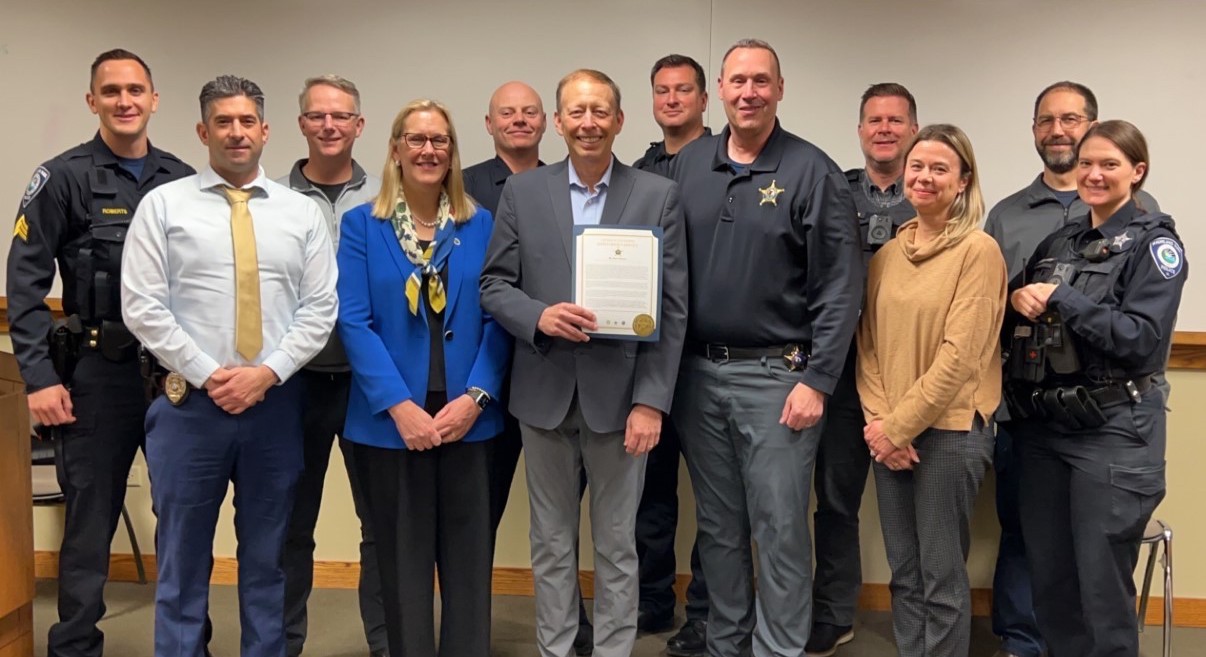 Ross Fishman 85L was recognized by the City of Highland Park, Illinois, for bravery and negotiating skills that helped end a 12-hour police standoff that involved an armed neighbor who had threatened to harm himself.
During a December 7, 2022, ceremony attended by Mayor Nancy Rotering and Chief of Police Lou Jogmen, Fishman received a Citizen Citation for Meritorious Service, which is "awarded to a private citizen for an act which involves uncommon risk to the citizen when providing assistance to the Police Department, or for an act which results in the saving of a life or attempted saving of a life in which extraordinary efforts were used and uncommon risk to the citizen was involved." 
The September 16 incident shut down a city block and involved a SWAT team and roughly 50 law enforcement officers from across Chicago's northern suburbs, Fishman said.
While another person in the house was allowed to leave during negotiations, there was no headway with the armed person after nearly 12 hours. Around 10:30 p.m. Fishman spoke with Chief Jogmen and was told the neighbor had legal and safety questions that were preventing him from leaving. Fishman said he thought he could help. 
"I felt that as a lawyer I could help the resident address his legal concerns and persuade him to exit the home safely," Fishman said. "Working closely with Chief Jogmen, I emailed and called the resident and, in 15 minutes, persuaded him to safely come out."
The citation commends Fishman for empathy, compassion, and his willingness to help. 
"Without question, the incident was resolved peacefully because of your involvement and certainly was brought to a successful resolution largely due to your willingness to collaborate with the Police Department in our efforts to assist this resident in their time of need," the citation reads. "The Highland Park Police Department commends you for your selfless conduct, compassionate efforts, teamwork, professionalism, and excellent performance during a time of crisis regarding a complex, dangerous situation, which had great potential for injury or loss of life to members of our community and/or first responders." 
Fishman in turn praised Jogmen's team for restraint and compassion, and their willingness to try something unorthodox.
"In bestowing the honor, the Chief of Police commented that I'd put myself in a potentially life-threatening situation, surrounded by dozens of police in full tactical gear—shields, assault rifles, and bulletproof vests. I had on a blue blazer," Fishman joked. "I never envisioned myself as a hostage negotiator, but my litigation and negotiating training certainly came in handy that night." Fishman is CEO of an award-winning marketing firm based in Highland Park.
---
Tags