Main content
Alumni
Two public interest alumni awarded Equal Justice Works fellowships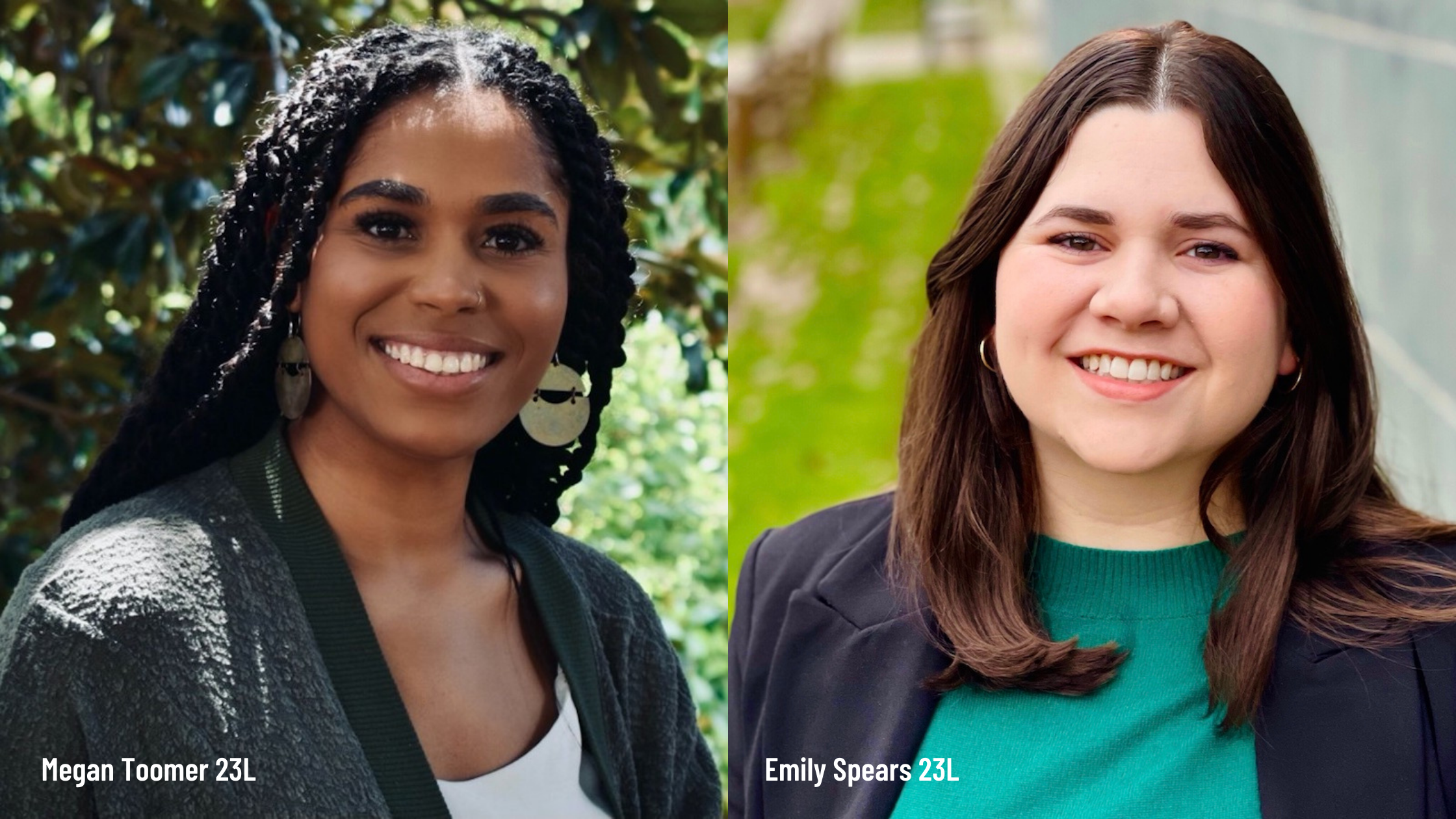 Two of Emory Law's most recent graduates who designed projects to help citizens with little or no access to legal services have earned fellowships from Equal Justice Works.
Megan Toomer 23L will address Alabama's recent steep decline in granting parole, which went from 54% in 2018 to 3% in 2021. Emily Spears 15Ox 17C 23L will help low-income Georgians with non-serious traffic offenses that affect their quality of life, employment, and sometimes, their liberty. Spears and Toomer are among the 76 applicants who received two-year fellowships—from a field of 318—from 41 law schools, 23 states, and the District of Columbia.
Hosted by the Southern Center for Human Rights, Toomer will advocate for incarcerated people seeking their freedom from the Alabama Board of Pardons and Paroles, which according to EJW, has a history of denying parole applications: In 2018, 54% of incarcerated people were granted parole. In 2019, that percentage dropped to 31%, to 15% in 2020, and just 3% of applicants were granted parole in 2021. Beyond denying liberty, the low parole rate worsens overcrowding in state prisons, which leads to dangerous and sometimes fatal conditions.
"Megan's project will train legal and non-legal volunteers to provide parole-eligible individuals with passionate advocacy before the Board," says the EJW news release. "Legal and non-legal advocacy for clients will increase their likelihood of success in their parole hearings."
"The Alabama Department of Corrections disproportionately ensnares low-income people of color," Toomer said. "I am honored to provide advocates in Alabama and Georgia with the tools to ensure incarcerated people, who are often silenced, have a meaningful opportunity to seek their freedom." She is sponsored by King & Spalding LLP and the Clorox Company. Read more about her project.
Spears' project highlights how non-serious traffic offenses can affect low-income Georgians' lives thorough fines, loss of license, and incarceration. She plans to help individual clients and also use project data to influence better policy.
Georgia drivers who are unable to afford to pay traffic fines are routinely placed on probation because they are unable to pay their fines, according to EJW. They also have their driver's licenses suspended for reasons unrelated to unsafe driving. Georgia's traffic code exposes millions of Georgians to the risks of state supervision, loss of transportation, loss of income, or even loss of liberty for a non-serious traffic offense, according to the project brief.
Hosted by the Georgia Justice Project, Spears will represent individuals facing license suspension or jail and will also develop clinics where Georgians in similar straits can be assisted by pro bono attorneys. She is sponsored by Eversheds Sutherland and The Home Depot.
"I'm passionate about this project because of the practical, day-to-day implications it has for low-income Georgians," Spears said. "The idea that something as common as a traffic ticket can upend lives and curtail liberty motivates me to advocate for a better Georgia." Read more about her project.
Over 30 years, EJW has awarded more than 2,300 postgraduate fellowships. They report on average, 85% of EJW fellows remain in public service positions.
---
Tags