International Humanitarian Law Clinic

The International Humanitarian Law Clinic is a research and advocacy institute that promotes the law of armed conflict and fights to eliminate torture, war crimes, genocide, and crimes against humanity.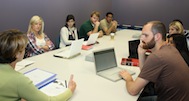 The IHL Clinic works on the front lines—researching ways to hold perpetrators accountable, working on detainee cases and other issues in the "war on terror," and working with the US military on strategies for better implementation and training in the law of armed conflict. The clinic partners with international criminal tribunals, the US military, non-governmental organizations, and law firms around the world. Under clinic director Laurie Blank's instruction and supervision, Emory Law students work in the United States and abroad to minimize the devastating consequences of war for soldiers and civilians alike.