Main content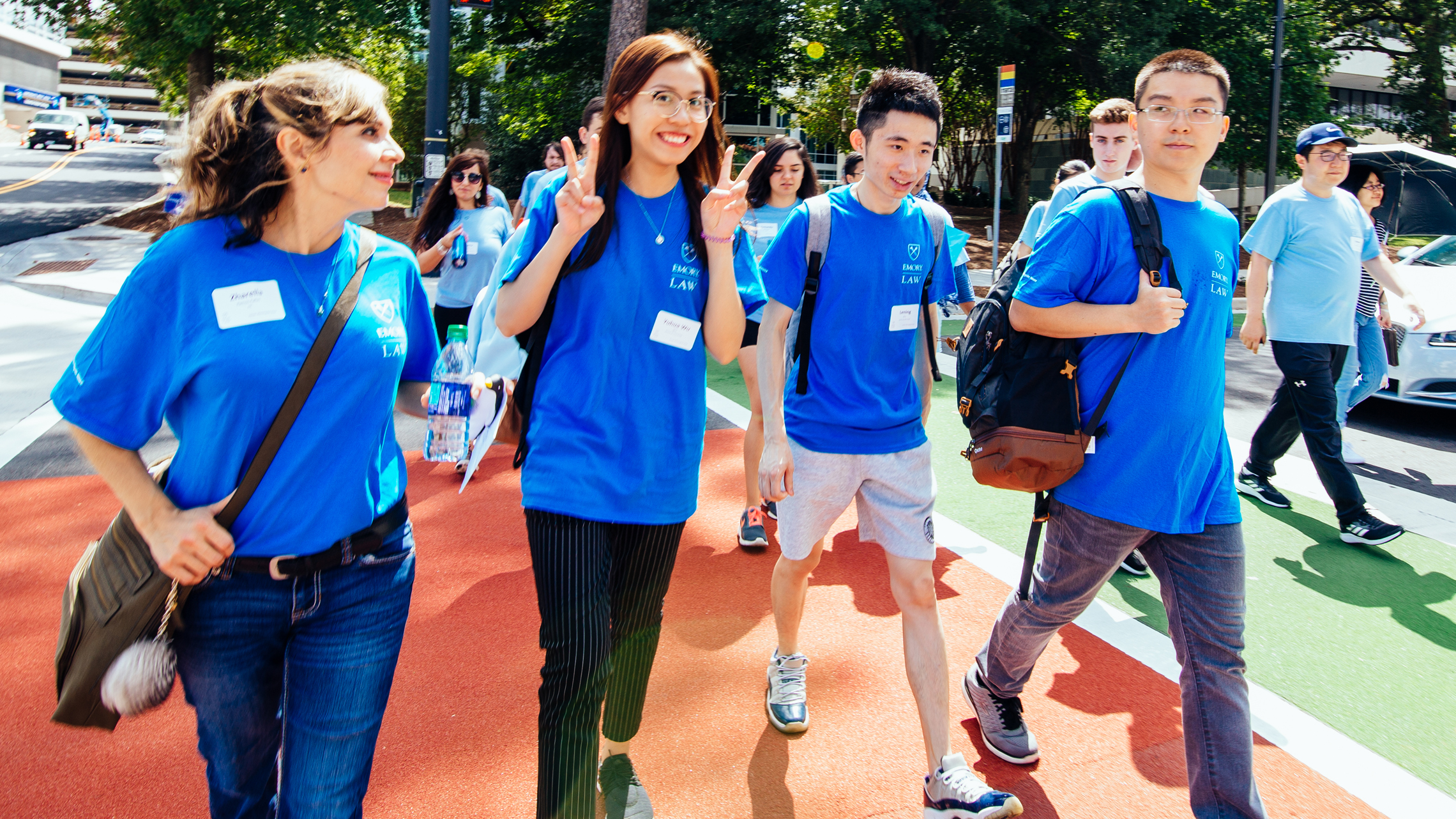 Key Dates
International Student Orientation (Required)
January 11, 2021
Welcome Week 2020 (Required)
TBD
Semester Begins
January 19, 2021
---
New Student Checklist
As you prepare to join us at Emory Law, we have a checklist of actions and forms to complete.
Final Transcript The American Bar Association requires Emory Law to receive a final transcript indicating the date of your undergraduate degree conferral. If LSAC does not have this final transcript in your Credential Assembly Service (CAS) report, please have your final transcript sent to Emory Law's Office of Admission, 1301 Clifton Road NE, Atlanta, GA 30322.
Health Forms and Insurance Requirements Complete all required student health information and health forms online with Emory University's online Health Services Portal »
Review our Laptop and Computer Recommendations Emory Law students are required to own a computer. We recommend that you invest in a new notebook computer from a reputable manufacturer with a three-year warranty. Try to purchase a notebook computer that balances light weight and long battery life. Most exams are taken on computer and most faculty members permit students to take notes on computer in class. The law school supports both Mac and Windows systems. The University provides anti-virus software and the University plans to provide Microsoft Office365 to students beginning in Fall, 2014. Barnes and Noble at Emory offers an excellent bundle package for students' technological needs. Learn more »
Complete the Sexual Assault Prevention for Graduate Students All incoming Emory University students are required to complete the Sexual Assault Prevention for Graduate Students (SAP-G) education module. SAP-G is an online learning platform designed to empower you to make well-informed decisions about issues that affect your years at Emory and beyond. It takes approximately 45 minutes to complete (closed captioning is available for video portions). You will receive an email to your Emory email address with instructions on how to complete the module.
Set Up Your Network ID and Password Your NetID allows you to access OPUS (Online Pathway to University Students) » Set up your Network ID here » 
Log In to OPUS (Online Pathway to University Students),

 

your portal to student accounts, the registrar, and many other services at Emory. Explore OPUS and get familiar with the resources you will use as an Emory Law student. Submit a help request if you cannot log in or access OPUS. Include your first and last name and your Emory Net ID. DO NOT INCLUDE YOUR PASSWORD.
Create an Emory Email Account » 

Your Emory Email address will be available later this summer. You will access your account using the same NetID and password that you use for OPUS access. Your email address is your NETID(at)emory.edu. 

Upload Your Photo for Your EmoryCard (Student ID) » The EmoryCard is the official ID Card of Emory University. It permits access to facilities and events and can be used to purchase goods and services at the university and at a wide range of merchants throughout the community. The image you upload must be on a white or solid neutral background. The deadline for uploading your photograph is July 14.  More information regarding your EmoryCard can be found here »
Duo Authentication

 

Many services at Emory require Duo authentication before you can log in from off-campus. Duo provides extra security by checking an app on your phone before allowing you to login to important Emory services, such as Email and Opus. Learn more about Duo

 

here

 

and install the software on your phone. If you have questions about Duo or configuring Duo, please contact the University help desk at (404)727-7777.
Register for On-Campus Parking

 

Parking Registration is now open. Please register using the parking transportation website.
Student Accommodations Emory University School of Law provides all persons an equal opportunity to participate in and benefit from programs and services afforded to others. Please visit the Department of Accessibility Services website for information about our policies and procedures and to begin the process of registration. If you have additional questions or concerns pertaining to accommodations that you may need while you are a student at the School of Law, please contact the Office of Academic Engagement & Student Success by sending an e-mail to: lawengagement@emory.edu. In your email, please include your full name, Emory ID number, and the program in which you will be enrolled. If you are a transfer student, please indicate accordingly. Students with disabilities seeking accommodations should contact Emory's Department of Accessibility Services to begin the registration process in advance of when the accommodations are needed. The Department of Accessibility Services strongly encourages new students to submit their accommodation requests by July 1 to ensure there is enough time for the registration process prior to the fall term.
---
Housing
Emory University does not provide on-campus graduate housing. Emory's Off-Campus Housing website can assist you in finding housing in the area. 
While we are unable to recommend specific properties, there are several nearby complexes to consider. Download information about the apartment complexes that participated in the Admitted Student Housing Fair.
You may also want to network with peers via the Class of 2020 or Class of 2021 Facebook pages for roommate opportunities.
Students with disabilities can contact Emory's Office of Disability Services for specific information on obtaining an Individualized Accommodation Plan
---
Career Center
All AJDs are assigned career advisers to work with them on securing a summer position and, subsequently, a post-graduate position. AJDs participate in various networking events on campus along with Career Center programming.
On-Campus Interviewing Policy
AJDs who have earned an LLM degree from an ABA-accredited law school can participate in the Fall OCI Recruiting Programs during their first AJD year. AJDs who have not earned a previous degree from an ABA-accredited law school can participate in OCI after they have earned one semester of law school grades. For employment purposes, AJDs are considered the class year in which they are to graduate. As a result, they will only have one summer to fulfill an internship.
AJDs are unable to participate in the summer recruiting programs Emory in NY, the MCGC Consortium Fair, and Early OCI. 
---
Moot Court and Mock Trial Tryouts
Admitted AJD students are eligible to participate in Mock Trial, and Moot Court tryouts after submitting their seat deposit. 
Mock Trial Tryout will be held the week of August 19, please email ELSMockTrial@gmail.com for additional information.
Moot Court Tryout will be held the first two weeks of August.  Please review the Moot Court Transfer Informational Letter here. If you have additional questions, you may contact Jacob Weiss at jacob.michael.weiss@emory.edu.
AJD Students may not participate in the Journal Write-On Competition.
---
Section Schedules & Book Lists
All incoming AJD students will be assigned first year classes. You will receive your class schedule along with your list of required books the first week of August.  If you graduated from the Emory Law LLM program in Fall 2018 or later, you may have additional options with your class schedule. Contact lawengagement@emory.edu for more information. 
---
International Students
All incoming international students are required to attend the International Student and Scholar Services (ISSS) Orientation Session in August.
New students who are not US citizens or permanent residents must obtain visas through a US consulate. Contact a US embassy or consulate in your country for details.
Resources
F-1 Visas
To apply for an F-1 visa, you will need:
Completed Financial Certificate, along with supporting documentation
Completed I-20 form
Letter from Emory Law School offering you admission and specifying the terms of admission and support and if granted a scholarship separately
Passport and payment for fees
Please visit the International Student and Scholar Services pre-arrival website, which includes information about obtaining a visa »
J-1 Visas
The J-1 visa is primarily used by students who come via a sponsored exchange, or who are sponsored by a funder who requires a J-1 visa. If you think you need a J-1 visa, please contact Emory's International Student and Scholar Services »
Obtaining a Visa
Complete the Financial Certificate. Before the university will issue documents in support of visas, international students must demonstrate their ability to cover the full cost of educational and living expenses, either from personal resources or from a combination of personal resources and financial awards, including tuition scholarships and fellowships from the Law School. We need this completed form as well as financial statements to support the information included on this form. Any financial documents you send must be current and official. If you have a sponsor or agency supporting you, then documents should show their names on statements.
For F-1 visas: Complete the I-20 form. Your answers the questions on this form determine how your I-20 will be processed. If you're transferring from another US institution to Emory, you must still complete this form and refer to item 4 below.
Send the Financial Certificate, the I-20 form, and all supporting documents to the admission office. You can email scanned copies of the documents, but originals must be mailed to Emory Law. Emory will process the information and issue the I-20 form required to support your visa application. We will send it directly to you, so make sure that we have the most up to date address on file.
If you are a transfer student, have your immigration record transferred electronically through SEVIS to Emory University. If you are studying at another university in the U.S. and will be transferring to Emory, you will need to follow a special set of procedures and use a special form. You'll find instructions on this website. Note that we also need all of the supporting documentation outlined above.
All documents should be mailed to:

Emory University School of Law
Attn: Jasmine Britt
1301 Clifton Rd NE
Atlanta, GA 30322

Please Notify the admissions office by email when you send your documents by mail.
---