Welcome to Emory Law
A Note from the Dean
Congratulations on your acceptance to Emory Law. Our job is to feed your intellect, to challenge you to think, and to relate to you the excitement of the law. We are pleased you have decided to undertake this journey at Emory, and we promise you will not do so alone. An entire community of students, alumni, faculty, and staff will bolster you to ensure you have the tools and resources necessary to discern your individual path or build on your successful career.
At Emory, I know you will find a strong community of scholars, colleagues, and friends who will help guide your legal journey, as well as support you and work to ensure you thrive during your time here.
Robert Schapiro
Dean and Asa Griggs Candler Professor of Law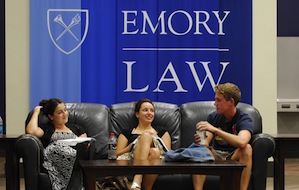 Key Dates
Fall 2015 Orientation:
LLM: August 5-7 (estimated dates)
JM: TBD during week of August 10-14
Classes begin August 17, 2015
Dates are estimates.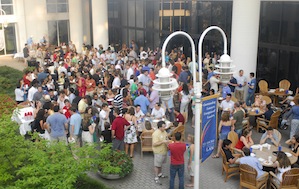 Connect on Social Media
Join fellow students:
As you prepare to join us at Emory Law, we have a checklist of actions and forms to complete before you arrive.
1.  Log in to OPUS (Online Pathway to University Students), your portal to student accounts, the registrar, and many other services at Emory. Set up your Network ID here »
2.  Health Forms and Insurance Requirements. Complete all required student health information and health forms online with Emory University's online Health Services portal »
3.  Register for On-Campus Parking.  Online registration will open later this summer.  Review campus parking options at http://parking.emory.edu »
4.  Create an Emory Email Account.  We will activate your Emory e-mail account in early July.  You will then access your account using the same NetID and password that you use for OPUS access. Your email address is your NETID(at)emory.edu.  You will log in to your Emory email account via the Outlook Web Access (OWA) tool, which enables you to access your Emory email from any computer with internet access.  Bookmark this direct link to Emory Exchange (Email System):  email.emory.edu »
If you want to change your password, or change your Emory email from the ENID@emory.edu syntax to something easier to remember (such as firstname.lastname@emory.edu), log in to the Identity Manager »
5.  Upload your photo for your EmoryCard (student ID) »  The EmoryCard is the official ID Card of Emory University. It permits access to facilities and events and can be used to purchase goods and services at the university and at a wide range of merchants throughout the community. 
During Orientation, your IDs will be available at check-in each morning.
6. Computer Recommendations
Emory Law students are required to own a computer. We recommend that you invest in a new notebook computer from a reputable manufacturer with a three-year warranty. Try to purchase a notebook computer that balances light weight and long battery life. Most exams are taken on computer and most faculty members permit students to take notes on computer in class. The law school supports both Mac and Windows systems. The University provides anti-virus software and the University plans to provide Microsoft Office365 to students beginning in fall, 2014.
NEW* Complete the Haven Online Education Module. 
All incoming Emory University students are required to complete the Haven online education module. This module will provide you with information on preventing and responding to interpersonal violence in the Emory community. It takes approximately 30 minutes to complete (closed captioning is available for video portions).  All Emory Law students must complete this course by Friday, August 15.  Click here to begin Haven »  For more information on Haven or technical support please email haven.help@emory.edu » For more information on free and confidential support resources at Emory University or near you (if you are not on currently on campus) please visit The Respect Program »
Health Insurance for International Students
The International Students and Scholars Services office has health insurance information. Health insurance may be a condition of your visa as well as your enrollment at Emory University. To learn more about health insurance information tailored to an international student audience, visit the International Students and Scholars Services website »