Emory Law invites you back to campus! 
Celebrating the classes of 1964, 1969, 1974, 1979, 1984, 1989, 1994, 1999, 2004, and 2009
Registration is now open. Register today »
For information, e-mail lawalumni@emory.edu »
Schedule of Events
Friday, September 19, 2014

7:00 – 9:00 p.m.

Emory Law Alumni Awards Reception and Ceremony: Hunter Atrium & Tull Auditorium, Gambrell Hall. All alumni are invited to honor the 2014 Alumni Awards recipients and celebrate the Emory Law community.

Distinguished Alumni Awards: John G. "Sonny" Morris 69L, Co-Founder and Chairman, Morris, Manning & Martin LLP, Atlanta, GA and Philip S. Reese 66C 76B 76L, retired business leader, Wilmington, DE

Alumni Service Award: Gardner G. Courson 74L, Partner, Taylor English Duma LLP, Atlanta, GA

Eléonore Raoul Greene Trailblazer Award: Debra A. Segal 79L, Retired Counsel, Kilpatrick Townsend & Stockton LLP, Atlanta, GA

Young Alumni Award: The Honorable Carte P. Goodwin 99L, Partner, Goodwin & Goodwin LLP and former US Senator, Charleston, WV

Saturday, September 20, 2014

11:00 – 11:50 a.m.

US Supreme Court Decisions Update with Dean Robert Schapiro — First Floor Classroom TBA, Gambrell Hall. Join Dean Schapiro for his review and analysis of the last year in US Supreme Court cases and decisions.
12:00 noon – 2:00 p.m.

Southern Barbecue Lunch, featuring family-friendly entertainment — Bacardi Plaza, Gambrell Hall. Enjoy traditional southern-style barbecue, sides, and desserts with games, face-painting, a bounce house, and other entertainment for children and grandchildren.

6:30 – 9:30 p.m.

Class Reunion Parties
Addresses and directions will be provided upon registration confirmation

Class of 1964 50th Reunion Party — Gambrell Hall
Class of 1969 45th Reunion Party — Home of Laurie & Hal Daniel
Class of 1974 40th Reunion Party — Home of Jeanne & Henry Bowden
Class of 1979 35th Reunion Party — Home of Sheri & John Latham
Class of 1984 30th Reunion Party — Home of Donna & Joel Freedman
Class of 1989 25th Reunion Party — Little Italia/Bar Amalfi/Bottega Luisa, hosted by Nicholas Telesca
Class of 1994 20th Reunion Party — Home of Kathy & Anthony Polvino
Class of 1999 15th Reunion Party — Home of Elisa & Thad Kodish
Class of 2004 10th Reunion Party — Home of Professor Frank Alexander
Class of 2009 5th Reunion Party — Home of Professor Frank Alexander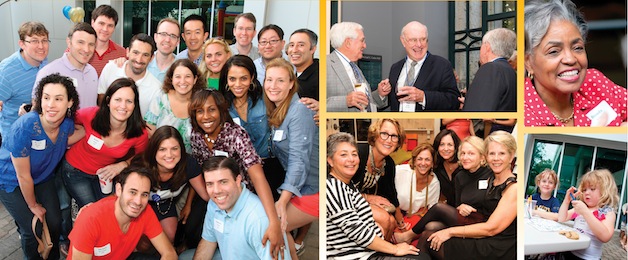 Regional Events
Whether you are in your home town or traveling to another region, we welcome you to attend and look forward to seeing you!  See the Alumni Calendar (below) for upcoming events.