Emory Public Interest Committee (EPIC)
EPIC was formed in 1989 by students committed to making public interest jobs accessible to Emory students. EPIC has successfully undertaken a major fundraising effort that has provided summer grants for students who accept volunteer positions or clerkships in public interest organizations.
EPIC has the benefit of Emory Law alumni who are dedicated to public service and serve on EPIC's Advisory Board. These attorneys work in legal aid, nonprofits, the public defender's office, and law firms throughout Atlanta.
Sarah Babcock 07L, Lawyers for Equal Justice
S. Derek Bauer 00L, Baker & Hostetler LLP
Daniel A. Bloom 94L, Richardson Bloom & Lines LLC
Carolyn R. Bregman 82L, Emory Alumni Association
Brandon Bullard 07L, Georgia Public Defender Council
Mary Carole Cooney 75L, Attorney at Law
Elisa Kodish 99L, Nelson Mullins Riley & Scarborough LLP
Sue McAvoy, EPIC Advisor Emerita
Paul J. Murphy 86L, King & Spalding 
The Honorable Mary Margaret Oliver 72L, Attorney at Law
Megan Ross Pulsts 09L, Georgia Legal Services Program
Claudia S. Saari 87L, DeKalb County Public Defender's Office
Haley Schwartz 05L, Abrams, Davis, Mason & Long 
Debbie Segal 79L, Kilpatrick Townsend & Stockton LLP
Joann M. Yoon Kang 02L, CDC
David A. Zimmerman 99L, Eversheds Sutherland LLP
Rita A. Sheffey, Assistant Dean for Public Service, EPIC Advisor
The EPIC Book and Supplement Sales are held at the beginning and middle of each semester.
To volunteer to sort or sell books, contact EPIC's treasurer.
Why Buy From the EPIC Book and Study Guide Sale?
You don't want to pay $130 per textbook multiplied by five classes.
Upperclassmen don't want to continue to store books they'll never read again, especially on topics for which they have no interest.
Nobody likes getting $25 back from the bookstore for a $130 book, and when the new edition comes out or the professor changes the text, you get nothing.
EPIC needs money to pay for its event speakers, lunch at meetings, etc.
What About Old Books?
In the spirit of public interest, and cleaning out our closet, EPIC will donate any books more than one edition older than the current edition in use to Liberian law students.
Why?
Liberia's justice system is actually modeled after ours, so they use all American textbooks, American secondary sources, and even cite our Supreme Court cases in their opinions. The law students have very few books and no library. So we want to help out!
How Can I Donate?
Drop your books, supplements, study guides, flashcards, etc. in EPIC's donation bins. The bins are located at the bottom of the stairs connecting Gambrell Hall to the law library, just behind the small elevator.
If I donate books, can I get a receipt for my taxes?
Yes you can! Contact the EPIC secretary for information about receipts and recognition: epicsecretary@gmail.com »
The EPIC lunch series brings public interest attorneys practicing in various fields to the law school for a casual lunch with a small group of students. The attorneys usually talk about their experience in their current position, experiences that helped them prepare for their job, and other good public interest advice. This semester, we will have lawyers from the Georgia Innocence Project, Atlanta Legal Aid, and the Georgia Asylum and Immigration Network. Each lunch is capped at 10 students to ensure an intimate conversation and plenty of time for questions. EPIC provides lunch and students provide their own beverage.
Stay tuned for more info!
Emory Law
Public Interest Research
Whether you are a current law student looking for a legal research topic for a class or law review note or you're a public interest attorney who has a need for legal research that a student could complete over the course of a semester, ACS ResearchLink can be just what you're looking for. If you have any questions, contact Virginia Marentette at vmarentette@acslaw.org »
Training Opportunities
New Leaders Council: The mission of the New Leaders Council (NLC) is to train and support the next generation of progressive political entrepreneurs—those who are leading industries, setting trends, and building institutions that support robust civic and political life in a global America. NLC Fellows engage in an intensive ten days of training over a five-month period to learn cutting-edge entrepreneurship, leadership, and political management skills from over 150 industry-leading volunteer faculty. Upon graduation, Fellows are paired with career mentors, join a national alumni network, and agree to fundraise to support the next class of Fellows. Learn more »
SUMMER 2017 GRANT SPONSORS
Frank & Joan Alexander
Anonymous
Paul S. Davis Endowed Fund
Eversheds Sutherland (US) LLP
Goico & Bolet in honor of Howard O. Hunter
Laura S. Huffman
Kilpatrick Townsend & Stockton LLP
Teresa & Joseph Roseborough
Robert & Lillian Schapiro
Debbie Segal & Randy Cadenhead
H.A. Stephens Public Interest Endowment Fund
PLATINUM
Bondurant Mixson & Elmore
The Coca Cola Company
Paul Murphy
GOLD
Honorable Dorothy Toth Beasley in memory of her father, Judge Stephen Toth and in honor of Emory Law Centennial
Benjamin J. Chapman
Mary Carole Cooney
Ruth Fawley Charitable Foundation
Teri Plummer McClure
Mary Margaret Oliver
Paul, Weiss, Rifking, Wharton & Garrison
Michael J. Perry & Sarah A. O'Leary
Polly J. Price
Julie & Jeff Seaman
Anand Sithian
Johan D. van der Vyver
David A. Zimmerman
SILVER
Silas Allard
Better Georgia Fund
Paul & Sara Davenport Cadenhead
Lynn Tucker Chandler
Niji Jaln
Elisa & Thad Kodish
Jenny Mittelman & Bill Thompson
Verla Seetin Neslund
Megan Ross Pulsts
Mary F. Radford
Claudia S. Saari
Margaret & Derek Scott
Nancy & Ben Shapiro
Rita A. Sheffey
Southern Center for Human Rights
Jim Winestock
Marlene & Paul Zwier
BRONZE
Thomas C. Arthur
Jeffrey & Gaylen Baxter
Daniel Bloom & Barry Golivesky
Carolyn Bregman
John Chandler & Beth Tanis
Harold T. Daniel, Jr.
Haley A. Schwartz & Erin K. Feist
Christopher Patrick Ford
Paula Frederick
Joann Yoon Kang
Stephen T. LaBriola
Charles T. Lester Jr.
Sue McAvoy
Bruce Maloy
Jennifer Mathews
Merriam Mikhail
Spencer F. Preis
Melinda Renshaw
Teresa Lynn Reuter
JoAnna Smith
Timothy P. Terrell
Briggs & Jessica Tobin
Honorable Melvin K. & Sally Westmoreland
Justice John Paul Stevens Public Interest Fellowship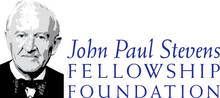 Emory Law is pleased to administer the Justice John Paul Stevens Public Interest Fellowship Program. This program is generously funded by the Justice John Paul Stevens Foundation »
Stevens Fellowships provide financial assistance to students who will spend their summer volunteering at a public interest organization. First- and second-year students who have secured a full-time (40 hours/wk for 10 weeks) volunteer summer law position with a public interest organization may qualify.
Qualifying employer organizations include legal services agencies and government offices (judicial externships do not qualify). Private sector "public interest" law firms will also be considered as qualifying employers as long as the position is unpaid and the firm provides a letter or other descriptive material that supports their "public interest" status.
All applicants submit a letter from their employer confirming their summer position. The essay portion of the application should describe the applicant's commitment to public interest law.
2017 Fellows: Carly Rabner 19L; Brandon Scheck 19L
2016 Fellows: Morgan Bridgman 18L; Amanda Quiles 17L
2015 Fellows: Kaitlyn Barnes 17L; Amelia Todd 16L
2014 Fellows: Rachel Berman 15L; Caitlyn Wade 15L
2013 Fellows: Rebecca J. Hallum 14L; Margaret L. Riley 14L
2012 Fellows: Ruth W. Dawon 12L 12MPH; Jamie C. Schickler 13L