Emory Public Interest Committee (EPIC)
EPIC was formed in 1989 by students committed to making public interest jobs accessible to Emory students. EPIC has successfully undertaken a major fundraising effort that has provided summer grants for students who accept volunteer positions or clerkships in public interest organizations.
EPIC has the benefit of Emory Law alumni who are dedicated to public service and serve on EPIC's Advisory Board. These attorneys work in legal aid, nonprofits, the public defender's office, and law firms throughout Atlanta.
Justice John Paul Stevens Public Interest Fellowship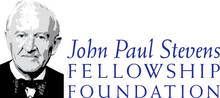 Emory Law is pleased to administer the Justice John Paul Stevens Public Interest Fellowship Program. This program is generously funded by the Justice John Paul Stevens Foundation »
Stevens Fellowships provide financial assistance to students who will spend their summer volunteering at a public interest organization. First- and second-year students who have secured a full-time (40 hours/wk for 10 weeks) volunteer summer law position with a public interest organization may qualify.
Qualifying employer organizations include legal services agencies and government offices (judicial externships do not qualify). Private sector "public interest" law firms will also be considered as qualifying employers as long as the position is unpaid and the firm provides a letter or other descriptive material that supports their "public interest" status.
All applicants submit a letter from their employer confirming their summer position. The essay portion of the application should describe the applicant's commitment to public interest law.
2014 Fellows: Rachel Berman 15L; Caitlyn Wade 15L
2013 Fellows: Rebecca J. Hallum 14L; Margaret L. Riley 14L
2012 Fellows: Ruth W. Dawon 12L 12MPH; Jamie C. Schickler 13L