Main content
Public Interest
EPIC Inspiration Awards honor public service
Emory University School of Law |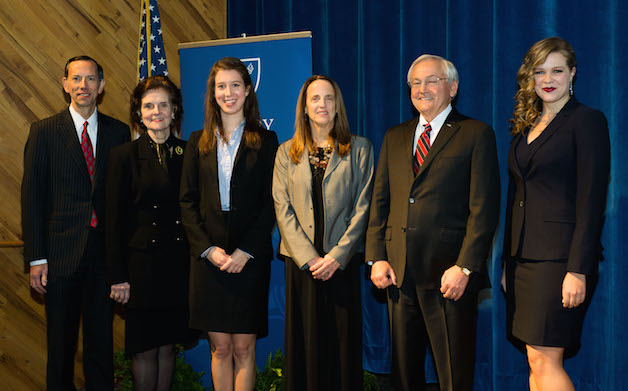 The Emory Public Interest Committee (EPIC) recognized the dedication to public service of three exemplary leaders at its 19th annual Inspiration Awards ceremony held Tuesday, February 3. Among the honorees were a public defender, a labor and employment lawyer, and a philanthropic consultant – all tireless public servants in the Atlanta community and beyond.
The evening kicked off with an award to a student, Miriam Gutman 15L, who was honored for outstanding commitment to public service. Among her other activities, Gutman is currently president of the Civil Rights Practice Society, vice president of the Legal Association for Women Students, and director of the Civil Rights and Liberties Moot Court Competition.
Linda Pace 75L, the Unsung Devotion to Those Most in Need honoree, has been actively representing children accused of offenses and crimes in DeKalb County since 1980. Pace was in private general practice before becoming a juvenile defense attorney. She also takes an active interest in law and policy affecting children and has recently worked with JUSTGeorgia to prepare the Model Juvenile Court Proceedings Code for presentation to the Georgia Legislature.
The honoree for Outstanding Leadership in the Public Interest, H. Lane Dennard Jr., served in the U.S. Army as a captain and company commander in Vietnam. As a partner on the Labor and Employment Law team with King & Spalding, he represented both unionized and union-free employers in the field of labor and employment law for over 30 years. Dennard has served as an Adjunct Professor at Emory Law and is co-founder and co-director of the Emory Law Volunteer Clinic for Veterans where, over the two years of the clinic's existence, volunteers have garnered 18 favorable dispositions at an economic value of more than $1.5 million to veterans and their families.
The Lifetime Commitment to Public Service award went to Paula Lawton Bevington, owner of Bevington Advisors, a philanthropic consultancy that she and her late husband Milton Bevington formed in 2008 and whose principal client is the Atlanta Legal Aid Society. Paula was the first female associate hired by Sutherland, Asbill & Brennan in Atlanta. A member of the State Bar of Georgia, Bevington is also a registered neutral with the Georgia Office of Dispute Resolution. Bevington has volunteered with numerous organizations over her career and has lent Atlanta Legal Aid more than 30 years of service. Steve Gottlieb, executive director of Atlanta Legal Aid Society, said of Bevington, "She has never stopped learning and marveling at what she learns. She's never stopped contributing."
A room full of friends, family and supporters listened as awardees encouraged them to use their heart, their shared experiences, and their fortitude to advocate for those in need. Upon receiving her award, Pace said, "Get in the way. Where there is injustice, unfairness, harm – get in the way."
Emory Law students founded EPIC in 1988 under the leadership of Sue McAvoy, the recently retired director and public interest advisor at Emory Law's Center for Professional Development and Career Strategy. EPIC's aim is to promote awareness and increase understanding of public interest law, encourage and facilitate the employment of Emory students in public interest legal positions, and acknowledge the professional responsibility of lawyers and law students to make legal services more accessible to those who do not have adequate representation. Early this year, Rita Sheffey was appointed assistant dean for public service, a post from which she will build upon the law school's well-established public service programs.
In 2014, EPIC awarded 31 grants to students. Positions varied geographically from Atlanta, Washington, DC, and New York to international placements in Ghana, the Netherlands and Puerto Rico.
King & Spalding served as Diamond Level Sponsor for the evening.  The evening raised upwards of $96,000, including verbal commitments, to go toward 2015 EPIC summer grants.
---
Tags