Main content
Clinics
SOUTHCOM Commander Kelly: Leveraging U.S. strengths to promote the rule of law
Emory University School of Law |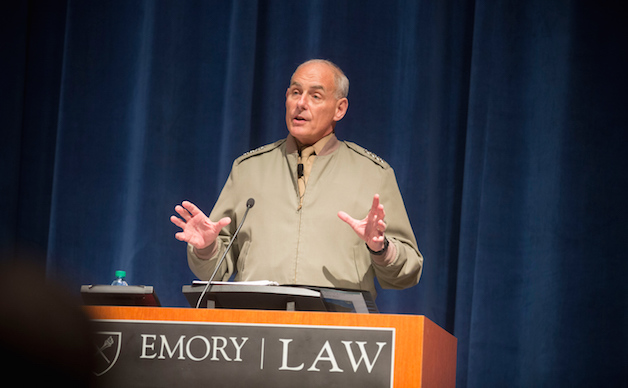 General John F. Kelly is not a lawyer, but he "does law." That is how he began to explain his position as Commander of the U.S. Southern Command. As one of five four-star generals charged by the president to lead the Department of Defense security cooperation in designated segments of the world, Kelly oversees Central and South America and the Caribbean Sea (except U.S. commonwealths, territories, and possessions) — some 16 million square miles. 
On March 4, 2015, Kelly visited the school as a guest of Emory Law's International Humanitarian Law Clinic and at the request of his good friends John M. Dowd 65L and Carole L. Dowd 65L. The International Humanitarian Law Clinic works directly with international tribunals, militaries, non-government organizations, and other entities to enhance legal protections during wartime and ensure accountability for war crimes, genocide, and crimes against humanity.  In particular, under Professor Laurie Blank's leadership and building on Kelly's prior visit to Emory in 2009, the IHL Clinic has forged a unique relationship with the United States Marine Corps, providing assistance in incorporating law of armed conflict and rule of law components into training and education curricula and programs.
During his visit at the law school, Kelly offered insight on the role of law in military and security operations, telling students and other attendees that virtually everything he does in his position has legal implications — which is why, as he quipped, "he keeps a lawyer in his back pocket." The law, and an unwavering belief in fundamental tenets of right and wrong, serves as an essential guide as he deals with the challenges of border security, public health, the Guantanamo detention facility, and drug cartels that commit horrendous human rights violations within the region under his command.
Kelly also toured the Emory Hospital Serious Communicable Diseases Unit, meeting with the doctors who run the facility and treated the Ebola patients last summer to learn about best practices for preparedness, including in the expeditionary context of U.S. military assistance.  In a visit to the Emory University School of Medicine's Trauma and Anxiety Recovery Program, Kelly saw up close the cutting edge work being done to treat military veterans and others battling post-traumatic stress disorder. 
In his public address at the law school, and during a talk in Professor Laurie Blank's National Security Law class, Kelly highlighted the dangers posed by the drug cartels, including links to international terror.  Beyond security concerns, America has a moral responsibility to help, Kelly opined, suggesting that the next time drug users hear about the violent acts committed by cartels (not unlike the violence perpetrated by ISIS, he said), they should look in a mirror and assess their own fault. "America is a society of wonderful, caring people. We give to charity. We are there when a crisis occurs. America rocks, in my opinion; but the people who decide to use cocaine likely don't understand what that drug use affects in Honduras, for instance. They don't see themselves as contributing to this breakdown in society. I believe that if they truly understood, there would be less using."
Kelly enthusiastically took a range of questions during both events at the law school, complimenting students on their insightful questions. During the Q&A, he tackled negative perceptions of the Guantanamo Bay detention facility and complex issues regarding immigration, trade with Cuba and the potential effects of sequestration on national security. He also challenged students to make a personal decision to choose right over wrong. 
The U.S. is, in Kelly's estimation, the "biggest proponent and practitioner of human rights" in the world; but individuals must contribute for this to remain so. "My pitch is not to join the military.  My pitch is to serve your country in some way. Be part of this great nation. Welcome immigrants. Don't whine when you get called to jury duty. Pay your taxes. There is a lot of work to be done out of uniform."
Regarding Kelly's visit to the law school, Robert Schapiro, dean and Asa Griggs Candler Professor of Law, said, "Emory's work on international law and armed conflict through the IHL Clinic offers unique opportunities for engagement with the U.S. military on rule of law issues.  Kelly's visit highlights this cutting-edge example of Emory's mission to promote the rule of law at home and abroad."
---
Tags