Main content
Students
TI:GER students win first place at startup competition
Emory University School of Law |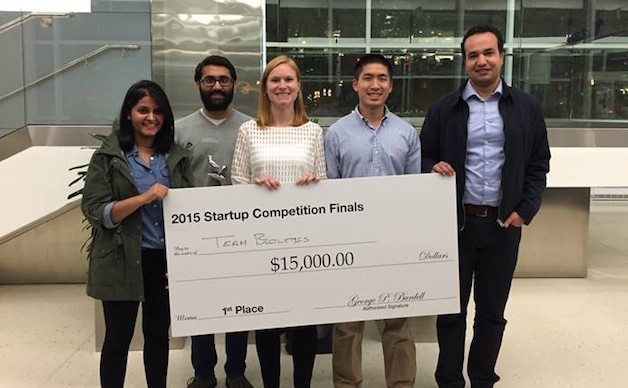 Five enterprising students and their implantable device for pets won first place at the 2015 Georgia Tech Startup Competition. The first-year TI:GER® team beat out 11 other finalists with their pitch for a device that will monitor and, ultimately, regulate blood glucose levels in cats and dogs.
Yogi A. Patel, a PhD student in Neural Engineering, is in the third year of his PhD studies at Tech and has been working on the device – dubbed "Stability" by the team – for more than a year. Sarika Mathur 16L (Emory), Maggie Lovatt 16 MBA (Tech), Mark Luo 16L (Emory), and Hassan El Majidi 16 MBA (Tech) comprise the remainder of the group who pitched the device as team "Bioletics."
The Bioletics students are participants in TI:GER (Technological Innovation: Generating Economic Results), an innovative partnership between Emory and Georgia Institute of Technology that brings together graduate students in law, business, science, and engineering to work on start-up projects. The goal is to educate graduate students in the variety of challenges startups face as they transform highly promising research into economically viable products.
Bioletics began working towards the competition in September 2014 when they attended weekly workshops to learn about how to find their customers, discover market opportunities, and create a business plan that made sense.  
Hundreds of hours of planning went into the winning 6-minute pitch. Since the competition is about customer discovery, the team interviewed 119 people, including pet owners in the US, Australia, Canada and Spain. Two team members even took a weekend road trip to the North American Veterinary Community conference in January, where they spoke with people from across the animal health space, including veterinarians, technicians, and CEOs of large pet health companies. 
As part of their win, the group received $15,000 in cash, a $15,000 convertible note to put toward their company, and a guaranteed spot at Startup Madness on March 27 at NC State. Twenty schools will participate in the next competition. Team member Mathur said about the upcoming competition, "We're not anxious. We're really excited. We just had a wonderful success. It's going to help us work harder and do more. Our team would love to form a company and actually get this technology to market."
Professor Anne Rector 87L, Emory Law director of the TI:GER program, said, "Bioletics has led the pack of TI:GER teams this year. The team's win is in keeping with TI:GER's 13-year tradition of landing invitations to start-up and business plan competitions and then coming home with wins from competitions across the U.S."
---
Tags