Main content
Students
TI:GER team wins TiE contest with spinal implant device
Emory University School of Law |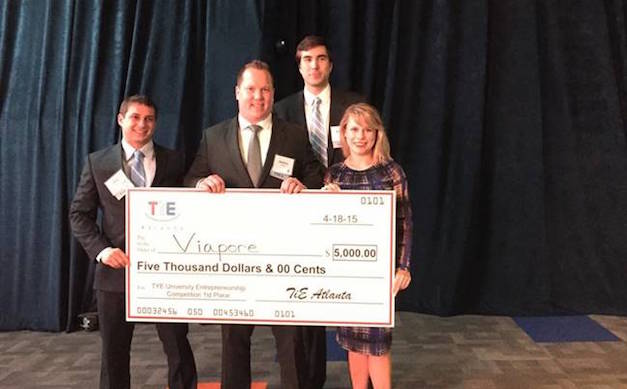 Team Viapore, a TI:GER team consisting of an Emory Law student and Georgia Tech MBA and PhD students, won the April TiE Atlanta Young Entrepreneurs University Competition with their medical device for spinal implants. Brad Schweizer 15L, a dual JD/MBA candidate, and his Tech counterparts placed first among the seven finalists.
Viapore is developing a medical device to improve the outcomes of spinal surgery by replacing current implant technology with a more porous device. This new device would aid in recovery by allowing bone to grow through the implant. Nathan Evans, a Tech PhD candidate in material science and engineering, invented Viapore's surface-porous technology.
As the sole law student on the team, Schweizer built the income statement and balance sheet and worked on the patent. He also helped to anticipate potential complications, serving as a start-up lawyer for the group. Schweizer holds a bachelor's degree in finance and accounting. He has worked in the corporate law group of an Atlanta law firm with a focus on startup companies. He currently is an analyst with the Atlanta Technology Angels.
"I've always wanted to be an entrepreneur," Schweizer said. "That's why I got MBA and JD. I saw the TI:GER program as an opportunity to work with technology and simulate the formation of a company that could actually happen."
After two years of work and countless hours of market research, the team prepared for the recent competition by giving their presentation to industry experts and people in the start-up space. They would present then work feedback into their presentation and pitch again. According to Schweizer, the tweaking will continue – especially considering the big competition still ahead of Viapore. They will go to Austin, TX, May 9 for a competition that draws the best teams from all over the country. 
---
Tags