Main content
Emory Law builds intellectual property, business law, and legal writing programs with new faculty
Emory University School of Law |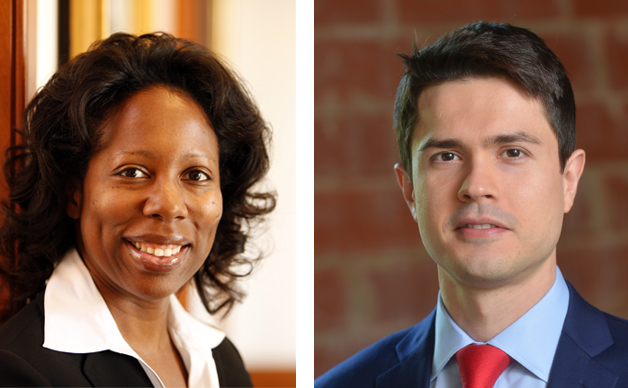 Margo Bagley 96L, George S. Georgiev, and Kamina Aliya Pinder joined the faculty of Emory University School of Law, further enhancing the school's signature strengths in intellectual property, business law, and legal writing.
Robert A. Schapiro, dean and Asa Griggs Candler Professor of Law, said of the new faculty members, "We are absolutely delighted that Margo Bagley will be rejoining the faculty and that George Georgiev and Kamina Pinder will be joining our community. As one of the world's leading scholars in patent law, Margo will further contribute to Emory Law's superb faculty in the areas of intellectual property and innovation. Margo's path-breaking work will also complement the TI:GER program, our unique experiential partnership with Georgia Tech.  An emerging leader in corporate law, George will further enhance Emory Law's outstanding business law program, which features our premier Center for Transactional Law and Practice. An exceptional teacher with broad experience, Kamina will contribute greatly to Emory Law's outstanding legal writing program." 
Bagley rejoins the Emory faculty after ten years at the University of Virginia School of Law, where she was most recently the Hardy Cross Dillard Professor of Law and the Joseph C. Carter, Jr. Research Professor of Law. She will be Asa Griggs Candler Professor of Law.
Bagley received her JD in 1996 from Emory, where she was a Robert W. Woodruff Fellow, an editor of the Emory Law Journal, and elected to Order of the Coif. She is a member of the Georgia bar and is licensed to practice before the US Patent and Trademark Office. Bagley worked as an associate with Smith, Gambrell & Russell and Finnegan, Henderson, Farabow, Garrett & Dunner before becoming an assistant professor of law at Emory University in 1999 and associate professor in 2002. She was a visiting professor of law at Washington & Lee University School of Law in fall 2001 and at the University of Virginia School of Law in fall 2005, after which she joined the University of Virginia faculty in 2006. She has also taught international patent law and related courses in China, Cuba, Germany, Israel, and Singapore. Bagley has been an occasional visiting professor at Emory Law since 2012.
Bagley served on the National Academy of Sciences Committee on University Management of Intellectual Property: Lessons from a Generation of Experience, Research, and Dialogue. She is also an expert technical advisor to the Government of Mozambique in several World Intellectual Property Organization matters and was a member of the Scientific Committee of the 2013 European Policy on Intellectual Property Conference in Paris, France.  Her scholarship focuses on comparative issues relating to patents and biotechnology, pharmaceuticals, and technology transfer. Bagley has published numerous articles and book chapters, as well as two books with co-authors: Bagley, Okediji and Erstling, International Patent Law & Policy (West Publishing 2013) and Patent Law in Global Perspective (Okediji and Bagley eds., Oxford University Press 2014). She also recently authored a report on Digital DNA: Synthetic Biology, Intellectual Property Treaties, and the Nagoya Protocol, commissioned by the Woodrow Wilson International Center for Scholars.  A chemical engineer with a B.S. Ch.E. degree from the University of Wisconsin-Madison, Bagley worked in industry (with the Procter & Gamble Company and the Coca Cola Company) for several years before attending law school, and is a co-inventor on a patent for reduced fat peanut butter.  Her courses include U.S. and international & comparative patent law, trademark law, and intellectual property.
George S. Georgiev was previously a visiting assistant professor at UCLA School of Law. His areas of specialty include corporate law, corporate governance, securities regulation, and comparative business law. At Emory, he will teach Business Associations, Securities Regulation, and Corporate Governance. His current research examines cutting-edge questions about the design and performance of the SEC's regulatory regime for public companies.
Georgiev received his JD from Yale Law School in 2007. During law school, he served on the Yale Journal of International Law and as a Yale College Teaching Fellow, and was awarded an Olin Summer Research Fellowship in Law, Economics, and Public Policy as well as a Howard M. Holtzmann Fellowship. He also holds an MA in economics from the University of Munich and a BA, summa cum laude, in economics and international relations from Colgate University. He is a member of the New York bar.
Following law school, Georgiev spent close to six years as a transactional corporate lawyer with Sullivan & Cromwell LLP and Clifford Chance LLP focusing on capital markets, M&A, and corporate governance matters. He advised on a number of landmark transactions, including the recapitalizations of large financial institutions during and after the 2008 global financial crisis and the financing of a bailout fund in connection with the 2010 Eurozone crisis.
The law school also welcomes Kamina Aliya Pinder as an assistant professor of practice to teach legal writing. Pinder comes to Emory from Mercer University School of Law, where she taught Professional Responsibility, Remedies, Legal Writing, Externship Seminar, and Case Settlement Negotiation. Pinder holds an LLM in advocacy from Georgetown University School of Law and a JD from New York University School of Law, where she was the associate editor of the Review of Law and Social Change. Also in the field of legal writing, Emory Law welcomes Paul Koster, who will rejoin the faculty next year as a visiting professor of practice. Koster taught as a visitor at Emory Law this past spring, and he taught legal writing at Emory Law in 2000-2001.
Fred Smith, who is on the faculty of UC-Berkeley Law School, will return to Emory Law as a visiting professor in the 2015-2016 school year. 
Bagley, Georgiev, and Pinder will teach as permanent faculty members in the fall semester, which began August 15.   
---
Tags