Main content
Symposia, Colloquia, and Special Events
Lt. Gen. Pede, JAG: Good lawyers insist on distinction
Emory University School of Law |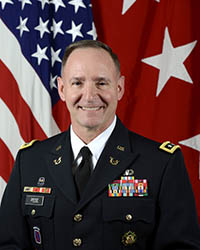 Emory Law welcomed Lieutenant General Charles N. Pede, Judge Advocate General of the United States Army, as speaker for its second annual Global Leaders Lecture.  Lt. General Pede's talk was entitled, "The Role of Judge Advocates & Legal Advisors in Operations: The Legitimacy Imperative."  The event was hosted by the International Humanitarian Law Clinic.
During the lecture Pede told the auditorium of captivated law students and faculty, "Remember this: You must be a lifelong learner. As soon as you think you know something, that is your evil twin."  Pede not only went over experiences he had encountered in his thirty years of practice but also explain that, "Good lawyers insist on the distinction of where the law ends and where opinion actually begins."
Pede is a military lawyer who currently serves as the 40th Judge Advocate General of the United States Army. He is the senior uniformed lawyer in the Army, leading over 10,000 attorneys, paralegals, and legal administrators. He was promoted to the rank of Lieutenant General on July 26, 2017. Lieutenant General Pede graduated from the University of Virginia and received a commission through ROTC. He then attended the University of Virginia Law School. He attended the Judge Advocate Officer Basic and Graduate Courses, the Army Command and General Staff College, and the Industrial College of the Armed Forces.  As a judge advocate, Lieutenant General Pede has deployed to Afghanistan, Iraq, and Mogadishu, Somalia.
Emory's International Humanitarian Law (IHL) Clinic, host of this annual lecture, works directly with international tribunals, militaries, non-government organizations, and other entities to enhance protections during wartime and ensure accountability for war crimes, genocide, and crimes against humanity. Students in the IHL Clinic work on the front lines—researching ways to hold perpetrators accountable, working on detainee cases and other issues in the "war on terror," and partnering with the US military on strategies for enhanced education and training in the law of armed conflict.
---
Tags