Main content
Students
Wellness Week addresses student wellbeing and resiliency
Emory University School of Law |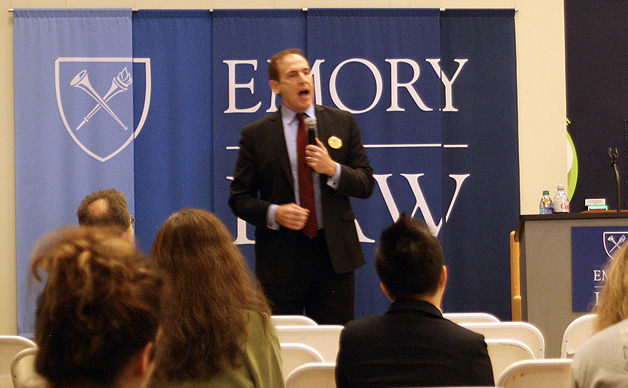 Emory Law recently observed Wellness Week, a time sponsored by the Office of Academic Engagement and Student Success. Each year, this office works hard to make sure that Emory Law students have access to tools that will help them build resiliency and successfully navigate what can be a stressful time.
According to the 2014 Survey of Law Student Well -Being (SLSWB), which was designed to designed to examine alcohol, drug and mental health issues, a number of law students screen positive for depression and anxiety, and many don't seek help because of:
Potential threat to job or academic status (48%)
Social stigma (47%)
Financial reasons (also 47%)
Potential threat to bar admission (45%)
The belief that they could handle the problem themselves (36%)
Not having the time (34%)
Concerns about privacy (30%)
This year's Wellness Week events directly targeted some of these student concerns and included:
Mindful Meditation with Sai Kolluru
Breathe: Stillness in the Busy-ness
Weekly Meditation for the Emory Law Community
Yoga with Fiona O'Carroll
Student Success Programs & Services Table
Music therapy provided by the Emory Youth Symphony Orchestra
Therapy Dogs
Guided Meditation
The premier event of the week was a talk by Brian Cuban, author of The Addicted Lawyer: Tales of Bar, Booze, Blow, and Redemption. Cuban spoke of how he dealt with the stresses involved in his life as a lawyer, and commended Emory Law on their efforts to help students. When asked where he had seen best practices in addressing issues of law student wellness, Cuban said,  "Right here! Emory Law is at the leading edge of all American law schools in meeting these needs."
Meeting those needs includes employing a licensed counselor on the law school staff – something unique among law schools. The counselor, while a fulltime staff member, is also the direct supervisor of the Houses program, which supports student wellbeing and learning, and he works directly with students who have disabilities. In his counseling role, he manages initial discussions and then refers students who need ongoing therapy to the student counseling center.
For more information about the services offered by the Office of Academic Engagement and Student Success, visit their web page or Facebook page.
---
Tags