Main content
Honors and Awards
Yates: 'Our world needs you now'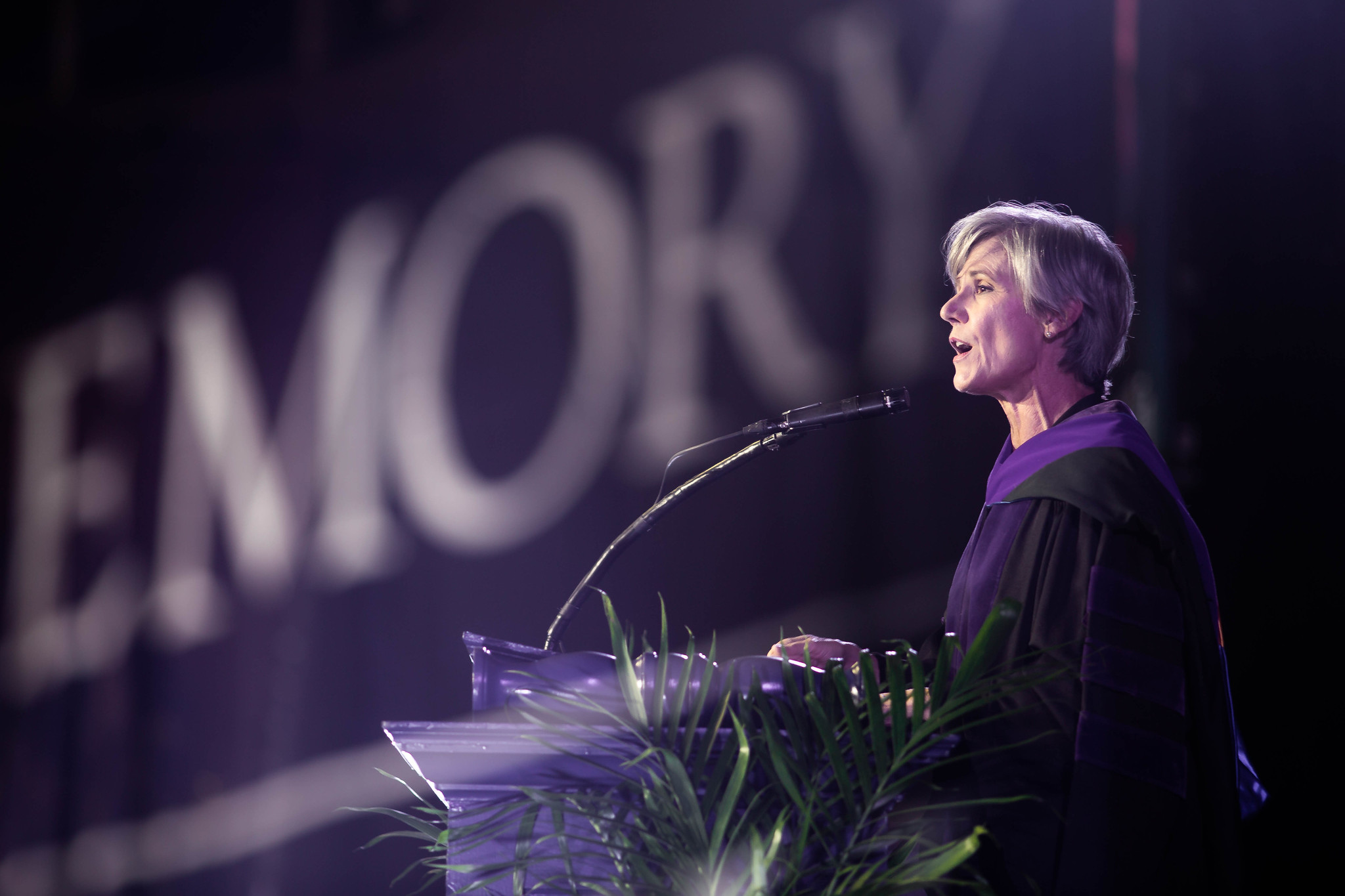 More than 240 law students recently gathered in person and virtually at Emory Law's Degree Candidate Recognition Ceremony, held on Mother's Day, which featured an address by former US Deputy Attorney General Sally Q. Yates.
Associate Dean for Research and Asa Griggs Candler Professor of Law Margo A. Bagley 96L lauded the students, saying, "You have attended law school during a global pandemic … your journey has not been easy. In the best of times, law school is intellectually and personally challenging. You have accomplished so much in circumstances that few other Emory Law graduates have encountered – including myself."
Bagley stood in for Dean Mary Anne Bobinski, who was unable to attend the ceremony due to unexpected illness.
Bagley recognized special guests, including Ian Levin 92L and Benjamin Fink 92L, Emory Law Advisory and Alumni board leaders; Lee P. Miller 82L, university trustee; and the 15 students who, despite the special circumstances the pandemic presented, completed at least 75 pro bono service hours (50 for LLM students) and earned the Pro Bono Publico Medal.
The law school also honored several faculty members for outstanding service to the community:
Adjunct Teaching Award: Gary Marsh, adjunct professor
Provost's Distinguished Teaching Award for Excellence in Graduate and Professional Education: Randee J. Waldman, clinical professor of law
Most Outstanding Professor Award, chosen by the students: Fred Smith Jr., professor of law
An exhortation for justice
In his address to the students, Smith said, "No matter what your understanding of justice is, I hope that you use this law degree to do justice. …Lawyers are uniquely positioned to deal in evidence and to marshal evidence to make persuasive arguments. And you as lawyers are uniquely positioned to shake people from their apathy and help people understand the stakes."
Yates also challenged the graduates to take action: "I'm going to skip the pleasantries and get right to it: Your country needs you. Our world needs you. And we need you now. When you leave here today … you're going to be lawyers, and with that you have not just the ability but also the concurrent responsibility to make the world more just. To hold our country to its founding promises of liberty and equality, and while this has always been a weighty duty, it's particularly critical today."
Yates reflected upon a recent trip to the Civil and Human Rights Museum and quoted Dr. Martin Luther King Jr.'s 1963 March on Washington speech, saying, "We have come to this hallowed spot to remind American of the fierce urgency of now. This is not a time to engage in the luxury of cooling off or to take the tranquilizing drug of gradualism. Now is the time to make real promises of democracy. Now is the time to make justice a reality for all of God's children."
She added, "Another tranquilizing drug of gradualism also threatens our democracy, and that's the normalization of the erosion of democratic institutions and values and individual rights that have defined what it means to be Americans. … Lawyers have always been on the front lines of defining who we are as a country, or at least who we aspire to be. … You decide what you believe our country stands for and take action to make it happen."
Student honors
Danielle Kerker Goldstein 22Lholds the highest grade point average in her class and earned the title of Most Outstanding 3L Student from her peers. She celebrated her first Mother's Day at the ceremony, having finished editing issue four,Vol. 71 of the Emory Law Journal just a week prior to the birth of her first child in March. Goldstein earned a JD and MBA dual degree and provided a frame of reference for the day:
"I am here to remind you, as I often have to remind myself: when life gets stressful and overwhelming, remember to have perspective. You may find that in a purpose, goal, or conviction. For me, I find it in relationships. …What matters most to me are the people around me: my daughter. My husband. My grandfather, in the stands today, who escaped Auschwitz and survived the Holocaust, cancer, and now COVID. My parents, my siblings, my friends. And the kind strangers who sent messages of encouragement and support," she said.
"In January, I reminded myself my tombstone won't read, "editor in chief, Emory Law Journal" or, 'made someone angry on Twitter.' It won't record billable hours, class rank, GPA or a 1L torts grade," she continued. "I know you're going to go out there and be incredible lawyers. I hope you follow your convictions. Build your village. And be open to those who disagree with you. But above all—I hope you maintain perspective—ground yourself in what is important to you."
As graduates now join the alumni ranks, their villages just grew by thousands. The Class of 2022 is encouraged to attend Emory Law Alumni Weekend Friday and Saturday, May 20 and 21, 2022, to tap into their new community.
---
Tags