Main content
Students
Smith to law school grads: Remember your power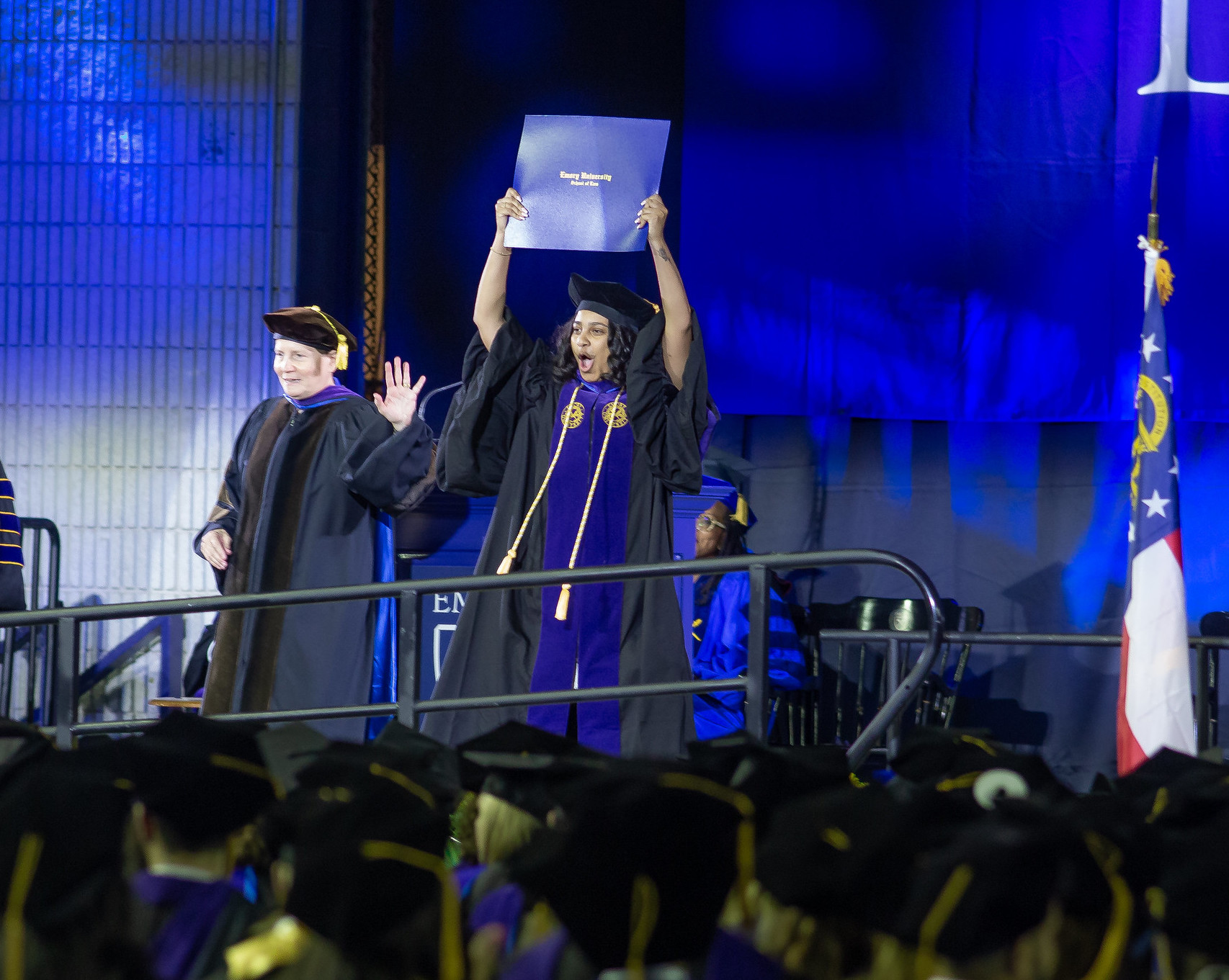 This weekend, Emory University School of Law held its Degree Candidate Recognition Ceremony, celebrating students who earned doctor of juridical science, juris doctor, master of laws, master of comparative law, juris master, and dual degrees. Nearly 300 students attended in person and approximately 15 student participated virtually, viewing the event as it was live streamed through the school's website. 
The celebratory energy was higher than usual, one faculty member noted; the gymnasium at the George W. Woodruff PE Center was filled with friends and family from across the country. Students followed bagpipers from the back of the room, past the roaring crowd, and toward their waiting seats and assembled faculty.
At each year's ceremony, a number of honors are awarded to students and faculty alike. The graduating student body selects one of their peers as Most Outstanding 3L Student. This year's honoree was Eric Wang 23L, who graduated with dual Juris Doctor/Master of Theological Studies degrees. Wang also led the student procession in the ceremony as student marshal, an honor bestowed on the student graduating with the highest GPA in the class. 
Charles Howard Candler Professor of Law Fred O. Smith Jr., faculty advisor for Emory Law Journal, said of Eric: "I had the joy of interacting with Eric when he organized a highly successful Thrower Symposium. Eric is brilliant, diligent, and humble. With those qualities, the world is his oyster. I look forward to watching his star rise."
Professor John Witte, Robert W. Woodruff Professor of Law, McDonald Distinguished Professor, and Center for the Study of Law and Religion faculty director, added: "He's a special talent, with a keen eye for the essentials, a gifted and elegant pen, refined rhetorical gifts, intense intellectual curiosity, and a warm and generous heart. He's a brilliant lawyer and professor in the making and a once-in-a-generation student."
The Provost's Distinguished Teaching Award for Excellence in Graduate and Professional Education honors a member of the faculty whose teaching has contributed in significant ways to the law school and university's educational mission and who has fostered participation, inquiry, and creative expression both in and beyond formal education settings. One student said of this year's recipient, Matthew Lawrence, "Professor Lawrence has gone above and beyond to foster participation and inquiry into his legislation and regulation course. What could have been a mere regurgitation of principles of agency [and administrative] law and statutory interpretation … was made current by engaging and encouraging students to express their opinions on what the law is and should be. Despite differences of opinion, Professor Lawrence did a good job of giving space for meaningful and constructive dialogues to be explored."
The law school presented its Distinguished Adjunct Professor Teaching Award to Samuel Donaldson, an adjunct professor who "fosters intellectual rigor, participation, inquiry, and creative expression; who contributes within and beyond formal educational settings; who inspires the ambitions of a diverse and accomplished student body; and who is dedicated to advancing the art and science of teaching and learning," said Dean Mary Anne Bobinski.
Most Outstanding Professor—for the third time—Smith, reminded students in his address: "You started law school in a Zoom room, and that brought unique challenges with respect to social isolation and not really knowing what the future had in store… You showed resilience and you adapted to changing circumstances." 
He cautioned graduating students to remember their power: "[That] means acknowledging the impact what you do has on others. That impact will now be greater with your Emory Law degree. Use that power wisely."
He then charged them to seek justice, saying, "May you use your powerful voices to lift up the principles of respect and belonging. I encourage you to use your power to make the world more just, even as you have a range of views about what it means to be more just. I encourage not to simply let the winds blow you in directions where you are not putting forth your vision of justice… Use your power in a way that your childhood self would be proud of you."
---
Tags