Main content
Students
Morrison 23L's research praised by US Ambassador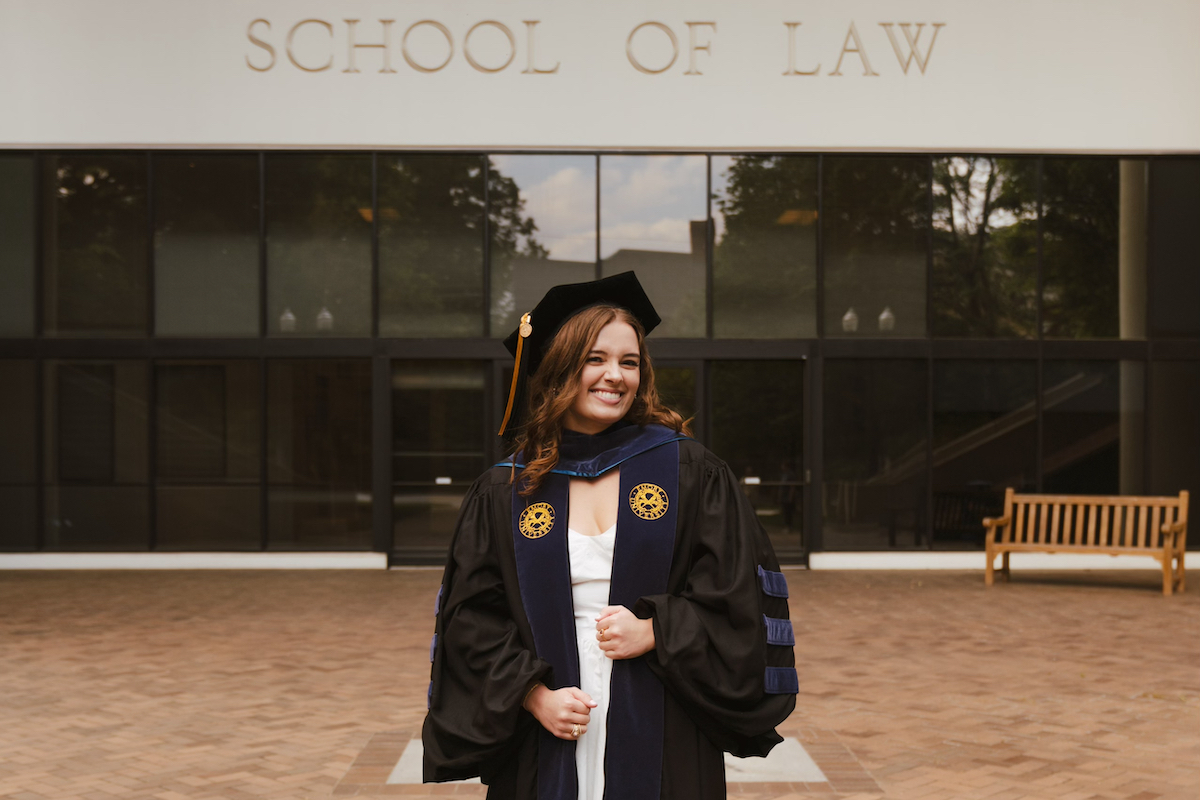 When Christina Morrison 23L receives her Emory Law diploma on Sunday with highest honors, Order of the Coif, one achievement will not be listed in the commencement program: a commendation letter from the US Ambassador in charge of investigating war crimes.
Ambassador-at-Large for Global Criminal Justice Beth Van Schaack wrote Emory Law Dean Mary Anne Bobinski to praise Morrison's work as an International Humanitarian Law Clinic student-attorney. Her task, starting last August, was to document evidence of Belarus' support for Russia in the war against Ukraine, and examine Russia's longstanding military and financial support for Belarusian President Alexander Lukashenko. The ambassador found the work was strong enough to circulate as useful background at the State Department.
"Christina's paper was excellent, it is of immediate use and will be an important information resource moving forward," Van Schaack wrote. "I was so impressed with Christina's paper that in addition to adding the paper to our Belarus files, I have shared it with other offices at the State Department." Before joining the State Department in 2022, Van Schaack directed Stanford Law's International Human Rights & Conflict Resolution Clinic.
Morrison said she was honored to help an organization she admires and glad she got to meet Van Schaack in Washington, DC, when her work began.
"It was an incredible learning opportunity to visit GCJ in DC," she said. "The office makes so many meaningful contributions to the IHL field. It was so impactful to be a small part of that. Although I did not know what to expect initially with the outcome of my paper, I am grateful it was so helpful." She visited DC in August and afterward worked with the office via video conference and email.
While the Belarusian military hasn't actively participated in the Ukraine war, Morrison's paper showed other ways the country is involved—although she concluded it appears the country is attempting to distance itself to avoid being named an accomplice or co-aggressor in Russia's possible humanitarian law violations and war crimes. Belarus shares a 700-mile border with Ukraine, and Morrison's work showed evidence of aid including territorial and airspace access for missile launches; allowing Russia to operate military bases there; providing medical care for Russian soldiers; and a crackdown on pro-Ukrainian protest. 
Emory Law's International Humanitarian Law Clinic and the State Department's Office of Global Criminal Justice have an ongoing relationship, said Benjamin Farley 11L, the clinic's acting director (who is also a long-time U.S. government attorney and policy professional). For almost a decade, the clinic has assigned one student per semester to support the office.
"A letter praising a student's work from any sitting US Ambassador is very rare," he said. "Coming in the midst of an exceptionally busy and important period for US efforts to promote accountability for violations of international law and international humanitarian law, it's a significant testament to the good and vital work that Christina performed."
In addition to her work with the IHL Clinic, Morrison exploited opportunities during her three years at Emory Law. She externed twice in federal bankruptcy courts; was a teaching assistant for four professors, and also, a dean's teaching fellow. For two years, she was a summer associate at Jackson Walker LLP in Houston. This year, she was Executive Notes and Comments Editor for the Emory Bankruptcy Developments Journal. 
"I have always wanted to go to law school. I think pursuing a law degree gives you an opportunity to make a difference in several ways," Morrison said. She earned her bachelor's in political science and an MPA at Texas A & M University. While there, she took a coach-less mock trial team to a National Championship Tournament for the first time in the school's history. She had many options when choosing a law school.
"I chose Emory based on its national reputation and excellent externship opportunities," she said. "I've had the great pleasure of being influenced by several law professors throughout my time at Emory. Professor Farley helped guide my clinic project and made me a better researcher, writer, and scholar. Also, a special thanks to Dean Carroll, Professor Tomkovicz, Professor Sybblis, and Professor Blank, each of whom I have had the pleasure of learning from and working with closely over the course of the last three years."
At the Emory Bankruptcy Developments Journal's end of the year banquet this March, US Bankruptcy Court Judge David R. Jones received the Distinguished Service Award for Lifetime Achievement. In September, Morrison will return to her native Texas to serve as the celebrated bankruptcy judge's law clerk. She expects to practice bankruptcy law.
---
Tags