International Humanitarian Law Clinic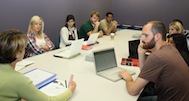 The International Humanitarian Law Clinic works directly with international tribunals, militaries, non-government organizations, and other entities to enhance protections during wartime and ensure accountability for war crimes, genocide, and crimes against humanity. 
Students in the IHL Clinic work on the front lines—researching ways to hold perpetrators accountable, working on detainee cases and other issues in the "war on terror," and partnering with the US military on strategies for enhanced education and training in the law of armed conflict.
Student Testimonials
Students talk about their work with the International Humanitarian Law Clinic and the programs and organizations they assisted.
Eli Burton 14L: Command and Staff College at Marine Corps University. See video »
Maria Piva 14L: Human Rights First, a major international NGO, on legal issues relating to armed conflict and counterterrorism operations. See video »
Martin Bunt 14L: Joint Military Operations course at the Naval War College in Newport, Rhode Island. See video »
Recent Books

International Law and Armed Conflict: Fundamental Principles and Contemporary Challenges in the Law of War
Laurie Blank and Gregory P. Noone; includes teacher's manual.

Law of War Training: Resources for Military and Civilian Leaders
A resource manual on training for militaries in the law of armed conflict.