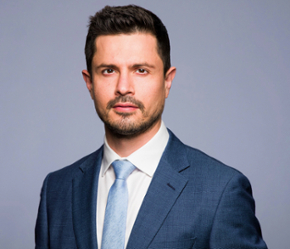 George S. Georgiev
Assistant Professor of Law
Areas of Expertise
Business Law, Corporate Governance, Securities Regulation, Mergers & Acquisitions, Corporate Finance, Executive Compensation
Professor George S. Georgiev teaches business law courses, including Corporate Governance, Business Associations, and Securities Regulation. His current research examines the design and performance of the SEC's regulatory regime for public companies and the nexus between securities regulation and entrepreneurship.
Professor Georgiev joined the Emory faculty in 2016 after serving as a visiting assistant professor at the University of California, Los Angeles School of Law. Before entering the legal academy, he spent close to six years as a transactional corporate lawyer with Sullivan & Cromwell LLP and Clifford Chance LLP. While in private practice, he advised on large cross-border M&A deals and on numerous financing transactions for corporations and sovereigns, including landmark transactions such as the recapitalizations of several large banks during and after the 2008 global financial crisis and the creation of a bailout fund in connection with the 2010 Eurozone crisis. 
Professor Georgiev received his JD from Yale Law School in 2007. During law school, he served on the Yale Journal of International Law and as a Yale College Teaching Fellow, and was awarded an Olin Summer Research Fellowship in Law, Economics, and Public Policy as well as a Howard M. Holtzmann Fellowship. He also holds an MA in economics from the University of Munich and a BA, summa cum laude, in economics and international relations from Colgate University. He is a member of the New York bar.
Professor Georgiev's research appears in the Yale Journal on Regulation, UCLA Law Review, Utah Law Review, Minnesota Law Review Headnotes, and Yale Journal of International Law, among others. He has been quoted in various media outlets, including the BBC, New York Times, Los Angeles Times, Globe and Mail, Baltimore Sun, and Bloomberg BNA.
Education: JD, Yale Law School; MA, University of Munich, BA, Colgate University
Securities Disclosure as Soundbite: The Case of CEO Pay Ratios, 60 Boston College Law Review (forthcoming, April 2019) (with Steven A. Bank)
Too Big to Disclose: Firm Size and Materiality Blindspots in Securities Regulation, 64 UCLA Law Review 604 (2017) (SSRN)
Paying High for Low Performance (with Steven A. Bank), 100 Minnesota Law Review Headnotes 14 (2016) (SSRN) 
Shareholder vs. Investor Primacy in Federal Corporate Governance, 62 UCLA Law Review Discourse 71 (2014) (SSRN)
Contagious Efficiency: The Growing Reliance on U.S.-Style Antitrust Settlements in EU Law, 2007 Utah Law Review 971 (2007) (SSRN)
Book Chapter, Saluka v. Czech Republic in The Reasons Requirement in International Investment Arbitration: Critical Case Studies 149-190 (G. Aguilar-Alvarez & W.M. Reisman eds, 2008) (SSRN)
Comment, The Reformed CFIUS Regulatory Framework: Mediating Between Continued Openness to Foreign Investment and National Security, 25 Yale Journal on Regulation 125 (2008) (SSRN)
Comment, Bridging the Divide? The European Court of First Instance Judgment in GE/Honeywell, 31 Yale Journal of International Law 598 (2006) (SSRN)
Macroeconomic Fundamentals and Net Portfolio Investment Between Developed Regions (with N. Simpson & M. Tomljanovich), 8 (2) International Finance 303 (2005) (peer reviewed)