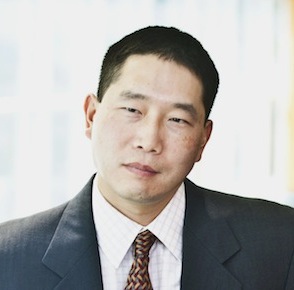 Michael S. Kang
Professor of Law
Areas of Expertise
Courts and Judges, Business Associations, Election Law, Politics and Democratic Governance
Assistant: Daniel Kim
Michael S. Kang's research focuses on issues of election law, voting and race, shareholder voting, and political science. His work has been published by the Yale Law Journal, NYU Law Review, and Michigan Law Review, among others. Professor Kang also serves as co-editor of the book series Cambridge Studies in Election Law and Democracy and co-authored a chapter for the first book in the series, "Race, Reform, and Regulation of the Electoral Process." Professor Kang visited Cornell Law School during the 2008 spring semester and Harvard Law School during the 2009 spring semester.
Professor Kang received his BA and JD from the University of Chicago, where he served as technical editor of the University of Chicago Law Review and graduated Order of the Coif. He received an MA from the University of Illinois and his PhD in government from Harvard University. After law school, Professor Kang clerked for Judge Michael S. Kanne of the US Court of Appeals for the Seventh Circuit and worked in private practice at Ropes & Gray in Boston before joining the Emory Law faculty in 2004.
Education: BA, JD, University of Chicago; MA, University of Ilinois; PhD, Harvard University
Journal Articles
"Attacking Judicial Elections," 114 Michigan Law Review (forthcoming 2016) (with Joanna Shepherd).
"The Brave New World of Party Campaign Finance," 101 Cornell Law Review (forthcoming 2015).
"Sore Loser Laws and Congressional Polarization," 39 Legis. Stud. Q. (forthcoming 2014) (with Barry Burden & Bradley Jones).
"Party-Based Corruption and McCutcheon," 108 Northwestern Law Review Colloquium (forthcoming 2014).
"Campaign Disclosure and Direct Democracy," 97 Minnesota Law Review 1700 (2013).
"The Partisan Foundations of Judicial Campaign Finance," 86 Southern California Law Review 1239 (2013).
"The Year of the Super PAC," 81 Georgia Washington Law Review 1902 (2013) - Symposium.
"The Hydraulics and Politics of Party Regulation," 91 Iowa Law Review 131 (2005).
"From Broadcasting to Narrowcasting: The Emerging Challenge for Campaign Finance Law," 73 George Washington Law Review 1070 (2004). 
"Democratizing Direct Democracy: Restoring Voter Competence through Heuristic Cues and Disclosure Plus," 50 UCLA Law Review 1141 (2002).
"Don't Tell Juries about Statutory Damage Caps: The Merits of Nondisclosure," 66 University of Chicago Law Review 469 (1999).
Panel Discussions and Presentations
"The Brave New World of Party Campaign Finance" (Florida State Law Review Symposium) Tallahassee, Florida, March 27, 2015 and Keller Center for the Study of the 1st Amendment at the University of Colorado-Boulder on April 13, 2015, and at a public law workshop at Columbia Law School in New York City on April 3, 2015.
"State and Local Elections in Court: Mixing it Up," 13th Annual Richard E. Nelson Symposium, University of Florida, Levin College of Law, February 7, 2014
"The Future of Campaign Finance," George Washington Law Symposium on Political Law. November 16, 2012.  Participants:  Prof. Richard Briffault (Columbia); Eliza Newlin Carney (Roll Call); Prof. Michael Kang (Emory); Trevor Potter (Campaign Legal Center); Prof. Brad Smith (Capital University).
"Do Partisan Primaries Serve the Public Interest?" A COMPASS Conversation, co-sponsored by the Bipartisan Policy Center, Ohio State University.
Work referenced in "Why Politicians Who Lose a Primary Can't Win a General Election," Washington Monthly, September 30, 2013.
Radio Interviews