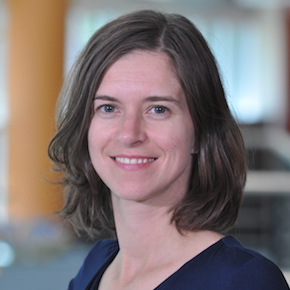 Urska Velikonja
Associate Professor of Law
Areas of Expertise
Business Associations, Business Law, Securities Regulation, Corporations, Corporate Law, Corporate Governance
Urska Velikonja teaches business law courses, including Securities Regulation and Mergers and Acquisitions. She writes primarily about securities regulation and enforcement.
Velikonja's recent scholarship has appeared in the Stanford Law Review, California Law Review, Washington University Law Review and other journals. Her study of the SEC's practice of granting waivers from automatic disqualifications triggered by securities enforcement has attracted interest in Congress and was discussed by SEC Commissioners. She has testified to the Public Company Accounting Oversight Board (PCAOB) about her work on the economic consequences of financial reporting fraud, which refutes the widely held belief that securities fraud primarily harms shareholders. Her work has been featured in the Wall Street Journal, The Economist, the Financial Times and other media.
Velikonja joined Emory Law in 2013 after having spent two years at the University of Maryland Francis King Carey School of Law. She graduated first in her law class at the University of Ljubljana School of Law (undergraduate degree) in 2002 and received her LL.M. at Harvard Law School in 2003. She received her J.D. magna cum laude from Harvard Law School in 2009. Prior to entering academia, Velikonja clerked for Judge Stephen F. Williams of the U.S. Court of Appeals for the D.C. Circuit and worked as a banking and finance associate with an Austrian law firm in her native Slovenia.
Professor Velikonja will be a visiting professor at the University of Chicago during the Fall 2015 term and at Duke University during the Spring 2016 term.
Education: JD, Harvard Law School, 2009; LLM, Harvard Law School, 2003; LLB, University of Ljubljana School of Law, 2002
Journal Articles
"Reporting Agency Performance: Behind the SEC's Enforcement Statistics," 101 Cornell Law Review (forthcoming 2016).
"Distortion Apart From Price Distortion," 93 Washington University Law Review (forthcoming 2015) (symposium).
"Politics in Securities Enforcement," 50 Georgia Law Review (forthcoming 2015) (symposium).
"Waiving Disqualification: When Do Securities Violators Receive a Reprieve?," 103 California Law Review 1081–1137 (2015).
"Public Compensation for Private Harm: Evidence from the SEC's Fair Fund Distributions," 67 Stanford Law Review 331–95 (2015).
"Team Production Theory and Securities Laws," 38 Seattle University Law Review 725–37 (2015) (symposium).
"The Political Economy of Board Independence," 92 North Carolina Law Review 855–916 (2014).
"The Cost of Securities Fraud," 54 WILLIAM & MARY LAW REVIEW 1887–1957 (2013).
"Leverage, Sanctions, and Deterrence of Accounting Fraud," 44 U.C. DAVIS LAW REVIEW 1281–1345 (2011).
Shorter Publications
"Making Peace and Making Money," ABA Dispute Resolution Magazine, Winter 2011, at 20 (solicited)
"Commercial Collections in Slovenia," in International Commercial Debt Collection (David Franklin ed., 2007)
"On Translating the European Constitution: Drafted in Two Languages, Law in Twenty-Seven," 41 Javna Uprava [Public Law Journal] 890 (2005)
"Companies Law Amended to Implement E.U. Directives," Tax Planning International:  European Union Focus, BNA International, July/August 2004 (with Ales Lunder)
"Investigating White-Collar Crime and Corruption," Pravna Praksa [Legal Practice], Jan. 1999, at 2-3.
Presentations
Team Production Theory, Shareholder Wealth Maximization, and Corporate Malfeasance Sixth Annual Adolf A. Berle Jr. Symposium on Corporations, Law, and Society, Seattle University School of Law, Seattle, WA (June 23-24, 2014)
Public Compensation for Private Harm: Evidence from the SEC's Fair Fund Distributions

Law and Business Workshop, Vanderbilt Law School (September 22, 2014)
Junior Business Law Conference
University of Colorado School of Law, Boulder, CO (July 10-11, 2014)

Discussant, "Does the Public/Private Divide in Federal Securities Regulation Make Sense?," Southeastern Law Schools (SEALS) Annual Meeting, Amelia Island, FL (Aug. 6, 2014)
Panelist, "The Corporation: Film Screening and Panel with Author," Emory University School of Law, Atlanta, GA (Nov. 4, 2013)
Panelist, "International Law for 1Ls," Emory University School of Law, Atlanta, GA (Oct. 9, 2013)
Commentator on Aditi Bagchi, Third-Party Losers, Junior Business Law Conference, University of Colorado School of Law, Boulder, CO (July 11-12, 2013)
Corporate & Securities Litigation Workshop, Chicago, IL, (Nov. 7-8, 2013)
The Political Economy of Board Independence

Southeast Jr/Sr Faculty Workshop, Emory University School of Law, Atlanta, GA (Nov. 15-16, 2013) 
Ohio State University, Moritz College of Law, Capital Markets Faulty Workshop, Columbus, OH (Oct. 16, 2013)
Junior Business Law Conference, University of Colorado School of Law, Boulder, CO (July 11-12, 2013) (comments by Richard Squire, Fordham)

The Cost of Securities Fraud (also presented as The Social Cost of Financial Misrepresentations)

PCAOB Standing Advisory Group Meeting, Washington, DC (Nov. 13-14, 2013)
Emory University School of Law, Atlanta, GA (Nov. 14, 2012)
Midwest Law and Economics Annual Meeting, Washington University in St. Louis, St. Louis, MO (Oct. 13, 2012)
Southeastern Law Schools (SEALS) Annual Meeting, Amelia Island, FL (Aug. 3, 2012)
Law & Society Annual Meeting, Honolulu, HI (June 5, 2012)
ASU Legal Scholars Conference, Arizona State University Sandra Day O'Connor College of Law, Tempe, AZ (March 17, 2012)
Loyola Law School, Los Angeles, CA (March 15, 2012)
George Washington University Law School, Center for Law, Economics & Finance, Washington, DC (Feb. 10, 2012)
Villanova University School of Law, Villanova, PA (Oct. 19, 2011)
University of Maryland Francis King Carey School of Law, Baltimore, MD (Oct. 11, 2011)
Media Appearances
Francesco Guerrera, "The SEC Record of Small and Big Bucks" The Wall Street Journal, Apr. 30, at C1, 2014 »
The Conglomerate, Guest Blog Series (Feb. 10-23, 2014).
Alison Frankel, Board Independence is Just Cheap Way to Appease Congress: New Paper, Reuters (Dec. 5, 2013) »
Melissa J. Anderson, Board Super-Independence Skyrockets, but at What Cost?, FIN. TIMES AGENDA, Dec. 2, 2013 » 
Steven M. Davidoff, The Case Against Too Much Independence on the Board, N.Y. TIMES DEALBOOK, Nov. 11, 2013 »