History and Mission

In 1916, Emory University established a law school with a faculty of great teachers with degrees from the most highly regarded institutions of the era, a library of over 5,000 volumes, and a class of twenty-seven students.
Today, Emory University School of Law combines a practical and disciplined view toward the study of law with a commitment to providing its students experiential learning opportunities that engage them in the varied and integral roles the law plays in our community, society, and the world. Emory Law's student-centered focus, innovative programs, externships, and commitment to scholarly research ensure our graduates are prepared to make an immediate impact after graduation.
Mission
Through scholarship, teaching, and immersion in the world and its communities, Emory Law's mission is to
Produce scholarship and educate students regarding the role of law in defining and addressing social ills; structuring conflict; designing effective legal, political, and market institutions; informing and constraining governments; and memorializing societal commitments.

Advance the rule of law and the resulting benefits of accountability, individual rights, social justice, thriving markets, and economic development.

Cultivate leaders who serve the community through roles in the judiciary, government, legal education, public interest law, corporations, and law firms.

Prepare students for a variety of careers and ever-changing legal, political, social, and market conditions by providing a rigorous education that integrates theory, doctrine, and experiential learning.


Promote excellence by striving for diversity of its student body, faculty, and staff and by facilitating scholarly productivity and interdisciplinary exchange with members of the university, the broader academic community in the United States and abroad, and the legal profession.
Deans of the Law School
Samuel Cole Williams, 1919–1924
Charles Joseph Hilkey, 1925–1948
William H. Hepburn, 1950–1960
Ben F. Johnson Jr., 1961–1973
Lyman Ray Patterson, 1973–1979
Thomas D. Morgan, 1980–1985
David G. Epstein, 1985–1989
Howard O. "Woody" Hunter, 1989–2001
Thomas C. Arthur, 2002–2005
David F. Partlett, 2006–2012
Robert A. Schapiro, 2012–2017
Judson Graves, 2017-2017
James B. Hughes Jr. 2017-
History
The Founding Years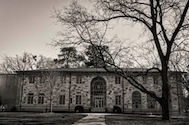 Professor Herschel W. Arant and Bishop Warren A. Candler, the chancellor of Emory University, aspired to create a law school that would be in league with the law schools of nationally recognized universities, emphasize the "ethics and ideals of an ancient and honorable profession," and encourage the service of the law. 
In 1916, the Emory Board of Trustees named the new school L. Q. C. Lamar School of Law. Lamar graduated from Emory College in 1845 and had a distinguished career as a statesman, scholar, and lawyer. The original location (now Carlos Hall) was one of the original buildings on the Emory Quadrangle. The building, featuring a graceful central staircase and Georgia marble facade, was designed by the highly regarded Beaux-Arts architect Henry Hornbostel. Twenty-eight students enrolled in the fall of 1916.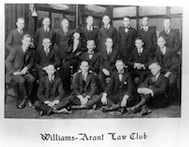 Under the leadership of Samuel C. Williams, the first dean, the law school was the first in Georgia to be granted membership in the Association of American Law Schools. The American Bar Association classified Emory as a "Class A" school in 1923. The only other schools in the Southeast to be honored with this designation were the University of Virginia and Washington and Lee University.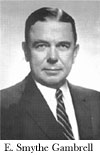 E. Smythe Gambrell, a graduate of Harvard Law School, joined the adjunct faculty in 1924. He served on the faculty until the eve of World War II and later provided the gift that enabled the construction of the present-day law school building—Gambrell Hall, named in memory of his parents.
Sources: Hauk, Gary S., A Legacy of Heart and Mind: Emory Since 1836; Gozansky, Nathaniel, "An Incomplete History of Emory Law School."