Emory LGBTQ Legal Services 
Emory LGBTQ Legal Services (ELLS) exists to provide much-needed legal assistance to LGBTQ individuals in the Atlanta area. Atlanta is home to one of the largest LGBTQ communities in the US, exceeding that in New York City, with 4.2 percent of residents self-identifying. When attention turns to the city's runaway and homeless youth population, that figure climbs even higher — to 28.2 percent self-identifying. Moreover, Georgia's transgender population is the fourth-highest in the nation. Modeled after Emory's Volunteer Clinic for Veterans, ELLS will connect pro bono attorneys and volunteer law students with low-income LGBTQ clients who have legal needs that are not currently being addressed in our community. 
ELLS commenced operations in January 2018. 
Despite the community of LGBTQ individuals and organizations in Atlanta, there is not a robust-enough network of LGBTQ-focused legal services in the area. ELLS will do its part to answer the regional need for services by connecting pro bono attorneys and volunteer law students with low-income LGBTQ clients who have legal needs that are not currently being addressed.
Providing LGBTQ legal services answers Emory President Claire E. Sterk's call for Emory to build a more inclusive community and engage more fully with the city of Atlanta. ELLS represents the first university-sponsored legal effort devoted to issues of sexual orientation and gender identity in the region.
Leadership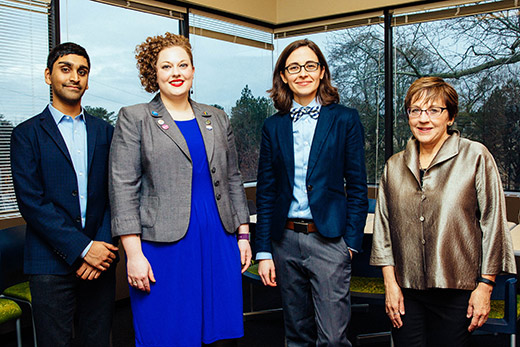 Co-founders - Faris Mohammed 18L and Nicole Schladt 18L
Director - Danielle Bruce-Steele, Director of Emory's Office of LGBT Life
Faculty Advisor - Mary Dudziak, Asa Griggs Candler Professor of Law
LGBTQ Legal Strategist - Beth Littrell, Counsel for Lambda Lega's Southern Regional Office
Sutdent Administrator - Jack Melnick 20L and Matthew Giacobbe 21L
To initiate service with ELLS, you can contact us by email at ells@emory.edu or by phone at (706) 538-ELLS (3557).
Currently, we will be working to provide assistance in the following ways:
Filing insurance denial appeals for trans individuals

Completing advanced directives for the LGBTQ community

Compiling a database of community resources for LGBTQ individuals in need of legal assistance
However, please feel free to contact us with any LGBTQ-related legal issues you face. We will be documenting our community's needs in an effort to adapt our services and to direct individuals toward the resources they need. 
If you are an attorney interested in taking on pro bono cases with ELLS, please email us at ells@emory.edu. You may also leave a message by calling us at (706) 538-ELLS (3557). In addition, ELLS will be compiling a database of attorneys who are interested in pro bono or low bono work with the LGBTQ community outside of ELLS' focus areas. Please let us know if you would like to be part of that resource.
If you are a student interested in volunteering with ELLS, please get in contact with Nicole Schladt or email us at ells@emory.edu. Students who work with ELLS do not receive academic credit, but they may receive credit for Emory Law Pro Bono hours or volunteer hours awarded by the Emory Public Interest Committee (EPIC).
ELLS Drop-In Hours
ELLS will be hosting drop-in hours on Thursday evenings from 6 to 8 p.m. in the Rush Center's administrative conference room. The Rush Center is located at 1530 DeKalb Avenue NE, Suite A, Atlanta, GA 30307.
If you are interested in making an appointment for one of those evenings or for any other legal matter or inquiry, please contact ELLS via email (ells@emory.edu) or phone, (706) 538-ELLS (3557).